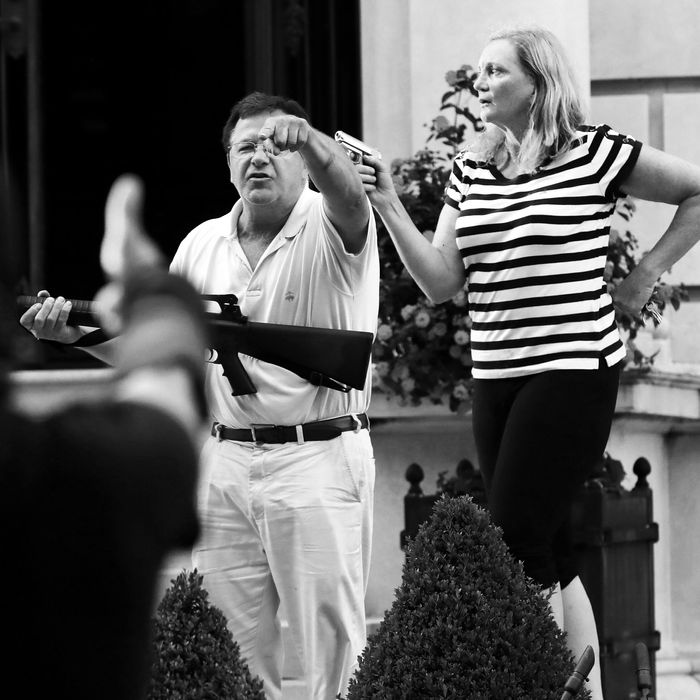 Mark and Patti McCloskey.
Photo: Laurie Skrivan/St. Louis Post-Dispatch/TNS via Getty Images
It appears the couple we never wanted to hear from again have some more awful things to say. Last week, Mark and Patricia McCloskey, whom you know from such classic hits as waving guns at Black Lives Matter protesters who walked past their St. Louis mansion last June, pleaded guilty to misdemeanor charges related to the incident: Patricia to second-degree harassment and Mark to fourth-degree assault. As part of their plea deal, the two paid a combined $2,750 in fines and were made to turn over the pistol and rifle they brandished at demonstrators last year. And now, they've learned their lesson and are remorseful about pointing a gun at unarmed protesters.
Just kidding! A fews days after they turned in their weapons, Mark McCloskey tweeted photos of himself holding — say it with me — a newly purchased gun. "Checking out my new AR!" he wrote alongside pictures of his brand-new AR-15, the same type of gun he wielded against BLM demonstrators nearly a year ago.
Lest there was any doubt that the two are completely unapologetic about their behavior, when the judge asked Mark if he knew his actions put others at risk, he responded, "I sure did, your honor." Then, outside the courtroom, Mark told reporters, "That's what the guns were there for, and I'd do it again anytime the mob approaches me." Gross!
Unfortunately, this will likely not be the last we hear from Mark and Patricia McCloskey, as Mark recently announced that he's running for Senate. "I've always been a Republican, but I have never been a politician," he recently told Fox News's Tucker Carlson. "But you know, God came knocking on my door last summer disguised as an angry mob, and it really did wake me up." Oh, that was God, was it?
None of this is any huge surprise given the fact that the McCloskeys were catapulted to GOP fame when then-President Donald Trump tweeted a video of the incident. The two even appeared at the 2020 RNC to espouse conservative rhetoric, with Patricia saying in a recorded video, "What you saw happen to us could just as easily happen to any of you who are watching from quiet neighborhoods around our country." Months after the incident, their lawyer said the couple was still "semi-frequently" in touch with Trump. Per the St. Louis Post-Dispatch, the couple is also notoriously litigious, having previously sued neighbors, employers, and even Mark's father. The giant five-story house they currently live in? Also obtained through a lawsuit.
I, for one, would be fine if they joined Jeff Bezos in space and then just … stayed there.