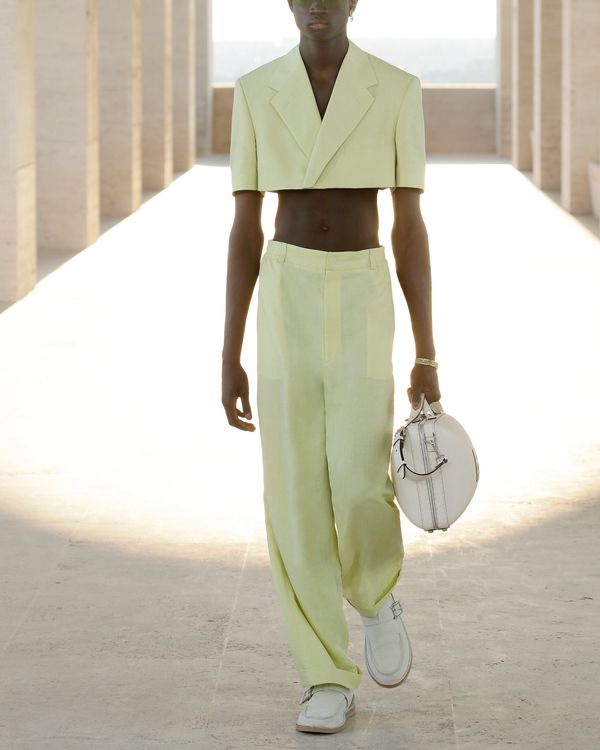 Identity is a subject I ponder every day, but recently, I was faced with one of the most difficult questions I've ever considered regarding my own: the meme that asks "r u a big shirt lil pants gay or a lil shirt big pants gay?" Which one am I??? In attempt to find a definitive answer, I thought back on the outfits that I've been wearing during this post-pandemic summer, but I needed more help. Luckily, this week, the men's spring 2022 collections swooped in to provide more material for a thoughtful response.
In a very pastel show inspired by Italian architecture, Fendi provided a strong argument for "lil shirt big pants," with a tiny, short-sleeved lime blazer cropped just below the bust and matching billowy linen trousers. The day of the show, a friend even texted me a screenshot of the look, saying, "They designed this for you." But I'd argue that they designed it for men who still need convincing that crop tops are, indeed, a very good look.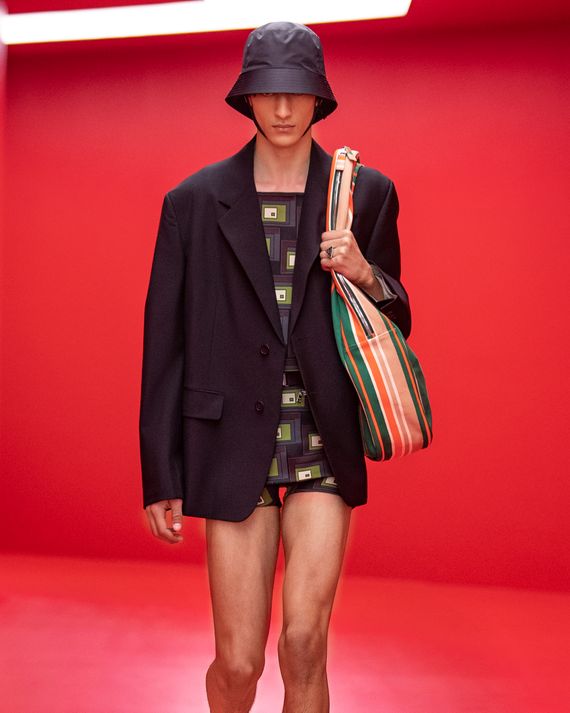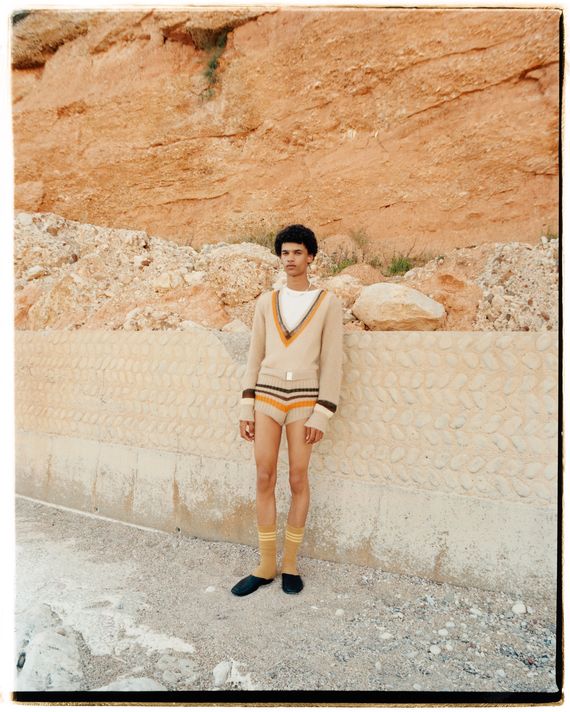 After the Fendi show, Prada and Wales Bonner both made cases for "big shirt lil pants." The former sent models down the runway in rompers and mini geometric-printed skorts paired with oversize blazers and leather jackets. And the latter showed a matching knit set of teeny knit hot pants and a deep V-neck sweater with baggy sleeves.
With so many good looks, it was still hard to decide. But Silvia Venturini Fendi gave Vogue some words of wisdom that made me realize you can be both. You can seize the freedom to dress however you want! "In a moment where our freedom has seemed to have limits, I think it's also the moment to push it … so I really wanted to give a sense of freedom to this man. I think it's the time to break boundaries." In any case, two things are for sure: "hot vaxx summer" does not exclude men, and skimpiness is in.