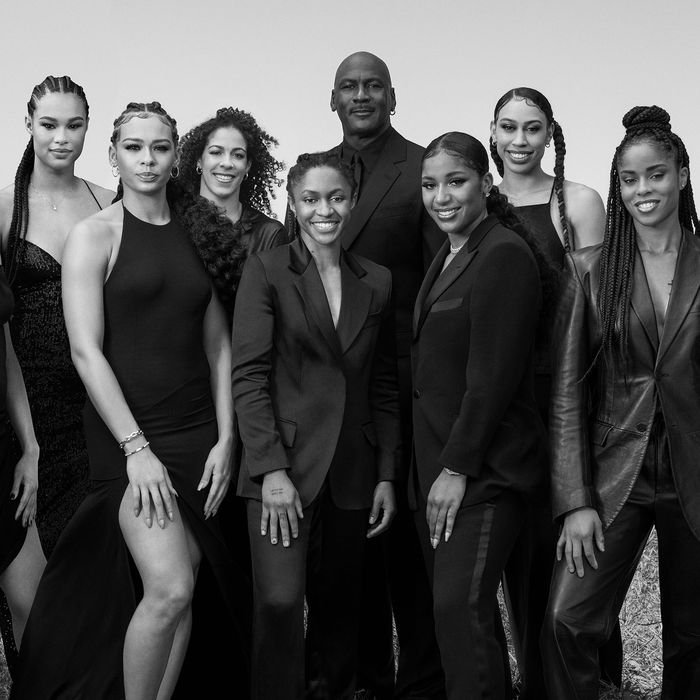 Photo: Jordan Brand / Ming Smith
April 22, 2021, was a big day for women's professional basketball: It marked the 25th anniversary of the WNBA. It's mind-blowing that it's only been 25 years. I remember attending Detroit Shock games with my family and friends when I was growing up in Michigan. As a 6-year-old decked out in Detroit Shock swag, I got to meet the players after one game. They autographed my basketball, and I thought it was the coolest thing that had ever happened to me. On some level, I still do.
To honor the 25th anniversary of the WNBA, Nike's Jordan Brand — the wing of the company connected with legendary NBA player Michael Jordan — has released a photo series called "WNBA Family Portrait." Starring Jordan and nine WNBA superstars: Aerial Powers, Arella Guirantes, Chelsea Dungee, Crystal Dangerfield, Dearica Hamby, Jordin Canada, Kia Nurse, Satou Sabally, and Te'a Cooper, the series features a family-style portrait as well as solo images of each athlete. It's all shot by Ming Smith, who was the first Black woman to have her work acquired by New York's Museum of Modern Art. In addition to the talent in front of the camera, the team behind the project also included rising-star fashion stylist Carlos Nazario and Nicola Vassell, the founder of the first Black-owned gallery in Chelsea, who both contributed their visual storytelling skills to the creation of these powerful images.
"We've seen our entire culture shift these past few years and are entering a new era for the game as the WNBA celebrates its 25th anniversary," says Craig Williams, president of Jordan Brand. "This project is a celebration of the energy and the focus that each woman brings on and off the basketball court. Every person on our WNBA roster has a unique style and flair they play the game with, but also in how they represent themselves off the court through their efforts to drive social justice for a broad range of issues. As one Jordan family, we are united by our love for the game and everything basketball culture represents."
Given Jordan Brand's commitment to the growth of these emerging superstars and the women's game overall, it was only fitting that they chose Ming Smith as the photographer — not just because of her accomplishments, but also because she has a personal connection to the game. Smith reminisced to the Cut about attending all of her son's basketball games when he was growing up, watching films like Spike Lee's He Got Game with him, and buying him Michael Jordan memorabilia because he loved MJ. She was the "the ultimate basketball mom," she said, so when the project came her way, she knew she was supposed to work on it.
While capturing these images was different from her usual informal approach to photography, she said her street photography background helped her out. So did the athletes themselves. "There was a real sense of community," she says. "There wasn't any type of competition between the women. They worked as a team to help give me a good image. At one point in the beginning of the shoot, I gave them the ball and they all became at ease; it was like their friend, their tool, their love. They became more centered in themselves, and I thought that was so interesting. These women represent the future of basketball culture for women, so I really wanted to show the strengths, fragility, and beauty of these women, no stereotypes. It was my responsibility to capture a positive image that would inspire other young women, particularly Black women — an image that they could identify with."
This portrait is not only a celebration of the 25 years of the WNBA, it's also a celebration of Black athletes, Black creatives, and Black culture. With the creative team behind the project being predominantly Black, and Ming's ability to capture the grace and natural force of each woman out of their uniform, they were able to bring to life a powerful image. It marks a turning point for women in sports, celebrates the future of women's basketball, and reminds us of how impactful images can be when the team creating them looks like the people in front of the camera.
"I think this project says a lot about the Jordan Brand," says Carlos Nazario. "This whole show was run all by women and probably 99 percent Black women. That was incredible to me, and I loved seeing all those bossy-ass incredible, powerful, intelligent, no-bullshit-taking Black women running shit. If this is the future, sign me up,"
The images from the Jordan Brand's "WNBA Family Portrait" will be on display at Nicola Vassell's gallery for a pop-up show called Here For a Reason from June 29 to July 2.
Scroll below to see images from "WNBA Family Portrait."