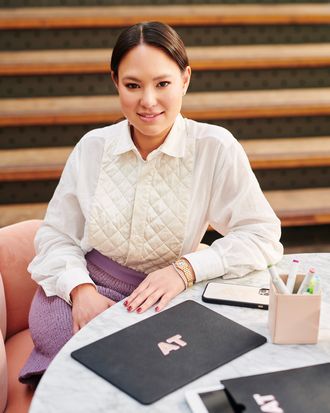 Photo: SEVAK BABAKHANI/Courtesy of Alyce Tran
Alyce Tran left her job as a lawyer to run an accessories brand full time. Within two years, the company had made over $5 million in profits. Called the Daily Edited, it offers everything from AirPod cases to wallets, handbags, and luggage. Everything can be personalized, too, with dozens of options for embossing your initials.
"As a lawyer, I used to wonder: What do I wear to work on Friday that can also take me to drinks that night?" she told the Cut. "I wanted to have chic accessories to take to client meetings. My co-founder Tania and I looked into creating a small line back in 2014, and it just developed from there. It was a quick transition out of the law. Our business grew so quickly, we had no choice but to leave our day jobs!"
We spoke with Tran about Chanel, French fries, and NFTs.
What's one thing on the Daily Edited that's especially meaningful to you?
This is a tough question because it changes every two weeks. At the moment, it's this bag. The mix of the canvas and the leather components makes it easy to work in with my outfits.
How do you thank someone for a gift?
By writing them a note or sending them flowers, depending on the magnitude of the gift.
What would you never wear?
Fluorescent colors.
What's your dream vacation?
I love going to Italy. You just get everything there: the shopping, the food, the relaxation.
What's a good book on your coffee table right now?
I'm based in Australia, and right now, if you want to leave the country, you have to make a special application to the government. Since we're not able to travel, I have leaned hard into the Assouline travel books. Miami, Capri, and Mykonos are my favorites.
Last show you binge-watched?
Ginny and Georgia.
What's your guilty pleasure?
Fries and a cheeseburger.
Secret to hosting a good party?
Always have more Champagne and cheese when the dinner party keeps going and going.
What is a trend that you like right now?
I love how everyone has really gotten into improving their homes, from furniture to tablescapes. Side note: I also have a homeware brand called In the Roundhouse.
One you don't understand?
Anything to do with NFTs with respect to fashion.
Favorite restaurant in New York?
I haven't been in nearly two years but previously Le Cou Cou.
What's the one thing you could eat every day for the rest of your life?Fries.
Shoes you wear most often?
Chanel flats.
What are five inanimate objects that bring you joy?
"I love anything from Helle Mardahl."
"Love the scent of this candle."
"The colors and shapes of her artworks are calming."
"I feel like I need a curvy couch like everyone else!"
"When I want to reward myself, I love nothing more than to peruse Chanel ready-to-wear. Hello, this pink jacket!"