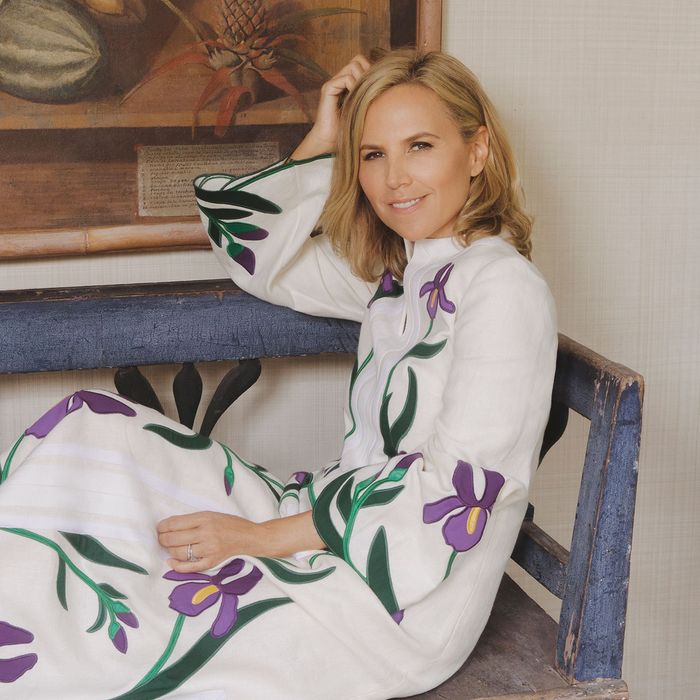 Photo: Noa Griffel for Tory Burch
Tory Burch likes to talk about her favorites. Her favorite tunic, found at a French flea market, inspired one of the first pieces she ever designed. Her favorite high-school song became the inspiration for one of her perfumes. And her favorite sunscreen just became a collaboration with Shiseido.
Burch designed a limited-edition, cheery-looking liquid sunscreen and stick — featuring a floral print inspired by the garden at her home in Antigua — with the Japanese beauty brand. She talked to the Cut about surprisingly comfortable loafers, New York restaurants, and the philanthropy behind her latest partnership.
What made you want to launch a suncreen?
A few years ago, I went for a routine skin-check and was fortunate to catch something when I did. This can happen to anyone — with skin cancer affecting millions each year — of all ages and skin types. Now I'm even more conscious of the importance of regular skin-checks and using sunscreen daily.
I have used Shiseido's sun protection for years. Sunscreen felt like a perfect place to start our new partnership, especially as they share my passion and commitment to giving back. This collaboration supports Memorial Sloan Kettering with a grant to fund a one-year clinical-research fellowship in dermatology focused on advancing skin-cancer treatment and prevention.
How would you describe your personal style? Is it different from your brand?
My style is eclectic, but it has gotten more consistent over the years. I have always been interested in the idea of clashing, whether it's high-low or old-new.
How do you thank someone for a gift?
A handwritten note.
What would you never wear? Why?
Leg warmers! I have a bad memory of wearing them on an eighth-grade field trip to the Metropolitan Museum of Art … that was the first and last time.
What's your dream vacation?
Anywhere with my husband, Pierre-Yves.
What's a good book on your coffee table right now?
I am obsessed with all kinds of books, from A Complete Guide to Japanese Ikebana, a beautiful book about the art of flower arranging, to The Code Breaker, Walter Isaacson's book about Jennifer Doudna and the science of gene editing. I just preordered my friend Samantha Boardman's new book, Everyday Vitality.
Last show you binge-watched? What did you think of it?
I am a bit of a history buff, but I still like the creative-license approach of The Last Czars, Marco Polo, and Roman Empire.
Favorite restaurant in New York? Why?
Sette Mezzo, JG Melon, and the Odeon — where we shot our fall/winter collection. I love restaurants that are part of the fabric of New York.
What's the one thing you could eat every day for the rest of your life?French fries.
Shoes you wear most often?
Our Jessa loafer with a pointed toe. It doesn't look it, but it is insanely comfortable.
What are four inanimate objects that bring you joy?
I have been playing tennis my whole life. It's definitely my game. Recently, I switched to the Head Radical Pro.
My husband and I got a beautiful backgammon set from Nine Fair for our wedding. We have long — and sometimes drawn out — matches.
This beautiful black-and-white Loewe dress is perfect for my stepdaughter's wedding.