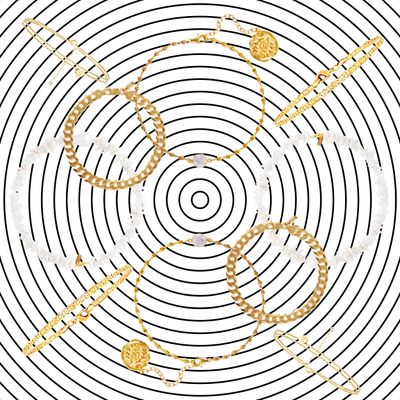 Photo-Illustration: by The Cut; Photos: Retailers
It's getting hot outside, which means I'm most likely going to be examining your feet. I mean this in the least sexual way — it's just that I used to have the softest feet, but then I moved to New York, and it only took a year of walking around for that to change. Maybe this is a personal insecurity I need to work through, but now, if I see you in sandals, I'm going to wonder: Are those baby toes cuter than mine? I've worn socks during sex in a darkish room because my feet did not meet my three requirements for nudity: smooth, pedicured, and polished. I'm also that friend who will let you know if your ankles and toes are ashy on the spot.
But the thing is, I don't want to stress about the state of my feet, or anyone else's. This summer especially, our feet deserve to be naked and free, so let's stop obsessing over them and instead start decorating them. Anklets have been back in style for a few years, but something about them is really speaking to me right now. Slip a bracelet around your leg, and it immediately feels sexier. It can be a simple gold chain that sparkles when the sun hits it, a colorful beaded situation, or even an anklet ballet flat if you want to play it safe — the point is you're adorning a part of yourself that isn't usually adorned.
It's time for our feet to thrive this summer, so read on for 12 anklets to buy right now.
The Monogram Anklet
Who doesn't love a personalized piece of jewelry with your initials on it? The price doesn't hurt, either.
The Perfect Gold Chain
I recently purchased this one after seeing it on a friend of mine. I've worn it in the ocean and in a chlorine pool, and it's continued to keep its shine.
The Only Snake You'll Love to Wear
I swear I've been seeing more people around Brooklyn wearing their pet snakes as accessories. If wearing a live snake is not for you, then this simple sterling sliver anklet is the next best thing.
The Anklet That's Covered with Butterflies
If you like to wear jewelry that reflects your mood, then this cute and flirty piece is perfect for falling in love this summer. Wear it on a date with anyone, and I'm sure it will catch their eye and feelings.
The Perfect Barefoot Anklet
This anklet could be worn with your favorite shoes, but to get the full look, your feet must be naked. The delicate chain that connects the ankle and toe is is minimal, yet sexy. Best worn on the beach with sand in between your toes.
The Layered Anklet
Stars and crystals – what more do you need? The double chain is adjustable, so you can wear it as an anklet or bracelet.
The Colorful Beaded Anklet
We love a Roxanne Assoulin moment, and with this set of two we love it even more. You can layer the rainbow of glass beads or wear them solo; it's your choice.
The Anklet that Catches the Light
This anklet features gold-tone beads and is centered with a light-catching, bezel-set crystal. Wear it with you favorite summer dress and fisherman shoes.
The Handmade Pearl Anklet
If you';re going for a handmade-chic look, this anklet – made with fresh-water baroque pearls and chips – is the one for you.
Another Butterfly Anklet
Maybe it's because I am stuck on the Y2K aesthetic, but butterfly accessories (see above) feel so nostalgic and fun right now.
The Chunky Gold Chain Anklet
In the words of Trinidad James: "Gold all in my chain. Gold all in my ring. Gold all in my watch. Don't believe me, just watch." Unfortunately, he forgot "Gold all in my anklet," but this chunky gold chain anklet will fill the gap.
The Dainty Pearl Anklet
Mateo is a Black-owned jewelry brand founded by New York based designer Matthew Harris. The brand focuses on making modern, relatable fine jewelry at an accessible price point. This elegant anklet is handmade with freshwater pearls and the label's signature 'M' charm.