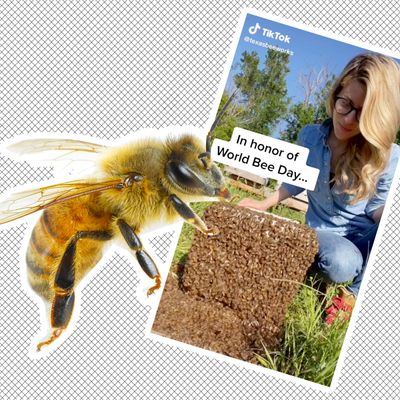 Photo-Illustration: by The Cut; Photos: Getty Images, Texas Beeworks/TikTok
Oh, honey, we've got bee drama. Popular TikTok account Texas Beeworks is facing backlash for its bee-removal and beekeeping videos. Texas Beeworks' Erika Thompson (a.k.a. the TikTok Bee Lady) is best known for videos that show her gently scooping up dozens of bees with her bare hands. They're usually accompanied by a soft-spoken voice-over explaining things like how she finds the queen and why the bees she's relocating have swarmed a particular surface (e.g., an umbrella). Thompson has over 6 million followers on TikTok, with each video getting millions of views and likes. She's been profiled by major publications, has appeared on Ellen, talked with Today, and even collaborated with Jason Derulo. Her recent rise to fame has established Thompson as the internet's favorite bee lady.
However, fellow bee experts have recently raised questions about whether Thompson's videos are misleading and if her methods are safe for her and the bees. So, what exactly is going on?
There are concerns about Thompson's safety methods and apparent lack of protective gear.
Bee-removal specialists @LAHoneybeeRescue recently posted a series of TikToks noting the potentially dangerous consequences of handling bees without protection. "I'm 100 percent okay with her showing how docile swarms are," they said in one video, "but the fact is that she goes into removals without wearing any safety gear, wearing black leggings, a black tank top, and a dark-blue shirt that's unbuttoned overtop." They also said that Thompson "opening up hives with her hair down … and exposed skin is dangerous."
"It's true that bees sometimes get tangled in hair; usually it's defensive bees," said Hilary Kearney, a beekeeper and the author of QueenSpotting, a book exploring the life of the queen bee. Kearney also explained the criticism of Thompson's dark clothes via email with the Cut: "The theory is that bees have evolved to be defensive towards dark colors because of bears and skunks and other predators that are typically furry and dark." Hence why beekeepers' protective gear is often white. "Speaking as a fellow blonde beekeeper," Kearney said, "I rarely have bees come for my hair." However, Kearney's husband, who has dark hair, has had bees come "stingers out" toward his hair.
L.A. Honeybee Rescue also raises the issue that some species of honeybees are dangerous, and it can be tough to distinguish them from less-defensive bees by looks alone. Typically, it's only possible to make this distinction through DNA testing, microscopic measuring, or observing their behavior, potentially through antagonization, something not shown in the Texas Beeworks videos. Thompson is based in Austin, and Texas does have species of dangerous bees. In her videos, Thompson primarily interacts with European honeybees, which are more docile when in swarms and are less defensive than other species, though they may still sting when provoked.
So, is what she's doing dangerous?
While seeing someone scoop up bees with their bare hands may be alarming for most of us, the risk is much lower for someone with extensive experience handling bees. As Dr. Judy Wu-Smart, research entomologist at the Bee Lab at University of Nebraska–Lincoln, told the Cut, the methods used in the video don't appear to be dangerous for "experienced beekeepers who understand the biology and behavior of honeybees."
Kearney echoed the importance of understanding bees' behavior in determining the risk of interacting with a hive. "Every bee colony and every situation is unique," Kearney explained, noting that the necessity of certain gear varies depending on the situation. "Many beekeepers work with minimal to no protective clothing."
As for whether Thompson's videos in particular are cause for concern, Kearney said she trusts Thompson's judgment given her experience: "She is in fact the only person who can accurately judge whether it is safe because she is the only person who is there working those specific bees."
One concern is that nonexperts will try to imitate Thompson's videos, attempting to handle bees they encounter without the proper training or safety gear. As Dr. Wu-Smart said, "It's not recommended for just anyone to try, of course." Kearney also mentioned that "there are behavioral cues that only experienced beekeepers understand and many of those cues are not detectable via an edited-down video."
There are also questions about the videos being staged or "faked."
Thompson has been accused of staging some colony removals or using precut pieces of honeycomb in order to make the bees easier to handle. "Even if she's going in with the suit and doing the entire removal herself, she then takes off the suit and poses as bee-removal Barbie, holding little bits of comb, wearing inappropriate clothes with her hair down, and it's fake," L.A. Honeybee Rescue said in one video. "She's faking the job. That's not what it looks like." Thompson has not publicly responded directly to these comments.
It's not uncommon for influencers to stage their content. YouTube stunts are faked. Instagram food accounts use editing magic to make meals look more appetizing. It's not surprising or new for a popular account to create staged content for the sake of anything from aesthetic appeal to time constraints. "Speaking as someone who also makes videos of my removals for social, there may be some shots that she reshoots for those purposes, but that doesn't make her removals fake," Kearney said, calling claims that the videos are fakes "unfounded." However, Thompson's critics argue that there's a distinction between content curation and misleading information.
"If this were just content, I wouldn't care," L.A. Honeybee Rescue said in one TikTok. "This is not about 'influencer versus influencer.' This is me saying what she's doing … is dangerous," adding that "people don't understand that you can't just look at a bee and know it's [dangerous] or not."
Is she actually "saving the bees"?
Like most buzz-y issues — excuse my pun — bee conservation and "saving the bees" is more complicated than merely interacting with any species of bee. "[Texas Beeworks] claims to 'preserve, protect, and increase bee populations across' Texas without ever mentioning supporting our native bees on their website or TikTok," entomologist and pollinator-conservation specialist @EntomologyAbby said on TikTok. "Does that mean this company doesn't support native bees? Not necessarily, no. But relocating pest hives alone isn't saving the bees."
As @EntemologyAbby further explained, "Honeybees are not native to the U.S." While they're useful agriculture animals, she said, they can be "harmful to native bees and ecosystems." As Scientific American has previously pointed out, honeybees are also not at as great a risk of extinction as native species of bees. "Honeybees are widely appreciated, whereas most people are not aware of native bees," @EntemologyAbby told the Cut in an email. "All bees are important and serve a unique purpose. So, it is key to spread awareness about native bees as they are important both in ecosystems and in crop pollination."
Thompson responded in a comment to @EntomologyAbby's video, saying, "If you'd like to know what I do to support native bees, just ask the Texas State Legislature, Environment Texas, Texas Parks & Wildlife, etc." When asked to further clarify, Thompson added, "For the past four years, I've worked to get legislation to protect bees and all pollinators. Even testified in March at the Capitol on HB520," a bill meant to preserve the habitat of bees and other pollinators.
There is also concern that viewers may be unaware of the major differences among bee work.
On Friday, LA Honeybee Rescue, whose TikToks have frequently been cited as a source of Texas Beeworks criticism, spoke to the Cut by phone. (LA Honeybee Rescue asked that they be referred to by their handle rather than their name.) After their videos started gaining attention, LA Honeybee Rescue's TikTok page was suspended; they told the Cut their account was reported for being run by someone under 13. The account has since been reinstated. "My point was not to attack [Thompson]," they said when asked about their now-viral videos, adding that the work Texas Beeworks does to demystify bees as a whole "is great." However, they are "sick of being held up to this image of her" when they're on the job, referring to Thompson's more clean-cut, stylized videos.
LA Honeybee Rescue, who works as a bee removal specialist, expressed particular frustration at the lack of distinction between beekeeping and bee removal in conversations about bee work. They described a job that looks very different from the bee videos people might see on their For You Page, one that often requires power tools, heavy-duty protective gear, and ladders to get 35 feet up into a tree in order to remove a colony. They also talked about the ways in which a bee-removal situation can vary in risk. As LA Honeybee Rescue has shown on TikTok, they've been stung in the face repeatedly when trying to remove a more defensive colony. They also said there are plenty of removal jobs where they will take off protective gear when interacting with colonies that they've established are docile, removing their head covering and scooping bees by hand.
"Had I known the video was going to go viral, I would have phrased it differently," they said. "But I do still stand behind what I said." LA Honeybee Rescue also said they've received messages from other bee-removal specialists expressing support for their recent videos.
When asked if they've spoken with Thompson since the backlash, LA Honeybee Rescue said Thompson sent them $100 on Venmo. They said the money came with a message from Thompson saying she hoped they get their truck fixed soon — it's currently in the shop — so they can get back to "saving the bees." That's the only interaction they say they've had with Thompson.
So … what about the Trump stuff?
There are also claims that Thompson is an alt-right Trump supporter. There's been no evidence to support this and appears to be purely based on rumor.
The Cut has reached out to Thompson will update with any comment.
This piece has been updated.
A previous version of this article contained art depicting a fly rather than a honey bee. The lede image has been updated.