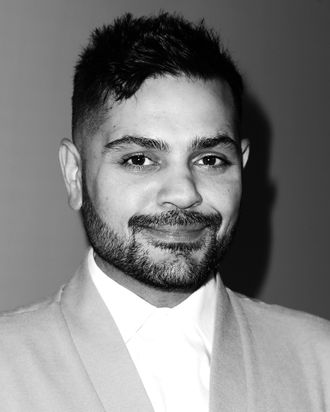 Michael Costello
Photo: Chelsea Lauren/Shutterstock
Another day, another milkshake duck. That is the message I am getting from the rapidly evolving controversy surrounding Michael Costello. The designer and former Project Runway contestant's name entered the news cycle last week after he shared his own allegations of bullying against Chrissy Teigen. The model and cookbook author is under fire for her resurfaced history of cutting and often cruel tweets, specifically those in which she encouraged a teenage Courtney Stodden to kill themself. Teigen posted a lengthy, if not necessarily satisfying, apology for her past behavior last week, noting that she was "in the process of privately reaching out to the people [she] insulted" in the past. One person who claims he did not receive an apology: Costello, who subsequently said on social media that Teigen's alleged abuse left him "traumatized, depressed," and entertaining "thoughts of suicide."
Yet Costello's accusations against Teigen brought forth some of his detractors — people accusing him of sexual harassment, overt racism, and body shaming — and Teigen claims that the DMs he shared were fake. Below, everything we know about how we got here.
What exactly happened between Costello and Teigen?
On June 15, Costello posted a statement to Instagram, outlining a campaign by Teigen to tank his career in 2014. "I didn't want to do this, but I can not be happy until I speak my mind. I need to heal and in order for me to do that I must reveal what I've been going through," he wrote. "I wanted to kill myself and I still am traumatized, depressed, and have thoughts of suicide."
According to Costello, Teigen originally went after him in a public comment on his Instagram page, calling him a racist over what he described as a "Photoshopped comment floating around the internet … proven to be false." Costello said he tried to explain to Teigen that he "was the victim of a vindictive cyber slander" by a "disgruntled former employee." At the time, a designer named Maxie James — a.k.a. Maxie J., owner of Ellaé Lisqué and the Los Angeles boutique, StyleHouse — had accused Costello of co-opting one of her dresses, which prompted a reply, apparently from Costello, in which he used the N-word. Costello denied posting the comment and blamed an intern, but Teigen didn't buy it. In his statement on June 15, he posted screenshots of their exchange, in which she apparently threatened him, "You will get what's coming to you," and added: "Racist people like you deserve to suffer and die. You might as well be dead. Your career is over, just watch." According to Costello, Teigen kept her word, and she and stylist Monica Rose allegedly "threaten[ed] people and brands that, if they were in any shape or form associated with me, they would not work with any of them."
A "cyber slander"? A "disgruntled employee"? Does that not sound … a little suspect?
To my ears, yes. But possibly (possibly!) that is because I have become aware of a number of other players in this fast-ballooning scandal.
On Tuesday, Leona Lewis entered the chat.
The day after Costello aired his grievances with Teigen, singer Leona Lewis came forward with her own story of an "awkward and uncomfortable" fitting with the designer in 2014. According to Lewis, Costello and his team were supposed to provide a dress for her to wear in a charity fashion show, but "clearly did not want to alter" the sample size presented to her. In her Instagram stories, she said the experience left her feeling "embarrassed" and "deeply hurt," and that the whole thing "came as a total surprise because weeks prior I was told that they would make the dress work for me."
"At the next fitting, the night before the show, with no explanation at all, Michael refused to turn up," Lewis wrote. "He no longer wanted to dress me and he abandoned his commitments to me and the show which made me well aware that I wasn't the body type required."
"Because I didn't look like a model size, I was not permitted to walk in his dress," she continued. "I had to sit in the audience and was asked by press why I didn't walk in the show. I remember having to come up with excuses as I was so humiliated by it all."
A few days later, Costello told "Page Six": "It's bizarre how [Lewis's] attitude towards me shifted as soon as I spoke my truth in regards to Chrissy Teigen and others trying to blacklist me." Costello claimed he had been "very excited" to work with her, and that issues with the dress came down to the timeline: He allegedly received the request from her team on January 30, days before the fashion show on February 6. Because he was showing his own collection the next day, he said, "I thought it would be ideal to lend her one of my showpieces all for charity and then have it returned just in time for my show." He couldn't make that piece work, he said, because he was in Los Angeles, but with more notice, "we could have made something custom for Leona without a doubt."
"I have always been a fan of Leona Lewis and she has always adored me," he added. "Her team has continuously requested for her to wear us from 2013 up until now."
Following Costello's response, Lewis said on Instagram stories that she was "choosing forgiveness." She wrote: "Michael, Thankyou [sic] for your apology, I wish you healing and that you feel better. For now today is a new day, spread love."
Then, a makeup artist accused Costello of sexually harassing him — while he was undergoing chemo.
Lewis was not the only person to sound off on Stories. The same day, makeup artist and photographer Jordan Liberty called out Costello. "He sexually harassed me while I was going through chemotherapy," Liberty said. "The gloves are off today."
According to Liberty, Costello sent him a direct message on Instagram in 2017, praising his work. They started talking and eventually, Liberty says, Costello asked him to shoot an upcoming collection. At the time, Liberty was undergoing treatment for cancer, and when he agreed to meet with Costello the next day, he clarified that the time they set — "9 a.m. at some açaí bowl place" — would have to be firm, because it was "really hard for [him] to get around." But Liberty says that as soon as they scheduled the meeting, Costello sent him "a collage of dick pics."
"I immediately felt like if I don't respond favorably to this, it's not going to go well," Liberty explained. He says he wrote back and said that while he felt "flattered," he wanted to "keep things professional." The next day, though, Liberty says Costello continued to push back the meeting time, and when he called the designer to figure out what was going on, Costello allegedly chewed him out over the phone.
Costello has not commented on Liberty's allegations directly, but on Wednesday night, issued a statement explaining that he is "not going to address any more issues in regards to … false stories from those who aspire to clout chase."
And! Maxie James would also like to share her thoughts…
On Wednesday, James herself shared her memories of the 2014 incident that apparently set all of this in motion. In an Instagram Live with the Jasmine Brand, James said that while she could not defend Teigen's past actions, she could provide some context for this one. She and Costello "had an encounter about seven year ago," James explained. According to her, it started online, after Costello purchased a design from her website, and allegedly resold it for five times the price, as if it were his own. James said she tried to get in touch with him personally, but when he never responded, she posted a photo of the receipt and his picture of the dress to Instagram. After the post went viral, James said, Costello called her the N-word in the comments.
Again, Costello has vehemently denied using the racial slur — he says that Instagram confirmed the comment was the work of a Photoshop-saavy intern, and his co-designer explained at the time that she had purchased the dress because it resembled one Costello had already produced. But James maintains that he repeated the slur again, when the pair ran into each other in a fabric store about a year later; she also says he accused her of trying to "sabotage [his] business" and broke her phone. According to James, the pair got into a physical altercation and the police showed up. A witness backed up James's account in a video, but Costello says James mischaracterizes the altercation.
What has Costello said about these new claims?
The Cut contacted Costello for comment, but on Wednesday night, he shared a statement on Instagram explaining that he had no plans to say anything else about the matter. It reads, in part:
My heart is at peace. I am not going to address any more issues in regards to false statements proven to be false, false stories from those who aspire to clout chase, and false allegations made by those close to my bullies in an attempt to smear my name. There is much that the public doesn't know and I forgive those who judge me based on what they've heard. My whole purpose of speaking my truth was that I wanted to set myself free from being bullied and blacklisted by the powers that control Hollywood and high fashion. I knew that by setting myself free and telling the truth, I am making myself even more of a target of smear campaigns. I thank you for wanting to join me in my fight but I am truly at peace by speaking up. I have spoken my truth and I'm going to leave it as is.
Now, Teigen is saying the DMs Costello shared are fake.
A few days after Costello's accusations, Teigen posted a new statement on Instagram alleging the DMs Costello shared were completely fabricated. "When the supposed screenshots from 2014 were originally circulated last week, the name on Chrissy's account was misspelled," the statement reads. "This week, the fabricated screenshots were cleaned up with the correct spelling of Chrissy's social media handle. However, they could not actually be from 2014 because they feature elements that were not a part of the instagram app in 2014." For example, she alleges one screenshot featured video-chat function, something that didn't launch until 2018, despite Costello saying the DMs were from four years prior.
Her husband, John Legend, also retweeted a Business Insider article debunking Costello's claims. "Honestly I don't know why anyone would fake DMs to insert themselves in this narrative, but that's what happened," Legend wrote.
Costello responded in a statement to E! News refuting Teigen's new statement: "The fact that Chrissy Teigen's team is desperately trying to prove the DM's are fake and attempts to discredit Michael Costello, a victim of trauma and bullying by Chrissy Teigen both online and offline, confirms that she remains the same bully, despite her public apology."
So, um, I guess that's that.
This article has been updated.