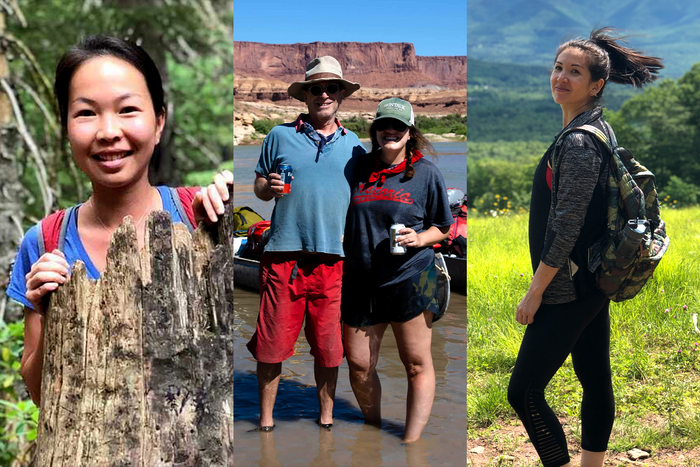 Photo: Courtesy of the Talent
We learn new life lessons through experience: reading, observing, digesting, and doing. After more than a year spent going through the motions — mostly between the same four walls — grappling with the worldwide pandemic, it's become apparent that some of the most important life lessons can only be found outside. The natural world can not only spark creativity, mindfulness, and purpose, it can also teach us how to be balanced, calm, and gentle with others around us (and ourselves). Ralph Waldo Emerson did say, "Adopt the pace of nature: her secret is patience."
KEEN Footwear knows exactly how valuable it is to spend time outside, and has been making it easy for everyone to get outside for over 18 years. The family-owned company launched its new Astoria West, an active wedge sandal crafted by women and produced for women, to wear in any terrain. A small heel lift adds style and extra cushion while the contoured fit makes this shoe a better match for narrower feet. Ready for any adventure, it features sleek color combos, a toe bumper, and slim webbing straps for added comfort. With a grippy outsole and anti-slip zonal siping for damp conditions, it's the first KEEN hybrid sandal that sports the heel lift, which will put you in a more dynamic stance — chic and functional.
There's no better time to emerge from the indoors than right now, as colder days move further away and life (slowly) opens back up. Studies have found that spending time outside is good for our mental and physical health and may be especially beneficial for our well-being in unpredictable times. There's much to be learned from getting back outside again, so we spoke to three women on our team about the most important lessons they've discovered in nature. Read on to see what they've discovered outside, just in time for warmer weather.
Marcy Franklin Bosco, Managing Editor at Vox Creative
Favorite physical activity: If indoors, spinning (a new favorite) or yoga classes; if outdoors, hiking
Favorite place to go to get away: Growing up in Colorado and now living in New York, I will take any chance I get to get back to the Rocky Mountains or the Flatirons in my college town, Boulder.
Which do you prefer: water, trails, or town? My husband says he loves to be outdoors, if he can get back to civilization at the end of the day. So I'd say we prefer the trails in the morning, town (usually an outdoor restaurant or brewery) in the afternoon.
Lesson Learned: To Be Uncomfortable: "Growing up camping and hiking in Colorado, I thought I would have been way more prepared for what an 8-day trip canoeing down the Green River in Utah would entail. My dad, who has taken the same 60-mile trip every year for more than a decade, had me all but convinced that it'd be nothing but floating on easy waters, long and luxurious soaks in scorching Moab heat, campfires, the works. But turns out, when you move to New York City, you become more of a concrete jungle cat than a mountain cat, and I was out of my elements completely.
On day 3, I melted down on a river bank like a toddler — it was not my finest moment. My dad took me aside and told me that like most things in life, nature is out of our control, all we can do is give in and let go. In the city, you're able to snap a finger and get what you want on demand (an Uber, Chinese food, a date, a distraction from everyday life). In nature, you're forced to sit within yourself. You're forced to get a little bit uncomfortable. I had no idea just how good it felt to be uncomfortable. Once I had finally surrendered to my surroundings, I began to enjoy myself and all that was around me. By the end of the trip I was enjoying a cold beer at the end of the day, campfire chats with my dad and our friends, bandanas tied around our faces to protect them from sandstorms (face masks before 2020!). It wasn't always pleasant, but I grew outside of my own comfort zone.
Looking back on that trip, that lesson has served me well. Two months after that trip, I got pregnant. Six months later, we went into quarantine. Becoming a mom for the first time, I've spent more time feeling uncomfortable than not in the last year and a half. But learning to sit in that discomfort, to not run away from it, to sit within myself, has helped me grow into this new stage of my life."
Katherine Miller, Director, Programmatic Partnerships
Favorite physical activity: Before the pandemic I boxed about 3-4 times a week. Growing up, I did martial arts and it was a great way as an adult to get back in touch with my childhood. Now, for the past few seasons I'd say that golf has been my go-to. Golf was such a lifesaver last year during the pandemic. It was a surefire way to get outside, be socially responsible with people, and have fun!
Favorite place to go to get away: Paris or any place in the vicinity of a beach.
Which do you prefer: water, trails, or town? Water! Lake, beach, waterfalls (or rock jumping) — I'm a total water baby!
Lesson Learned: To Be Grateful: "Nature has proven to me time and time again that there are bigger things than us. I first really understood that on a trip to Bozeman, Montana and spent a night stargazing. Real stargazing with no pollution, no sound — just being. Seeing shooting stars and realizing that the light I was seeing was beyond lightyears of my existence was life changing. It made me realize that my time here on this earth is great and fleeting at the same time."
Annie Yu, Chief of Staff, Revenue
Favorite physical activity: Dancing, yoga, walking, hiking.
Favorite place to go to get away: Hawaii for the weather, activities and culture. Picture hiking in the lush greenery and smelling sweet, earthy scents, while seeing miles and miles of water and sky, and deeply appreciating nature. It's exceptionally freeing and calm.
Which do you prefer: water, trails, or town? Trails for a change of scenery, and also town because I grew up in NYC and there's nothing like exploring a neighborhood.
Lesson Learned: To Prioritize Myself: "There is nothing that reinvigorates or refreshes me more than the outdoors. The only thing that gets in the way of this is that I work. A lot. I've been undoing my 'work first' mentality which is so embedded in me as a born and raised New Yorker, and the child of immigrants. The work will always be there, but there is only so much sunshine in the day. I recently went to Yosemite and didn't freak out when I didn't have service to check email. I immediately responded to emails after the hike, but progress is progress!"
This advertising content was produced in collaboration between Vox Creative and our sponsor, without involvement from Vox Media editorial staff.