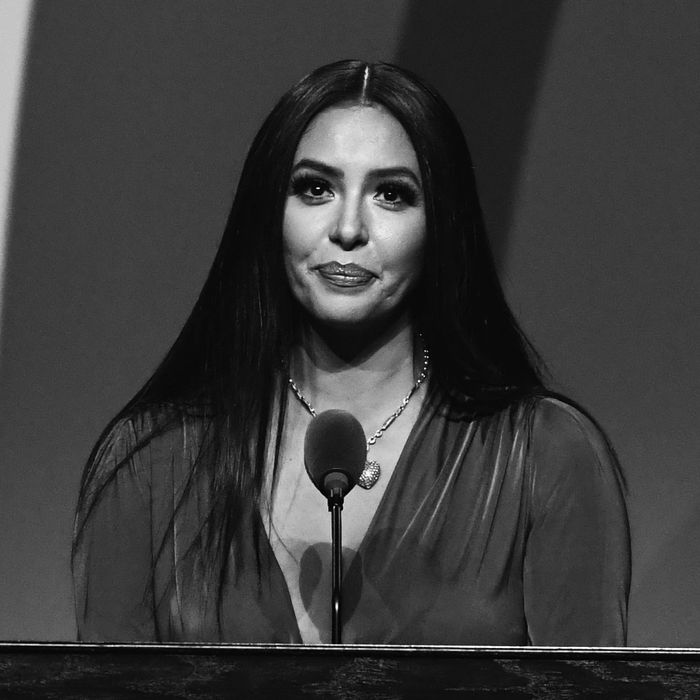 Photo: Andrew D. Bernstein/NBAE via Getty Images
Vanessa Bryant called out Nike in an Instagram post after discovering her "MAMBACITA" sneakers, designed to honor her daughter Gianna — who died in a helicopter crash with her father, Kobe Bryant, in January 2020 — have somehow been leaked.
"If someone can share how they have these shoes in their possession, that would be great because my daughters and I don't have any of Gigi's MAMBACITA shoes," Bryant wrote in the caption, adding that the sneakers are not approved to be sold.
The shoes were originally planned to be part of Kobe Bryant's Nike shoe line, in black-and-white colors to honor Gigi's basketball uniform. They also include Gigi's name on the back in gold and her basketball number, 2, on the side. All proceeds from the sales were also supposed to benefit Bryant's nonprofit organization, Mamba and Mambacita, which she founded to benefit underserved young athletes in honor of Kobe and Gigi's legacy.
In April, Bryant decided to end her husband's contract with Nike due to frustration over limited availability of Kobe's Nike products, and consequently, decided not to sell the "MAMBACITA" shoes. She wrote on Instagram that the sneakers were not even approved to be made.
Although it is unclear if Nike has plans to officially sell these shoes, retail photos have been released on Bleacher Report Kicks and Sneaker News under the name "Mamba Forever." Bryant also included a photo of Milwaukee Bucks player Khris Middleton playing in the shoes on her Instagram Story, and there is speculation the company plans to release them this summer.