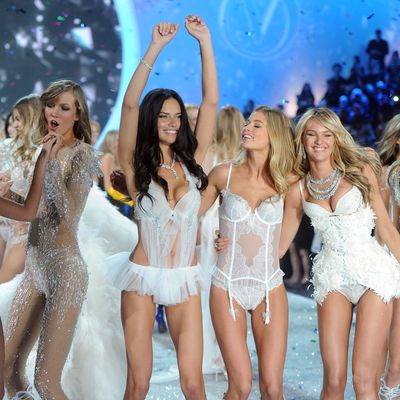 RIP angels
Photo: Getty Images
Like a lingerie-clad phoenix, Victoria's Secret refuses to die. In its latest effort to resuscitate its image, the company is undergoing a massive rebranding, trading its angel-winged, rhinestone-encrusted, size-double-zero fantasy for [checks notes] female empowerment? Per an emailed press release, the brand is launching two new "partnerships" dubbed the Victoria's Secret Global Fund for Women's Cancers and VS Collective, the latter of which will feature spokeswomen including soccer star Megan Rapinoe, trans model Valentina Sampaio, soon-to-be Olympic skier Eileen Gu, and actor Priyanka Chopra Jonas.
Most notably, the brand's iconic Angels will be phased out. The feathery-winged, tits-pushed-up-to-the-heavens imagery once plastered across ad campaigns, runways, and window displays will be swapped for faces of, in the brand's words, "accomplished women who share a common passion to drive positive change" like Rapinoe and Jonas. "When the world was changing, we were too slow to respond," Martin Waters, Victoria's Secret's recently-appointed chief executive, told New York Times. "We needed to stop being about what men want and to be about what women want." So, brand staples like the Angels, Waters said, are no longer "culturally relevant."
Victoria's Secret is also expanding their product offering to include more sportswear and functional garments like nursing bras. Even store mannequins will come in a wider range of shapes and sizes than it's previous standard 32B. Waters told the Times they'd likely be bringing back the annual Victoria's Secret Fashion Show show in a "very different form," though its not clear what form that will take. They're even launching a podcast featuring members of the VS Collective, a noted non-visual departure from the brand associated with seven-foot posters of Miranda Kerr in a thong.
If you're dubious, so was Rapinoe, who in the same interview described the company's former incarnation as "patriarchal," "sexist," and "really harmful." "Of course there will be people who are like, 'Does this make sense?'" she told the Times. "I, too, was like, 'What? Why do you want to work with me?'" However, she tell the Times she was convinced by current brand executives owning past mistakes and the fact that her role would extend to consultation on branding language and product range. It's unclear what else the VS Collective will do, exactly, beyond what the brand explained in vague buzzwords. Per the press release, they will "create new associate programs, revolutionary product collections, compelling and inspiring content, and rally support for causes vital to women."
It's no secret that the brand has a lot in its past to answer for. There's the history of offensive and appropriative costuming during its shows. There's the transphobia, the fatphobia, the age discrimination, the racism. There's the connection between former brand CEO, billionaire Les Wexner, and Jeffrey Epstein. (Wexner has been described as Epstein's former "mentor" and was the only known financial client of the convicted sex offender.) There's last year's New York Times damning report on the culture within Victoria's Secret, one steeped in misogyny and harassment. (Among other allegations, it included multiple reports of inappropriate conduct by Ed Razek, the former brand exec who once said trans models didn't fit in with the "fantasy" of the runway show. Razek later stepped down.) There's the fact that the storefronts started with the male gaze in mind, as the Times reports it was created as a place "where men could feel comfortable shopping for lingerie." There's the unforgivable proliferation of the push-up sports bra.
This also isn't the first time the brand has tried to dip its toes into marketable feminism. During what would be the final Victoria's Secret Fashion Show in 2018, per a previous report from the New York Times, models were featured talking about how participating in the runway show made them feel "successful," "powerful," "empowered," and "strong." Models talked about how "we can be sexy for ourselves and who we want to be, not who a man wants us to be." The next year they permanently canceled the show (for now).
It's hard not to read the rebrand as a last-ditch effort to be relevant and to turn that relevancy into profit. Before the pandemic hit, the company had seen years of financial decline. Now valued at about $5 billion, the company is worth a fraction of the $29 billion it was valued at in 2015. In May 2020, the company announced it'd be permanently closing 25 percent of its stores.
"It has to have a purpose, a reason, be there for the consumer to say: Wow, they're really evolving," said Raúl Martinez, who joined the company as a creative director in January, per the Times. He also said his 15-year-old daughter persuaded him to work with Victoria's Secret: "She said, 'Dad. Do it for us. The Gen Z's.'"
Will "the Gen Z's" welcome the long-overdue brand overhaul? Or will they see it as a pandering attempt at inclusivity? Who knows, but, for now, the Angels are with the angels.