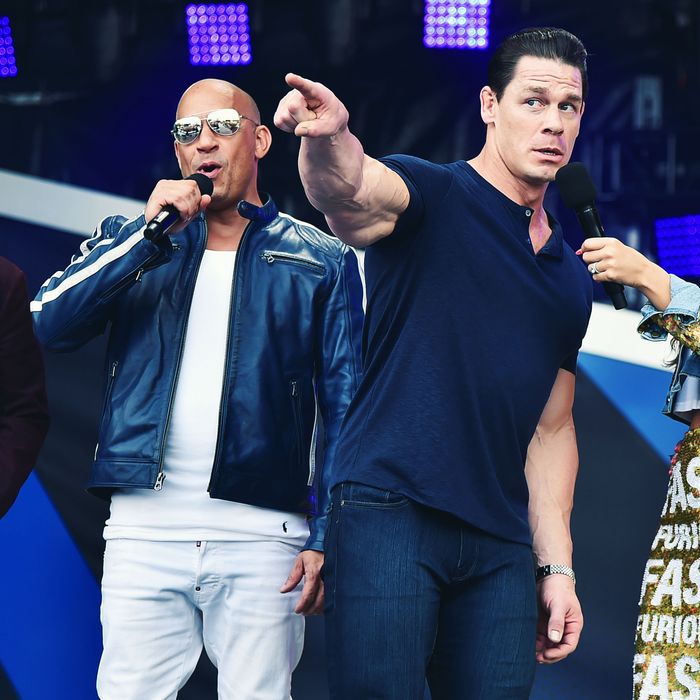 Vin Diesel with his a gift from Paul Walker
Photo: Theo Wargo/Getty Images for Universal Pictures
If there's one thing Vin Diesel knows how to do, it's dance. If there are two things he knows how to do, it's dance and absolutely nail an appearance on The Kelly Clarkson Show. Last year, he facilitated a truly dystopian TV moment, in which the show's virtual audience, each member on a giant individual screen, danced to his latest single. (Yes, he sings. The man is a multi-hyphenate!) Now, Diesel has given us yet another glorious conversation with Kelly Clarkson, one in which he said he thinks Paul Walker's spirit sent John Cena to play his brother in Fast 9. Hell, yes. I believe!
"Obviously, I'm multicultural," Diesel said. "You could've cast anybody to be my brother." Anybody, you say? Timothée Chalamet? Christopher Meloni? Cousin Greg? Regardless, Diesel went on to explain that the "shrine" he created to do stunt training for the upcoming installment of the Fast and the Furious franchise was where he'd eventually meet heaven-sent John Cena. "I had the Charger there to simulate the garage to get into the Dom state of mind."
However, Diesel was initially dubious about finding the perfect person to play his brother. "Now the idea of the brother worked great on paper, but when the time came to cast it, anxiety," he told Kelly Clarkson. "Who could you cast to be Dom's brother and 20 years into the game? The audience knows our mythology so much." Enter John Cena.
"He [Cena] comes into the shrine one morning, and I had this strange feeling … that Paul Walker had sent him," Diesel said. "Oh," Clarkson responded. "That's magical." Diesel agreed, "Very magical."
So, there you have it, folks. John Cena was cast by the ghost of Paul Walker. This is now Fast and Furious canon, and I won't hear otherwise. Who will Paul Walker's ghost send for the final two installments of the series? I suppose we'll have to wait by Diesel's shrine and see.