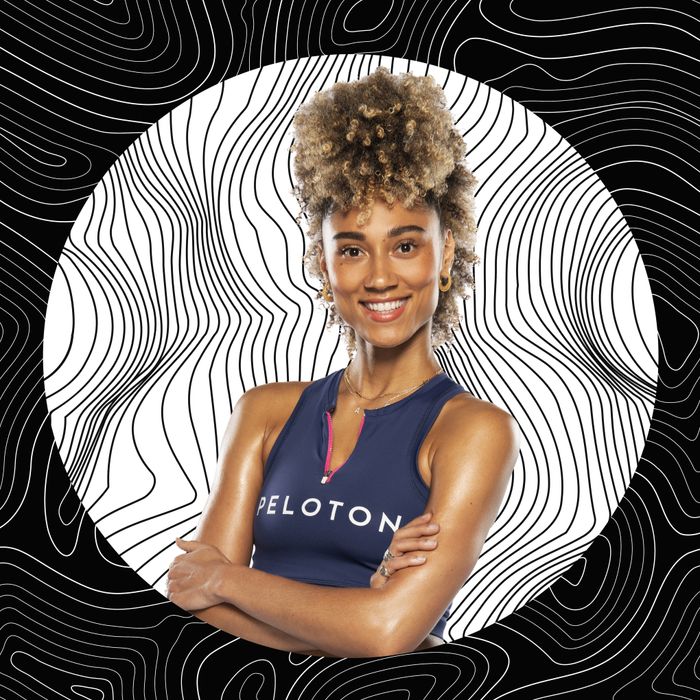 Photo-Illustration: by The Cut; Photos: Getty Images, Courtesy of Peleton
At the age of 9, Ally Love knew she would one day be an athlete. It was a realization brought on after a near-fatal accident left her with a broken femur. She told Women's Health in 2020, "I was losing a lot of blood. I couldn't have surgery right away because the pin that the doctors needed had to be special-made in China and shipped. Meanwhile, I was lying in bed with a weight at the end of my ankle, separating my bone so that it wouldn't heal." Then, after successful surgery, the doctors told her that she would never be a runner and would likely develop arthritis by the time she was 15 years old.
Love defied the odds and is now both a runner and a Peloton instructor teaching spinning and barre. She's also the founder and CEO of Love Squad (where she aims to empower women through panels and events), a model, the in-area host of the Brooklyn Nets, and a global ambassador for Adidas. Love talked to the Cut about how COVID-19 changed her idea of wellness, why she keeps two journals, and how she fell in love with running.
On her personal definition of wellness: Wellness means taking care of your whole self. I think oftentimes we equate it to just one aspect or one facet of our lives. And we often try to compartmentalize it to an area we can see, like physical fitness, which is really great in terms of first steps because you're able to see the changes. But when I think of wellness holistically, I think it means your physical, spiritual, and mental well-being. It means the whole person.
On the ways COVID-19 changed her idea of wellness: When I think of the silver lining from the last year and a half, it's the way our community was able to be open about the changes that we were experiencing. That openness allowed us to question what we wanted and who we are, and we were able to have those questioning moments together. That was a shift in my community. It was a shift in my immediate love squad, like my close family and friends, where we started to ask questions together. And moving forward, a lot of us are taking that with us and prioritizing our community. Part of that is also making sure that we're taking care of ourselves so we can show up for other people, so we can continue to hold space for them.
On leaning into her faith: One of the things that I was experiencing was this almost feeling of being taken care of. It's like, "Okay, well, I've done this, and I've done this, and I've checked all the boxes, but I don't feel completely grounded. I don't feel completely cared for. I don't feel completely well." And I realized that this almost feeling was something that I was settling for. That was the catalyst for my journey of asking, "What's missing from my overall holistic wellness?" I realized that not only does my body need its training program and its recovery and rest, but so does my spiritual well-being.
On mornings: If I'm teaching in the morning, I get up, I go to the studio, and I work out immediately. A "hydration station" is what I call it on the Peloton app, but I hydrate with water immediately in the morning, and then I go teach.
When I'm going to work in the afternoon, I usually wake up around six in the morning. I'm an early bird, so I do get up very early, even though I try to stay in bed. I hydrate — I always have water by the bed — and then I put on my headphones and listen to Audible — I really got into Audible because then I can multitask in the kitchen. I listen to a variety of books. I've talked a lot about, and I continue to talk about, leaning into diversification of content consumption. Right now, I'm listening to The Power of Giving Away Power by Matthew Barzun, Surrounded by Idiots by Thomas Erikson, Like Like You Mean It by Ximena Vengoechea, Becoming by Michelle Obama, Untamed by Glennon Doyle, and The Water Dancer by Ta-Nehisi Coates. On my list for later: The Subtle Art of Not Giving a F*ck by Mark Manson and A Promised Land by Barack Obama. Or I'll listen to Steven Furtick, a pastor that I follow on Spotify. Then I'll either meditate or pray; I'll give myself a beat.
I'll usually make hot water with lemon and honey in the kitchen, and while I'm there, I'll cook my fiancé some breakfast like an egg with some salmon — we usually eat fish in the morning. Then I sit down on my phone, and I go on Instagram. Because I encourage people to follow people that inspire them, I love getting on my social media. Then I'll check my email.
On her ice water trick: In the mornings, I put cold water in my hands, put my face in my hands, and open my eyes in the cold water twice, and then dry my face off. I never used them, but remember those drops that gave your eyes a cold sensation, and people would become addicted to those things? I feel like it's almost like that. I don't know, it just wakes me up, and it gives me a boost of energy. I feel refreshed after.
On the way she fuels up: I refrain from using the word "diet" in any way. Instead, I always talk about "eating habits." They change with the season, just like with seasonal fruits and vegetables. So with me, I don't subscribe or have a prescription of "only this" or "don't eat this." When you go to someone's home, and they offer you food, it's a sign of welcoming, and the way to receive that welcome is to say, "Yes." So that's kind of how I approach my life. If we go to someone's home or event, I'm not someone to say, "That's off-limits for me." It's about respecting the hospitality and the invitation.
And then on the other side, in terms of taking care of my physical well-being, when it comes to my eating habits, I think it's everything in moderation. I mean, I love the big butter bread from Dante's. I'm not gonna not have carbs. The only thing that I'm sensitive towards is that I'm lactose intolerant so I can only have a cup of dairy a day, but other than that, I listen to my body. It's about intuitive consumption and mindfulness when it comes to being in the kitchen. I take care of my body, and I give it what it needs, but I also live my life.
On working out: When I'm at Peloton, and I'm going to work, and I'm going to teach a class, that is Ally Love, the instructor. But Ally Love as an individual has her own training program, and I actually am a member of Peloton. My colleagues are the best instructors globally, in terms of knowledge and entertainment. I don't think that there's a better product out there, and the way I think about it, as a chef, I wouldn't want to come home and cook. So I can create a training program for myself, but if my colleagues are already doing it on the platform, why wouldn't I support them and reap the benefits of their vast knowledge and ability to connect through a screen? So that's exactly what I do. I do a lot of strength training because I teach barre, Pilates, and cycling. Yoga has been incredible. The other day, I did a 15-minute glutes and legs class.
In terms of non-Peloton training, I love to go for a run. I am from Miami, so I like going for a 90-degree run. I know that it doesn't sound fun, but I think that there's something about it for me. It's nostalgic.
When I first started running, I would always say, "I'm not a runner, I'm not a runner." And I think we need to redefine what the term "runner" means. I had to come to terms with the idea that running is not about time, speed, or distance. That's when I really fell in love with running. I put my tracker on silent. I don't have a goal of minutes per mile. I don't say, "Oh, I'm gonna do 30 minutes." I'm gonna go out, I'm gonna feel my body, and if I run for 10 minutes and come back, that's great. Running is just about taking it one trail at a time. No run, and no trail, no matter how many times you run the same road, will feel the exact same.
If you're intimidated by running, I would say start by yourself. And then after your third run, invite a friend, because that's when the commitment will start. And remember: A short run is always better than no run.
Two Wellness Items Ally Swears By
Photo: Courtesy of Ally Love/Love Squad
I love notebooks with graphic dotted lines. I went to an art school when I was younger, and I used to be obsessed with visual artists. I was a dancer, and they would always have these dotted graphic notebooks. Now, these notebooks are my way of connecting my creative self to my practical self, so I created a Love Squad version with all the dots.
Skin care's really about finding what works for your skin, but I also want it to feel good in terms of protecting the environment. I became conscious of that because when I would open up my bathroom cabinet, I was like, "Oh, hello CVS." Like, I could start an online shop with all the products. So I fell in love with REN Clean Skincare because their packaging is recyclable, and you're able to upcycle it. When you get the delivery, it's in a blue box with a label at the bottom. You take the product out, you take the label, and you send it back. Then multiple companies use that delivery service so that box will be used multiple times.
I'm a vitamin C junkie. REN has an AHA Ready Steady Glow Toner so I'll tone. Then I use their Brightening Dark Circle Eye Cream. Being on Zoom, I'm always like, "Are those bags? What's that shadow?" And this eye cream does work for me.