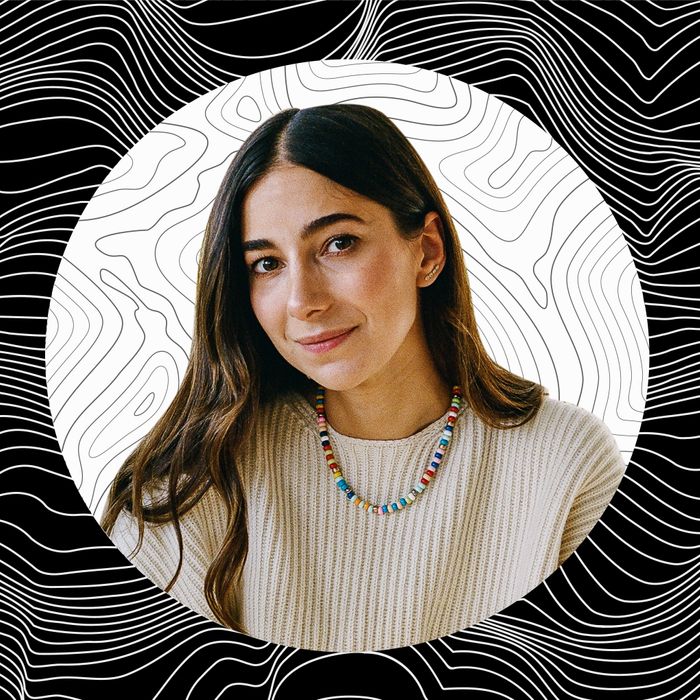 Photo-Illustration: by The Cut; Photos: Ben Biondo, Getty Images
Growing up in Lyon, France, Mélanie Masarin spent a lot of time gathering with her friends and family around good food and good drinks. But when she didn't want to reach for alcohol, she always found that it was difficult to find a beverage that felt just as complex and delicious as a cocktail. So after her time working at Dig Inn and Glossier, she created Ghia, a nonalcoholic aperitif inspired by the Mediterranean and made with botanical extracts. She says, "Ghia is an invitation for someone to have a drink in their hand and feel like they're a part of the social environment." And her new Le Spritz has all the fun and flavor of its original aperitif, but spritzed. Below, Masarin talked to the Cut about her relationship to alcohol, gardening during the pandemic, and how she quit smoking.
What wellness means to me: Wellness means taking care of myself. That can mean very different things: It can be exercise, it can be sleep, but most often, it's food. It's just being really mindful of all of these things as I move in the world. Also, more than ever, we are aware that health is wealth and that we have to take care of our bodies and our minds. During COVID, I was just as worried about my mental health as my physical health because I'm young and healthy, but I was locked inside for two months completely by myself.
How I start my morning: I wake up around six — depending on when the sun hits. I'll go check on my garden. I love to go there barefoot, which is definitely a part of my self-care — I'm barefoot everywhere. Then, I'll go to my kitchen and make hot water with lemon and then get ready for the morning. Because I'm in Los Angeles and Ghia has some work in New York, I'll make sure that nothing exploded and there are no emergency emails to attend to. Then I'll either go to a workout class or get a coffee. I drink coffee every morning, and that's my indulgence — I like cold brew. It's the one thing that is really hard to give up, and I think it's actually the next thing that I'm going to try to quit because I don't like to be addicted to anything.
How I sweat: What everybody says about L.A. and wellness is so true, where it just becomes a part of your life. I was never someone who enjoyed or looked forward to exercising before — in New York, I was rolling out of bed and dragging myself to Barry's Bootcamp, and I was trying to disassociate with my body so that I wouldn't feel the pain for an hour — and now, I exercise four times a week without fail.
During the pandemic, Forma Pilates had a private tutor with only two reformers, and it was one of the few workouts that were available. I went there with a friend, and I got completely hooked on Liana Levi's technique. Now, I go three times a week, and that's nonnegotiable. I think this year in particular, and also probably because I'm growing older, I've been having neck and arm pains like a lot of people who have been working from a dining table, and Pilates has been a savior in strengthening my middle- and lower-back muscles. I also work a lot, and it's hard to do all these things, but I feel like if I can make room for a few hours — I call them sacred times — and I can be at Forma at 8 a.m., that means that I did my best to take care of myself.
When I moved to L.A., I took up tennis, too. I'm so happy when I'm on the court, and even if I'm a beginner-level player, I leave, and my head is completely clear. The outfits are so cute. I definitely spend hours and hours looking for vintage on the internet. It's a dark hole I don't mind falling into from time to time.
My food philosophy: Shopping at the farmers' market is one of the most basic aspects of wellness in terms of what we should be doing but also in the way that we live — I think it's really important to eat fresh, local food. It's the biggest luxury, and I feel really lucky that that's a part of my everyday life in L.A. I always have guests in the house and I always tell them, "You cannot buy fruit that comes in plastic." That's the No. 1 rule. But generally, eating food that has grown close to where you live and is coming straight off the ground, that's kind of my whole philosophy. I don't restrict myself. I love to cook so much, and I love to eat. I'm obsessed with food, but I try to not eat processed food, and I try to avoid dairy because it makes me sick, but other than that, everything in moderation is really the key.
Why I cut out dairy: I have had stomach pains since I was a kid. After eating, I would have cramps, and I never questioned dairy because I grew up in Lyon, France, and 100 percent of the food that we cooked was made in cream or in butter. Then I got to college and things got much worse, and I thought it was because the quality of the cafeteria food wasn't as good. It got me thinking about what we're putting on our plate. When I graduated, I worked at Dig Inn for a few years and really tried to understand the food system and how food directly impacts our bodies and our minds because I was getting really foggy after eating, as well. And after I left my job at Glossier, I took the time to do elimination diets and figure it out. Then I was told I have Crohn's disease. I did a natural rebalancing for my gut, which was great and something that I encourage everyone to do once because it was so eye-opening to understand how a single ingredient can impact your long-term health, and I realized dairy was making me really sensitive. Just having this information, it's like, if one time I want to have ice cream, I can because I will know how to balance it out. But without knowing, I was always very inflamed, and that inflammation was causing me to have a number of ailments.
How I took up gardening: My mom and my grandmother were really into gardening, and gardening just didn't seem that interesting to me. I was scared of worms, and I was like, "This is never gonna be for me." Then the pandemic hit, and nurseries were an essential business, and they all started getting really busy. I was staring at this patch of land in my yard that was begging to be taken care of. So first I made one garden bed, which kept me busy for a little bit, and then I started planting tomatoes. They're a good gateway into gardening because one plant produces so many. In California, they'll grow everywhere. Suddenly, I had a jungle of tomatoes. I also have strawberries, which are my pride and joy. Strawberries don't really grow during the first season so I planted them last year, and they actually turned up this year. I didn't realize that they took so long to grow, and I was wondering all last year why they weren't growing. I felt like a failure. I didn't set out to have a two-year strawberry patch!
It was good for my mind in quarantine because during the really, really scary parts of COVID, if I watered my plants and the sun was shining, there was a logic to everything, even as everything else felt very out of our control. Every day you see progress because things grow so quickly when you actually look at them.
My relationship with alcohol: I really try to not preach for other people to stop drinking because I don't think that that's the way to actually enable change, but I think it's really important that if people don't want to drink, they don't feel excluded. It's really about breaking down the social stigmas around not drinking.
I just read Holly Whitaker's book called Quit Like a Woman, which is her story of sobriety. I have a history of alcoholism in my family, and I don't really talk about it because it was not really the reason for starting Ghia, but I have been thinking about alcohol because it's affected me since I was a kid. And that's what alcohol does to you, right? It's highly addictive. Holly explains that a lot of people who drink are worried that they will be judged if they quit drinking. After I read this book, I was like, "I absolutely never want to drink again because I don't want to be part of this system."
I don't define my sobriety, I just say, "I don't drink," and it could be I'm not drinking for whatever reason at any given time, and maybe someday someone will make an amazing cocktail, and I want to have a sip of it, but in general, I don't drink.
Every time I drank, too, I was really foggy the next day. People talk a lot about being hung-over if they have one too many drinks, but I was foggy the next day if I had even two glasses of wine, and I really thought there was something wrong with me. Apparently, it's everyone. I was just like, I don't want to live like this. I really feel like I was operating at 70 percent before, and now, I'm not operating at 100 percent [laughs] but definitely more than 70.
How I quit smoking: It's so off-brand that I smoked cigarettes, but I grew up in France. We had a smoking playground in high school. That was really part of the culture, and my parents smoked. And I was never a big smoker, but I was definitely a regular smoker. If I went out or after work, smoking was a way to wind down. Especially when I stopped drinking, I would have a cigarette to help me disconnect. Then I turned 30 in February, and I was like, I cannot be 30-something and smoke. I spent a month and a half in Mexico City earlier this year, and the altitude is much higher so I felt less like smoking, and I took that as an opportunity to detox. And when I came back home, I was like, No more, that's it.
My wellness struggle: Meditation is the thing that I haven't been able to stick to, but I know would solve so many of my issues. I used to meditate every day for about a year — it was just two minutes with a mantra, just really emptying your mind. I know twice a day is the ideal number, and I don't think that that's possible for me right now, but it really helps to calm me. The year that I did it, I never slept better.
My biggest wellness tip: There are all of these rules and all of these things that we try to adhere to, but I also think that indulgences are a part of wellness and a part of self-care. I never feel bad if I have pasta or chocolate cake or whatnot because that's also part of living life.
My Essentials
The Drink
The Exfoliating Bar
Soft Services has this exfoliating bar. It's blue, and the packaging is beautiful. It makes me want to shower multiple times per day because it's so fun to use and my skin is so soft. I just ordered a bunch to give as gifts, and I don't know if it's a weird gift, but I really enjoy using it.
The Sunscreen
My skin is pretty dry, and I try to keep it hydrated and keep it away from the sun. I definitely wear sunscreen, but I haven't found my forever sunscreen so I'll rotate them around. Right now, I'm using Daily Dose Serum, which is SPF 40 and has vitamin C.
The Book
I don't use my computer in my bedroom; it stays downstairs, even though sometimes it's very tempting to answer emails in bed — the few times that this happens, it's 2 a.m. and I'm still answering emails. Instead, I try to read a bit of a book to help me fall asleep. I just bought the new book from Joan Didion called Let Me Tell You What I Mean.
The Chemical Exfoliant
I use P50 religiously, then I'll use one of Biologique Recherche's serums. Right now, I'm using the marine collagen serum, which is supposed to give you a boost when you're tired. I also use their Creme Grand Millesime, which is really thick and creamy, and I don't know, it just feels like a grown-up cream.
The Lipstick
I use exclusively Glossier makeup, but I don't wear makeup every day. Gen G is the product I use the most. I keep it in my car. I also use Boy Brow in Brown and Lash Slick, which I think is the absolute best mascara on the market. I've tried so many of them, and they make me look like a raccoon, but Lash Slick stays all day.