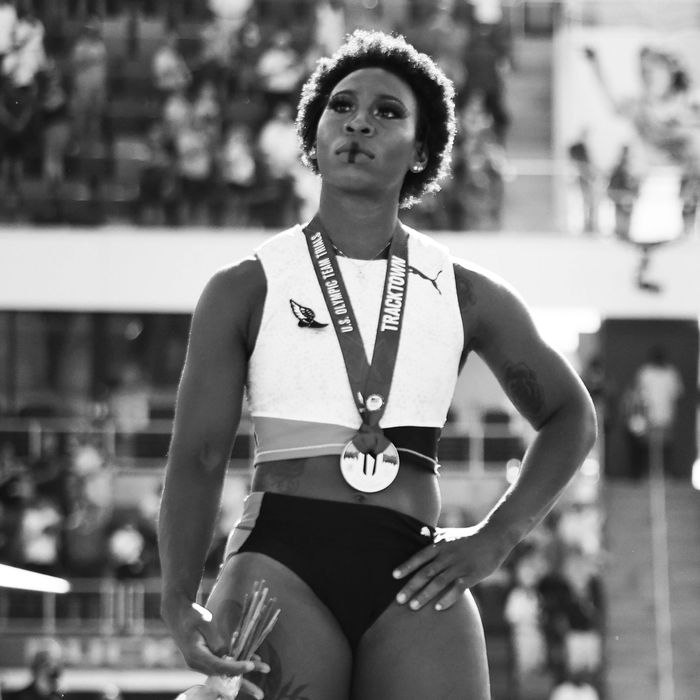 Gwen Berry turned her back on the U.S. flag during the national anthem, defying the International Olympic Committee's policy on "neutrality."
Photo: Patrick Smith/Getty Images
Gwen Berry hurled a hammer more than 241 feet during Saturday's track and field Olympic trials, cinching her spot on Team USA. But her athleticism isn't what made headlines. Standing on a podium in Eugene, Oregon, a bronze medal hanging from her neck and a bouquet cradled in her arms, Berry turned her back on the American flag as the national anthem boomed over the speakers. She subsequently told the Washington Post the ceremony blindsided her: An official had apparently indicated that the evening's obligatory anthem interlude would wrap before she and her new teammates took the field for their photo op. When the song started playing while she was on the podium, the Olympian improvised, draping a shirt reading "activist athlete" over her head.
"I feel like it was [a] setup, I feel like they did it on purpose," Berry told the Post, laughing but adamantly "pissed." The hammer thrower has a history of podium protests. In 2019, she raised her fist at the Pan American Games in Peru, signalling her stance against "all of the injustices that are going on in America and a president who's making it worse," she later explained. The gesture alone earned her 12 months of probation for violating Rule 50 of the Olympic charter, which holds that "no kind of demonstration or political, religious or racial propaganda is permitted in any Olympic sites, venues or other areas." But the real penalty came when sponsors, like Nike, dropped her: Speaking to NBC last July, Berry estimated the USOPC's response wiped out two-thirds of her income. It took ten months, and the wave of demonstrations that followed George Floyd's murder, for the USOPC to apologize. With that saga only recently in her rearview, the timing of Saturday's anthem incident — which a rep for USA Track and Field painted as purely coincidental — struck Berry as "disrespectful." As she told the Post: "The anthem don't speak for me. It never has."
Yet when she arrives at the Olympics, Berry will be expected to stand up and stand quietly, her hands by her side, if she wins a medal. Last year, the International Olympic Committee doubled down on its commitment to Rule 50, explicitly banning athletes from making "gestures of a political nature, like a hand gesture or kneeling." The announcement came in January 2020, seemingly a direct rejoinder to Berry and Race Imboden, a fencer who took a knee at the Pan American Games and also wound up on probation. The reprisal prompted a handful of Olympians to petition the IOC in a letter, asserting that "athletes will no longer be silenced." The United Nations, with which IOC collaborates, specifically protects "freedom of opinion and expression," the athletes pointed out. But the IOC stood by its rule, countering: "It is a fundamental principle that sport is neutral and must be separate from political, religious or any other type of interference."
"Neutral" is revealing word choice for a system that files the plea for racial justice under "interference." As the IOC's own history demonstrates, "neutrality" can wind up looking a lot like tacit approval. See: Adolf Hitler opening the 1936 Berlin Olympics, for example, or the longstanding acceptance of South Africa's whites-only teams. Right now, the organization seems set to ignore international concerns about China's suspected detention of Muslim Uighurs as it pursues plans to hold the 2022 Winter Olympics in Beijing. And then, consider the treatment of John Carlos and Tommie Smith, the U.S. sprinters who inspired Berry's 2019 demonstration. Carlos and Smith raised their fists on the podium in 1968, six months after the assasination of Dr. Martin Luther King, Jr.; they were booted from the games over their support of equal rights. In 2019, the USOPC inducted both men into its Hall of Fame for their "character, conduct and off-field contributions," even as it outlawed precisely that conduct at the 2020 games.
Since former NFL quarterback Colin Kaepernick knelt for the national anthem in 2016, athletes who have used their platforms to condemn police brutality, racism, gender-based discrimination — all questions of basic human rights, rather than politics — have often been met with reprimands to stay in their lanes. "Shut up and dribble" is how Fox News personality Laura Ingraham put it to LeBron James in 2018, after an ESPN interview in which he said that Trump "doesn't give a fuck about the people," and talked about how it felt to find the N-word spray painted across his front gate. "It's always unwise to seek political advice from someone who gets paid $100 million a year to bounce a ball," Ingraham quipped, as if Fox News did not constantly invite conservative entertainers to contribute political commentary, and as if James were not addressing his lived experience as a Black man in America.
Ingraham's is the viewpoint the IOC parrots in telling athletes to keep their dissent to themselves. It's a very specific crowd who gets offended when a Black woman turns her back on the flag: Ted Cruz, for example, who retweeted an article on Berry's reaction and wondered aloud why "the Left hate[s] America," or Dan Crenshaw, who told Fox News that Berry should be "removed from the team" for her alleged failure to represent American values. Both she and Kaepernick received blowback from the right about their supposed lack of patriotism — proving, to Berry, that her detractors "rally patriotism over basic morality." Kaepernick, meanwhile, always maintained that he was "not anti-American," and in fact "want[ed] to help make America better" by calling attention to the persecution and oppression of Black and Brown people. As his protest continued, Kaepernick remained unsigned, raising suspicions that the NFL colluded to keep him off the field to avoid alienating the racists at home. Four years later, amid nationwide protests for racial justice, the league reversed course, joining a slew of brands in endorsing Black Lives Matter once it seemed that supporting the movement would not harm the bottom line.
Yet even as athletes risk their careers for speaking their mind, they are also — in many cases — contractually bound to answer questions from the press, or suffer the consequences. After announcing that she would skip press conferences during the French Open, for example, Naomi Osaka incurred a $15,000 fine, plus threats of more aggressive sanctions from the French Tennis Federation, Tennis Australia, the All England Lawn Tennis and Croquet Club, and the U.S. Tennis Association if she continued to refuse reporters. Rather than bending, Osaka withdrew from the French Open, the Berlin WTA, and Wimbledon.
Although Osaka subsequently explained that her decision not to play was motivated by anxiety and the "bouts of depression" she has suffered since the crowd booed her win over Serena Williams at the 2018 U.S. Open, she has also been subjected to insensitive, fumbling questions about her ethnicity and racial identity. Her decision to wear face masks stamped with the names of Black Americans murdered by police elicited ham-handed questions from journalists: Australian commentator and former tennis pro Rennae Stubbs, for example, told Osaka that she had been "trying to guess what name is going to be on the mask, every single day" and "can't wait for that next mask." In a sport that remains mostly white, remarks like these come up a lot — consider the reporter who, at the 2020 Australian Open, informed 17-year-old tennis star Coco Gauff that she is "often compared to the Williams sisters," and "maybe it's because you're Black." Ignoring the racism tacked onto that observation, Gauff simply noted that she is her own person, but the compulsion to answer at all stings. It is disrespectful, and dehumanizing, to make athletes open themselves up to press but keep them from speaking on their own terms.
Heading into the Olympics, the tension between being made to talk and threatened over what you say feels palpable. If kneeling for the anthem sends a political message, then so does standing with your hand over your heart; telling athletes to do the latter or risk ejection from the games isn't neutral, it's censorship, and a setup. It obligates athletes of color to support systems that have never supported them, for the comfort of white audience members. If it is really Berry's job to "represent America," as Crenshaw put it, then a fist in the sky or a back to the flag feels like a crucial contribution to the project.
"I think sports is a distraction," Berry told the Post. "Me being able to represent my communities and my people and those who have died at the hands of police brutality, those who have died to this systemic racism, I feel like that's the important part."
Because the pandemic pushed the 2020 games into 2021, Berry will no longer be on probation when she arrives in Tokyo. Thanks to a partnership with Color of Change, her relationship to sponsors is now compatible with her advocacy. The USOPC has pledged not to punish athletes for activism, but the IOC could still take action, expelling participants from the games, for example, or revoking their medals. Berry seems prepared for the possibility, explaining: "My purpose and my voice and mission is bigger than the sport."
"That's why I'm going," she said of the Olympics. "When I get there, I'll figure out something to do."