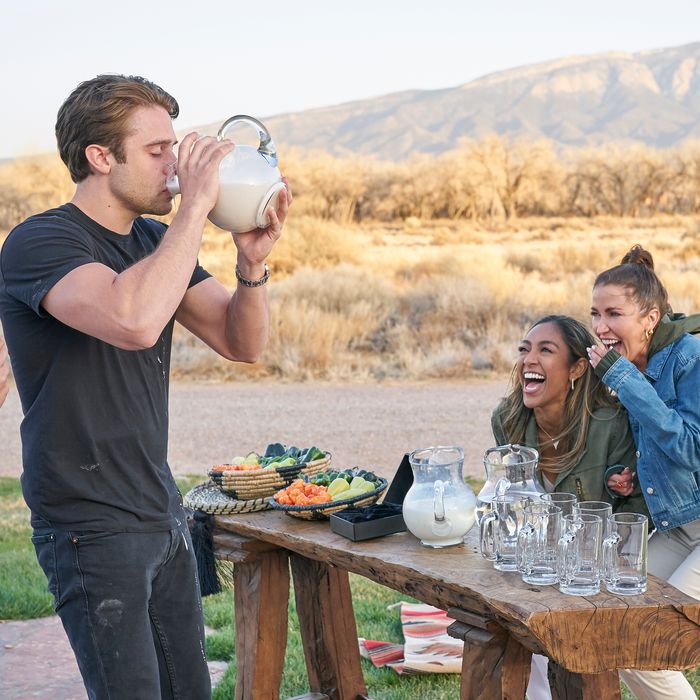 Typically, when I'm watching The Bachelorette, one or more of the male contestants give me a scare. In this season alone, I've watched two grown men violently wrestle each other in a mud pit, another man give Bachelorette Katie a tour of his dirty RV, and yet another man try to make a move while fully dressed as a cat. But last night, the producers decided to do something different, which I appreciated. The goal of the episode seemed to be to scare the men!
Somehow, due to the never-ending "right reasons" drama from last week, there was only one date featured on this episode. (The drama, in short: Thomas, a 28-year-old real-estate broker, admitted to the men last week that he wanted to be the Bachelor — something that certainly every contestant on this television show has thought about but few are brazen enough to say out loud.) The date, which did not include Thomas but did include several other doomed souls, was a hard-bodied straight man's worst nightmare.
Co-hosts and former Bachelorettes Tayshia and Kaitlyn set up a "Truth or Dare" obstacle course on the property of the Hyatt Regency Tamaya Resort and Spa in Santa Ana Pueblo, New Mexico. The tasks set before the assembled men were mostly just dares: eat two hot peppers and then fake-propose to Katie, talk dirty into a giant ear (?), "wax your hairiest body part," and — worst of all — eat a plate of carbs.
Poor Mike, our 31-year-old virgin/gym owner, was the most disturbed by that last one. In the midst of stuffing 5,400 calories' worth of Twinkies in his face, he said, sadly, "I haven't had a carb in seven years." Brutal.
Mike was not the only one to suffer. Tre, a 26-year-old software engineer who generally seems to be having fun hanging out at the Hyatt and connecting with his fellow bros, straight-up got his butt waxed by Christian, a 26-year-old real estate agent. "I've never had my cheeks out in front of another man," said Tre. "I'm in a very vulnerable state right now."
And frontrunner Greg, a 27-year-old marketing sales representative with a self-professed "weak stomach," nearly passed out after eating his ration of hot peppers. The last we saw of him, he was clutching an entire pitcher of milk.
After this unique, ABC-sponsored torture, the men got to go to a cocktail party, where Tre revealed to Katie that Thomas, the aforementioned Bachelor hopeful, was a manipulative liar. Andrew S., the guy who keeps doing the British accent, disapproved of Tre's choice to talk to Katie and was even more steamed when Tre got a rose for it. No one, it seemed, was very happy.
The men returned to their two-queen bedrooms for what I assume was a fitful night's sleep. Katie, on the other hand, found out via Tayshia that she had yet another suitor waiting to meet her: Blake Moynes, a cartoon-handsome Canadian "wildlife manager" who appeared on Tayshia and Clare's season of The Bachelorette last year. (Blake was mostly known for being the guy who DM'd Clare on Instagram before the show started filming. Interestingly enough, he also DM'd Katie on Instagram before showing up.)
Before Katie made an official decision about keeping Blake on the show, she decided to give all of the contestants one last scare at the rose ceremony. At the very end, she called Thomas's name, prompting open-mouth gasps and curses from the crowd. Right after the commercial break, it was revealed that she was not calling his name to give him a rose. She was just calling his name to yell at him and send him home! A perfect spooky trick. To her credit, Katie seems to be very comfortable telling this season's losers to get lost.
The scariest moment of all came just before the rose ceremony, however. After Thomas returned to the cocktail party, fresh from making his (unsuccessful) case to Katie to stay on the show, another contestant made a rare-in-Bachelorette-world time reveal. "It's midnight, brother," said Christian, the butt-waxer. MIDNIGHT? That means, by my conservative estimation, that the rose ceremony ended sometime around 5 a.m. Perhaps that explains why Blake was in his spaceship underwear, dead asleep, when Katie knocked on his door after the ceremony and told him he could stay.
Will The Bachelorette producers find new ways to torture these sleep-deprived men next week? Or will the men go back to scaring me? Only time will tell, though the preview for next week's episode, which shows the men in cut-out onesies tackling each other during a game of "Bash Ball," tips the scales toward the latter. Fifteen suitors remain!