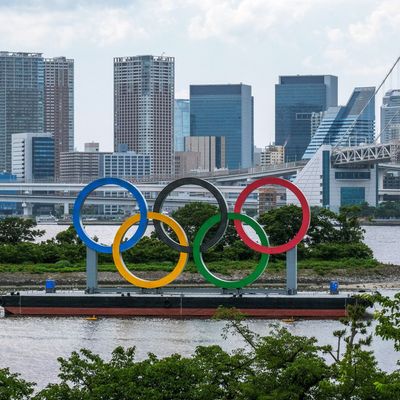 They're baaaaack (almost)
Photo: Kazuhiro Nogi/AFP via Getty Images
Gird your loins, the Olympics are coming — and soon! Although Japan has been battling surges in its coronavirus caseload over the past few months, organizers have reportedly been hell-bent on seeing the show go on. They are said to have a "real cast-iron will" about it, so, against the professional advice of many doctors and public-health officials, the 2020 Olympics will kick off on July 23, 2021. And! NBC Universal has planned an astounding 7,000 hours of hot sporty programming across its platforms.
On the one hand, that is wonderful news for anyone who loves the Olympics, a group I assume includes most people reading this article. But on the other hand, there is the ongoing coronavirus pandemic to consider. Is it safe to have so many people — more than 10,000 athletes alone — gathering together at this time? Will there be enough vaccines to go around? What is happening?
Below, everything we know.
So to be clear: We are still talking about the 2020 Olympics? Despite it being 2021?
Yep, the 2020 Tokyo Olympics, only held in 2021. Originally, the opening ceremony had been slated for July 24, and last March, officials agreed to postpone … but not before they lit the torch, which classically heralds the imminent opening of the games. I am not sure if the International Olympic Committee is trapping us in last year because of that, or because they really and truly believed keeping 2020 in the branding would give us "a beacon of hope" at the end of "a dark tunnel," as IOC president Thomas Bach previously put it. Either way, in Olympian terms, it's still 2020, sorry.
Ouch!
Indeed.
When will the Olympics be on?
Friday, July 23 until Sunday, August 8 — 17 days of athletic excellence.
7,000 hours sounds like a lot of programming to cram into that window …
It does! It sounds like more Olympics than any of us have ever experienced in our lives, and in fact, Deadline confirms this figure to be a record. After so much buildup, NBC is promising to "deliver the most comprehensive — and accessible — coverage for any sports event in history," as Molly Solomon, executive producer and president of NBC Olympics production, told the outlet. She continued: "The depth and breadth of our broadcasts will be unprecedented, showcasing once-in-a-generation athletes and storylines that will capture the incredible uniqueness of these Games and our times." The hype!
How many days is 7,000 hours?
291 days and change, by my count, which is not guaranteed to be correct.
What?! How?!
I don't know! I am terrible at math and I can't believe you asked me to do it! But keep in mind, there are a bunch of different NBC channels — think: CNBC, USA, the Golf Channel, and that's before you get to the various Telemundo properties, Peacock (whatever that is), NBC Sports streaming, and regular NBC streaming — to share the load.
And what is the coronavirus situation in Japan?
All winter and spring, it's been dire. In May, with hospitals exceeding capacity and thousands of new infections ramping up the national case count every day, 6,000 primary-care doctors signed an open letter to Prime Minister Yoshihide Suga, begging him to cancel the Olympics. Public opinion polls also charted strong opposition to the event, but at this point the games reportedly cost Japan about $25 billion, making them the most expensive ever. The IOC also has billions in broadcast money tied up in the spectacle, all of which has apparently provided strong incentive to move ahead.
It bears noting, though, that infection rates in Japan are falling: On Monday, 2,507 new cases were reported nationwide, 38 percent of the January peak. Still, the country had only fully vaccinated about 3 percent of the public as of early June. Officials are reportedly racing to escalate vaccine distribution ahead of the games, but fears remain that the majority of the country will not be inoculated by the time the Olympics start.
What safety protocols are organizers putting in place?
For starters, Japan has banned all foreign spectators from attending any of the events — if not necessarily entering the country. Meanwhile, a decision about domestic spectators and possible crowd caps is expected this month. Earlier this spring, Tokyo organizing committee president Seiko Hashimoto told the New York Times that officials were ready "to have the Games with no spectators" if need be, but still had "hope that we want as many spectators as possible to see the Games if the situation so allows."
Japan is not requiring athletes to get vaccinated ahead of arrival, although last month, Pfizer agreed to donate shots to people working at and competing in the games. Athletes will be tested daily, whereas their coaches and other officials will be tested daily for the first three days, and "regularly" thereafter. Visitors have been asked to refrain from using public transit and visiting bars and restaurants, while individual events will reportedly set their own safety guidelines. As for the famously horny Olympic Village, a first round of guidance, issued in February, outlined six feet of distance between athletes outside sports settings.
Is that going to be enough?
Unfortunately, that remains to be seen. As previously mentioned, though, many people in Japan — along with a few athletes, like Naomi Osaka and Roger Federer — have aired concerns about going ahead with the competition. "I think all of the establishment in Japan are colluding," Kaori Hayashi, a professor of media studies at the University of Tokyo, told the Times. "We have been getting many reports about the next wave and the next, next wave, and as I see the slow progress of the vaccine rollout, we cannot really expect that everybody would be vaccinated by the Summer Olympic Games. I cannot really see the point of holding the Games now."
This seems to be a popular sentiment, and yet all signs point to Olympics, straight ahead.