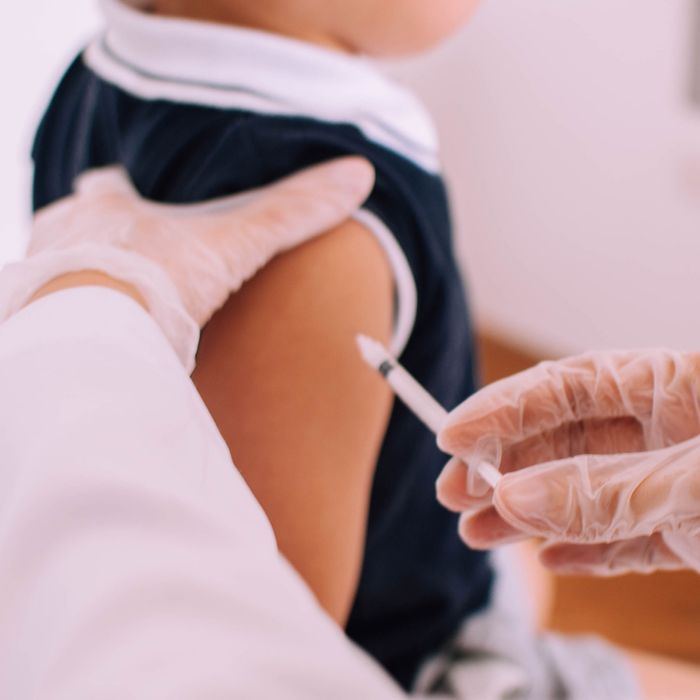 Photo: Courtesy H&M/Getty Images
While the rollout of the COVID-19 vaccine started out sluggish and rocky, the U.S. has now surmounted many early supply and distribution hurdles, and visions of a post-pandemic future are beginning to come into focus. With more than 42 percent of the population fully vaccinated, according to the CDC's tally, the agency has (mostly) dropped mask mandates for those who have completed their vaccination cycle, and many parts of the country are well on their way to fully reopening. Yet a significant portion of the population remains ineligible for the COVID-19 vaccine: young kids.
The reason the vaccines weren't approved for children at the same time as adults is that they hadn't yet been thoroughly studied in children. Trials of the vaccine in children began earlier this year, and Pfizer's vaccine has since been approved for use in kids between the ages of 12 and 15.
Here's what we know about when kids will be able to get vaccinated.
Children age 12 to 15 are now eligible to receive the Pfizer vaccine.
At the end of March, Pfizer reported that its trial of kids between ages 12 and 15 found the vaccine to be 100 percent effective, without any abnormal side effects among participants. In May, the FDA granted authorization for kids in this age group to receive the two-dose vaccine, which was quickly followed by CDC approval.
Now, it looks as if adolescents may soon be able to receive the Moderna vaccine as well. On May 25, Moderna — whose vaccine is currently authorized for people age 18 and up — reported that its vaccine was highly effective in 12- to 17-year-olds, and that the company would be applying for FDA authorization in June.
Vaccines for children as young as six months may be available this fall.
According to the New York Times, both Pfizer and Moderna are currently testing the efficacy and safety of their vaccines for children under 12. As previously reported by the Times, kids of different ages can have different responses to vaccines, and it's standard practice to test older children first to evaluate their response and potentially modify the dosage.
Given that the results of the trials are as promising as expected, the Times reports that Pfizer hopes to apply for emergency authorization of the vaccine in children ages 5 to 11 in September, followed by children ages 2 to 5. Data from trials including the youngest children — 6 months to 2 years — is expected in October or November, with vaccine approval shortly thereafter. This is consistent with the timeline Anthony Fauci, the government's leading infectious-disease specialist, projected last month, saying that children as young as 4 years old — though likely younger — "would likely be able to get vaccinated by the time we reach the end of calendar year 2021 and at the latest, into the first quarter of 2022."
We need kids to be vaccinated to reach herd immunity.
In general, kids are a low-risk group for COVID, and therefore also a lower priority to get the vaccine than adults. But it's still important that they get vaccinated as soon as possible. Though most kids do not get very sick from COVID, some do, and they also can spread the virus.
To reach herd immunity — the point at which enough of the population is inoculated against the coronavirus to stop its spread — we would need children, who make up a quarter of the U.S. population, to be vaccinated too. And even though many experts now say they don't believe we'll reach herd immunity in the U.S. because of vaccine hesitancy and highly transmissible variants, vaccinating kids is nevertheless crucial to stop the spread of COVID.
"It's unlikely we could get community protection without immunizing children," Drexel University pediatrics professor Dr. Sarah Long told the AP. "This is the lynchpin to getting everything back to some kind of normalcy."
This post has been updated.