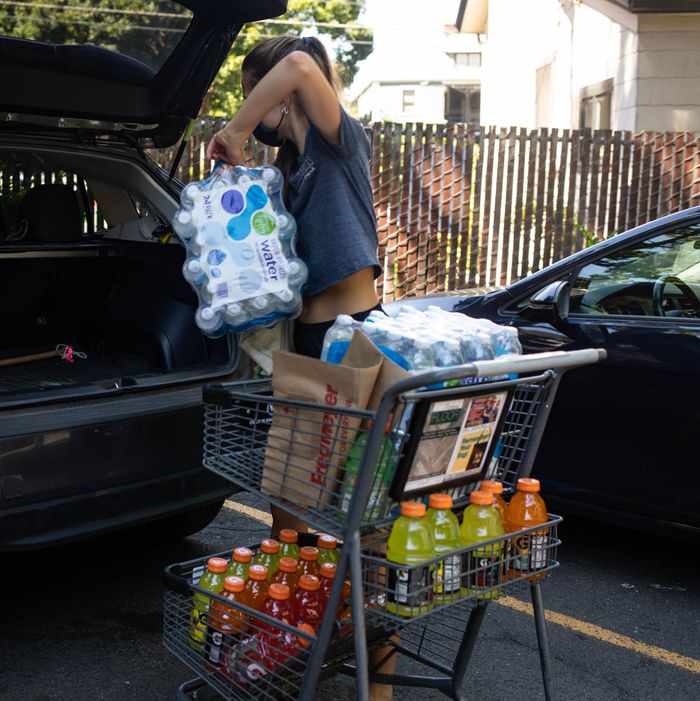 Photo: Bloomberg via Getty Images
This past weekend, temperatures in the Pacific Northwest began to rise to alarming levels, reaching well above 100 degrees in several cities. On Monday, the National Weather Service announced Excessive Heat Warnings throughout Washington, Oregon, and parts of California, Idaho, and Nevada, and it's expected to remain extremely hot for most of the week.
This unprecedented bout of extreme heat in the region is the result of a "heat dome" — which occurs when excess warm air acts as a block in the upper atmosphere, preventing weather from moving — and is yet another example of the devastating impact of climate change. In many areas, this record-setting heat wave goes beyond uncomfortable, with conditions that are extremely dangerous, especially for those who don't have adequate supplies. Due to the historically temperate climate in the region, residents in cities like Seattle and Portland do not regularly use — or, in many cases, own — air conditioners, and the demand amid the current heat wave has created a shortage.
The rising temperatures are leaving many people vulnerable to heat-related illnesses, particularly the elderly, young children, and those who suffer from underlying health conditions. Local government officials have temporarily suspended pandemic restrictions on indoor gatherings in order to allow shelters to increase capacities, but those facing homelessness in these areas are still at high risk for heatstroke.
If you're in a position to help, here's a list of organizations seeking donations to aid to individuals in need:
American Red Cross of Idaho and Eastern Oregon is currently helping support those in need during the heat wave by providing shelter and medical services.
Blanchet House, a nonprofit organization in Portland, is taking donations of reusable water bottles and water misters. Its Amazon wish list can be found here.
Be Loved Bloc is partnering with Meals on Us PDX to create care packages with water, sunscreen, and Gatorade. You can drop off supplies in person or donate via Venmo @mealsonuspdx.
Kits for Peace, a Seattle-based nonprofit organization that makes care packages for homeless or home-insecure individuals, is creating care packages specifically for the heat wave that include sunscreen, wet wipes, bottled water, and socks. Donate here.
Seattle's Union Gospel Mission, a nonprofit organization in Seattle, has created "Summer Survival Kits" that provide supplies like bug spray, sunscreen, flip-flops, and water. Donate here. 
Portland Rescue Mission is a nonprofit organization helping out homeless people in Portland. It has a guest center that provides air-conditioning, food, restrooms, and showers to those in need. Donate to help fund the center here. 
Portland Pet Bloc, a mutual aid based in Portland for pets, provides cooling vests and other supplies plus assistance to animals in need. Donate via Venmo @$petblocpdx.
Interfaith Sanctuary, a shelter in Boise, Idaho, provides protective gear and items like sunscreen and water bottles. Donate here. 
Share Village Las Vegas is a nonprofit organization providing water bottles and emergency services in Nevada. Donate here. 
Sunrise Movement is a movement dedicated to stopping climate change and creating jobs. Donate here.
Climeworks is a company that has built molecular technology to remove carbon dioxide from the air, an expensive process that you can help fund here.
Giving Green is a research initiative of IDinsight that recommends the best climate foundations to donate funds to based on evidence of actually fighting climate change. Donate to help fund its project here.