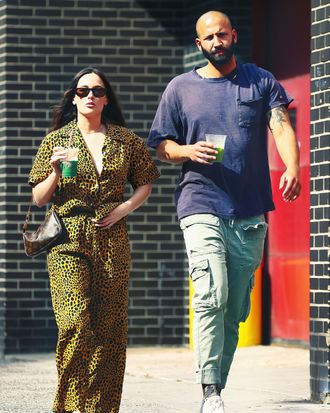 Who is he?
Photo: Wise Owl/MEGA/GC Images
The season of celebrity horniness continues apace, with yet another hot new couple you never saw coming: singer Kacey Musgraves and a normie who writes poems. As a matter of fact, he is currently "trying like hell not to write about her," per an Instagram caption that he wrote, presumably about her; the photo features Musgraves against a backdrop of some sentimental-looking little scribbles. In the next slide, there's an aerial view of New York City, where the paparazzi have recently photographed them walking around.
So now I bet you're wondering, Who is he? Per People, "Musgraves's new man" is none other than Cole Schafer, whose website describes him as "first and foremost, a writer" of ad copy and of poems. Actually, you may know Schafer as the poet January Black. No? Okay, well. I guess we'll have to do some digging.
I thought she was seeing a doctor … ?
Same! When my colleagues brought up the normie poet Musgraves may or may not be seeing, I assumed they were referring to the doctor who made headlines a few months back: Nashville-based internist Dr. Gerald Onuoha, with whom the singer took a handful of snuggly pics ca. April. Maybe that man also writes poems, but we may never know because Musgraves has now been spotted out and about with an advertising guy who definitely does.
Are we sure she and this poet are dating?
I mean, based on the pics, it certainly looks as if they're taking a little trip together, though I don't know what that says about their relationship status. Maybe they are just hanging out. Musgraves hasn't made anything Instagram official.
Hmmm. Okay. So what's this guy's deal?
"By day," Schafer is "doing [his] best Don Draper over at Honey Copy," a "tiny but mighty copywriting shop" that he runs. It specializes in "sales pages that'll make you gasp," "website copy so piping-hot you'll need oven mitts," "articles your reader won't be able to put down," and "emails folks will be checking and rechecking their inbox for." This is all according to his and Honey Copy's websites. Apparently, "some folks think [he's] the worst thing ever to happen to advertising," though he doesn't name names. Schafer also authors three newsletters: Chasing Hemingway, Sticky Notes, and Stranger Than Fiction.
By night, Schafer moonlights as January Black, the pseudonym under which he has published the following poetry volumes and short-story collections: Quarantine Dreams, After Her, and One Minute, Please?
Is there somewhere I can hear him read one of these poems?
Yes! Here you go:
What is Schafer's personal motto?
"Live fast, write often," per his site.
What is he romantic about?
According to a June 7 Instagram poem — which, please note, Musgraves liked — Schafer is romantic about: "Vinyl, red wings, cigarettes and Duke's elbow-worn bar-top" as well as "pretty strangers, fire-escapes, front porches, [his] grandfather's callused hands," and "the morning's first cup of coffee." Also: books and their spines, southern Indiana, basketball, fireflies, brothers, bourbon (specifically Four Roses), different seasons in different cities, airplanes, and — drumroll, please! — "I'm romantic about the way she looks at me, when I get off of them [the airplanes], her pulling up to the BNA as pretty as an afternoon dream, her brown hair a mess above her head, her smile killing me … I'm romantic about her."
"Her" being Musgraves?!
I don't know! He said he was trying not to write about Musgraves, but I do sense some overlap in interests here.
Anything else?
No, I think that's all … for now.