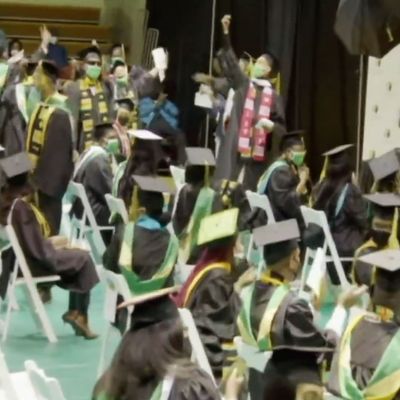 Wilberforce University's 2021 graduation ceremony
Photo: Wilberforce University/ KHOU 11/Youtube
It's tough to give a good commencement speech, one that isn't trite or packed with pseudo-inspirational Pinterest quotes. However, over the weekend, the 2021 graduating class of Wilberforce University got to hear a genuinely good one. During his commencement speech for the Ohio HBCU, university president Dr. Elfred Anthony Pinkard announced that all of the class's student debt would be erased.
"We wish to give you a fresh start," Pinkard said. "Therefore, the Wilberforce University Board of Trustees has authorized me to forgive any debt." Cheering, applause, and happy tears ensued. "Your accounts have been cleared," Pinkard continued. "You don't owe Wilberforce anything. Congratulations." A total of over $375,000 in student debt was forgiven, per a press release.
The announcement came just a few days before President Biden's address on the 100-year anniversary of the Tulsa massacre, in which he pledged to close the wealth gap between white and Black Americans. However, he was criticized for failing to address the student-loan debt crisis, which disproportionately impacts Black Americans. As NAACP president Derrick Johnson said in response: "You cannot begin to address the racial wealth gap without addressing the student loan debt crisis."
According to the United Negro College Fund, 25 percent of students attending HBCUs borrow $40,000 or more. More than 70 percent of Black students take on student debt, compared to 56 percent of white students, according to the National Center for Education Statistics. Black women, in particular, are disproportionately impacted. According to the American Association of University Women, Black women have the most student debt of any racial or ethnic group.
"As these graduates begin their lives as responsible adults, we are honored to be able to give them a fresh start by relieving their student debt to the university," Pinkard said in a news release. The announcement was met with celebration and surprise.
"I couldn't believe it when he said it," said Rodman Allen, a member of WU 2021 graduating class. "I can use that money and invest it into my future."