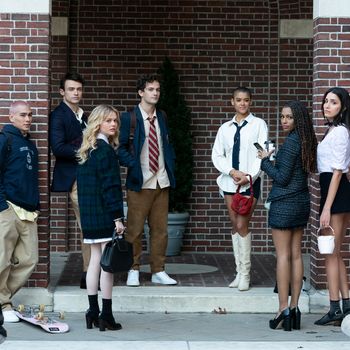 The scary, rich teens are fast approaching. As we inch closer to the July 8 premiere of HBO Max's Gossip Girl reboot, there has already been some discourse on how the show will reckon with the wealth disparities and racial inequities, etc., that are deeply ingrained into its Upper East Side roots amid [gestures wildly] all of this. I, for one, would be happy to keep the kids hot, rich, and bitchy.
A recent Variety interview with showrunner Josh Safran ignited questions about "woke Gossip Girl," specifically in regards to how the characters could examine their wealth, as he suggests, without undermining the whole conceit of the show. "These kids wrestle with their privilege in a way that I think the original didn't," Safran said. "In light of [Black Lives Matter], in light of a lot of things, even going back to Occupy Wall Street, things have shifted." This, along with the authors of the Variety piece claiming that the reboot "endeavors to avoid glorifying its characters' wealth and exorbitant lifestyles," led to some concern that the show would lose what many loved about the original series: terrible, rich teens doing terrible, rich things.
Causing further concern, the Variety piece also described the characters as being "aware of income inequality." To exemplify this, they will "take Ubers, not limos" (brave!) and will be mostly kind to service workers. However, any panic about the show trading rich-teen drama for, say, impassioned discussions on the gig economy is presumably unfounded. As show writer Eric Eidelstein clarified on Twitter, on-the-nose exploration of privilege is not the reboot's primary focus.
Anyway, watching rich people behave badly is perfectly congruent with class politics, as my colleagues pointed out in our work Slack/Gossip Girl fan chat. We're watching for escapism, for drama, for the chance to revel in this nasty, rich world of which we are not a part. We want to hate the characters and love hating them. We want to be jealous and quell that jealousy by seeing them fuck up, if only as a proxy for real-life billionaires who face little-to-no consequences.
Fortunately, as Hunter Harris wrote for Vulture, the reboot sounds as lavish and dramatic as Josh Schwartz and Stephanie Savage's original series, if perhaps a bit more self-aware. "Kids know how much money their families have," Safran said of today's teens. Thus, the show will reflect that. Per Harris, Safran explained that the reboot looks at wealth through a different lens: "On the old Gossip Girl, not having money was seen as a moral shortcoming; the new Gossip Girl looks at wealth with pointed jokes."
In other words, get ready to lovingly hate on some hot, rich teens.