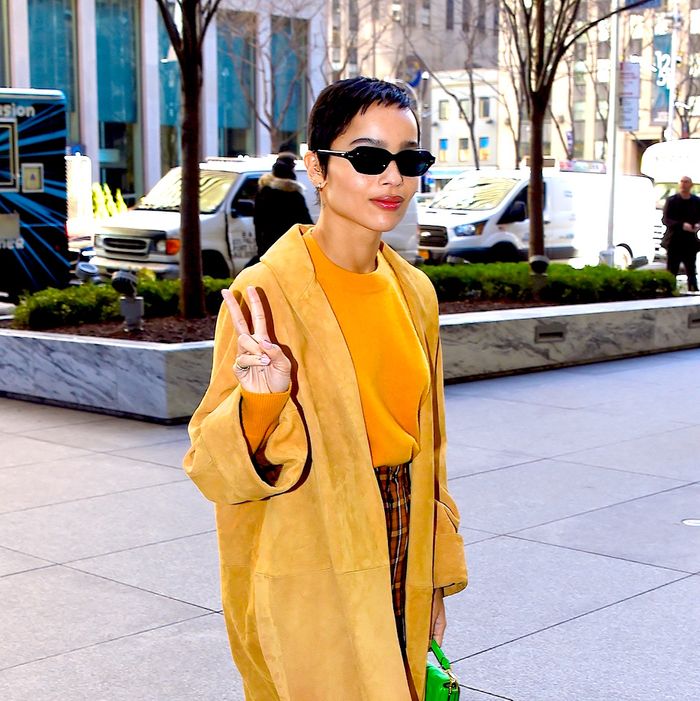 Thank you for your service!
Photo: Robert Kamau/GC Images
Zoë Kravitz has given us a gift, and it is a thriller called Pussy Island, starring Channing Tatum. How do I know this movie — Kravitz's directorial debut — will be a gift? Well, one, because now maybe I get to write things like Pussy Island's Channing Tatum, and two, because it is through Pussy Island that Kravitz apparently induced Tatum to kick his Crocs habit.
That's according to Deadline, which recently spoke to both actors about the project. In the interview, Tatum explained that his role as a sinister-sounding tech mogul appealed because it was "deeper" than the ones he's usually offered (heavy on shirtlessness, as he has lately lamented). He also noted that the confidence with which Kravitz pitched him made him want to work with her. For example: "When someone can just come out and tell me I should not be wearing Crocs, and is so adamant about it, she completely convinced me and I never wear Crocs anymore," he said.
Oh? Pussy Island's Channing Tatum was once upon a time a Crocs guy? Personally I can't see it, and thanks to Kravitz, I'll never have to. She was seemingly kinder about the choice to wear this polarizing shoe than, say, Victoria Beckham ("I think I'd rather die but thank you anyway") but nonetheless firm. "I totally loved Crocs for a hot second," Tatum admitted, "and in one hang she was like, you can't ever do that again. And I said, 'Okay, fine.'"
Kravitz then clarified that she "was just trying to be a good friend," and that "there are people out there who can pull off the Crocs thing; [she] just wasn't sure [he was] one of them."
Anyway, honesty pays off: "I feel cooler, and her point of view on me and Crocs was legit. She had a good argument," Tatum agreed. "The one thing I can pull off, is listening."
Haha okay.