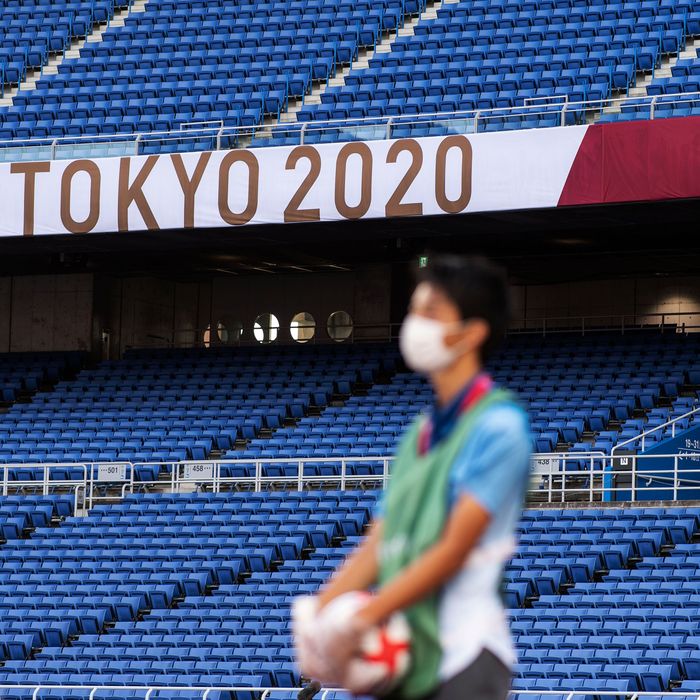 Photo: Swen Pförtner/picture alliance via Getty Images
Historically speaking, only one thing can move me to genuine excitement about sports: the Olympics, baby. You will never convince me to waste five-or-whatever hours of my one precious life on, say, a Super Bowl, but 7,000 hours of the Olympics? Over two weeks? Where there's a will, there's a way, and the will to watch Simone Biles make history in new and creative ways? Say, by vaulting through the air in a series of impossibly controlled flips and spins to stick a gymnastics move no one has ever done before and therefore we call it the Biles? It's strong. Every Olympic event showcases athletes performing at the top of their game, their movements fluid and finessed and executed with incomprehensible speed. Every opening ceremony, meanwhile, gives us indelible moments of spectacle, such as the time (at the 2018 Winter Games) that Team USA wore big toasty mitts that uncannily resembled Bread Gloves. Incredible costuming choice — an Olympics after my own heart. What's not to love??
This year … a lot.
The 2020 Tokyo Olympics kick off on Friday amid a relentless stream of bad news. In part, the gloom is a product of global circumstances: Originally scheduled for last summer, this year's Games have not yet escaped the shadow of the coronavirus pandemic, nor has the host country. For months, Japanese officials have struggled to tamp down the national case count, with the circulation of the highly contagious Delta variant recently ushering in a fourth state of emergency. Though a purported 80 percent of athletes have been vaccinated, and though the International Olympic Committee has banned all spectators as a precaution, fear remains that the Games will spiral into a superspreader event. Already, the Olympics have spawned at least 75 new COVID-19 infections — including a handful of vaccinated athletes — as Tokyo reports its highest numbers since January. On the eve of the opening ceremony, only about 23 percent of people in Japan have been fully vaccinated.
For all these reasons, cohorts of public-health experts, at least 6,000 primary-care doctors, and about 83 percent of the Japanese public would love for organizers to call the whole thing off. Yet the Olympics reportedly cost Japan $25 billion, while the IOC itself has billions tied up in broadcast deals; "there's a real cast-iron will to deliver these Games," as World Athletics president Sebastian Coe put it in December. That unflinching resolve makes organizers' priorities clear: Dollars before people, global implications be damned.
And maybe I shouldn't be surprised by that position given the toll the Olympics often take on their host city: In Atlanta, Beijing, and Rio de Janeiro, the Games have displaced tens of thousands to hundreds of thousands of people — most of them poor, most of them by force — in favor of flashy construction projects. Right now, the IOC is ignoring international concerns about China's suspected detention of Muslim Uighur out of preference for another contract with Beijing. The human cost of Olympic pageantry has never seemed to hold all that much weight with the organizers.
Against that backdrop, the standards to which athletic authorities hold Olympians feel especially unfair, and often arbitrarily so. Consider Sha'Carri Richardson, the fastest woman in America, who lost her spot on Team USA after cannabis came up during her drug test. Never mind that weed is legal in the state where she used it; never mind that her biological mother died days before, and she had to learn about it from a random reporter; never mind that marijuana is far from a performance-enhancing drug. USA Track & Field stuck by its THC ban, even as it agreed that the policy needs to be "reexamined." On the subject of drug tests, there's also champion hurdler Brianna McNeal, suspended from this Olympics and the next one for missing a screening in January. McNeal says she was in bed recovering from an abortion and didn't hear the anti-doping official at her door; now, her career is effectively over.
Across the board, the gatekeepers who guard access to the world's most prestigious sporting event prize rules above all else. More evidence: Christine Mboma and Beatrice Masilingi, the teenage Namibian sprinters barred from competition because of naturally high testosterone levels. Then there is Becca Meyers, the gold medal–winning swimmer who withdrew from the Paralympics on Sunday because she is deaf and blind and officials denied her a personal-care assistant in Tokyo. Meanwhile, the IOC itself clings to archaic policy, outlawing even the mildest forms of athlete activism. The takeaway seems to be that athletes exist to entertain audiences and to make money for the organizers; that they are real people falls by the wayside.
Particularly given that Olympians often have to withstand punishing conditions — see the allegations of sexual abuse in USA Swimming, USA Taekwondo, and USA Gymnastics — it's hard not to see the whole competition as dehumanizing, and none of that is new. The Olympics have a whole long history of vaunting the excellence of white men at the expense of athletes of color, women athletes, and non-cis athletes. It is within the athletic authorities' power to review and update their policies: That the International Swimming Federation has never heard of a swim cap designed specifically for natural hair is not a good reason to block that product's use. And maybe the exhaustion of putting out a new fire every day — just this morning, the opening-ceremony director resigned over a Holocaust joke he made in 1998 (he called it the "let's massacre Jewish people game") — will finally prove a catalyst for that introspection. Maybe! Though I would not hold my breath.
But for now, I am wondering where to channel the sporty excitement building inside my brainspace for more than a year. I know that when I give NBC my eyeballs, I am giving the organizers what they want: Without the promise of widespread viewership, there is no justification for staging the Games in this climate. Supporting the athletes — who spend so much of their lives preparing for these two weeks and for whom a livelihood often depends on the sponsorships that come with Olympic visibility — necessarily means supporting the IOC. And yet the athletes are the only reason anyone cares about the Olympics. We are here for the competitors — for Biles, who spent a year in quarantine "tinkering" with a move no woman had ever performed before, just "for fun" and because she can. We want to cheer for a 24-year-old Olympian whose sport has subjected her and so many of her peers to routine abuse — and who continues to shatter records whenever she steps onto the mat. Do I want to watch Biles stand at the podium and award herself a gold medal in spite of everything? I absolutely do, and that doesn't feel good. But then, with sports, it never does.
We know that gymnastics subjects young people to wildly unrealistic body standards and devastating injury. We know that football subjects players to deadly brain damage. The bar for entry into this level of competition is often inhumanely high. Though the Olympics are billed as 24/7 reality-TV escapism, they're also real life. And as this year's Games have made inescapably clear, they come freighted with all the same problems.