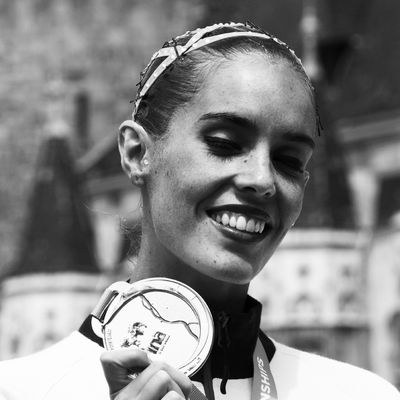 Photo: AFP Contributor/AFP via Getty Images
As if you needed yet another reason to feel ambivalent about the 2020 Olympics: This week, a Spanish artistic swimmer shared that she would not be bringing her infant son — whom she is currently breastfeeding — to Tokyo with her due to the Games' COVID restrictions.
Olympic organizers initially said that, due to COVID, no Olympic family members would be permitted to accompany the athletes to Tokyo. Numerous competitors spoke out against the restrictions, including U.S. marathoner Aliphine Tuliamuk and Canadian basketball player Kim Gaucher, who said that she was being "forced to decide between a breastfeeding mom and an Olympic athlete." (Many have speculated that the rules prohibiting children may also be a reason why Serena Williams is sitting out of this year's Games.)
At the end of June, the International Olympic Committee announced that it would make an exception to the policy for mothers with nursing children. However, earlier this week, in an Instagram video she filmed while breastfeeding, swimmer Ona Carbonell expressed her "disappointment and disillusionment" that it wouldn't be practical to bring her son, who is almost a year old, to the Games. She said that for her to safely breastfeed, her son and husband would have to stay quarantined in a hotel room, since they are not permitted to stay in the Olympic Village. "They wouldn't be allowed to leave the hotel room during the 20ish days I'd be in Tokyo," she said. "For me to go and breastfeed Kai whenever he needs it during the day, I would have to leave the Olympic Villa, the team's bubble, and go to their hotel, risking my team's health."
"I made a really tough decision," Carbonell said, "because the Japanese government's impositions are not compatible with my athletic performance and being with my family at the same time." As a result, she said she will have to pump for the 20 days she is away and hope that her son still wants to breastfeed when she gets home, which she said is "very important" to her.
While the IOC might be able to blame this year's challenges accommodating nursing mothers on the pandemic, there is still a host of other difficulties facing Olympians with children. In the past, the IOC has allowed athletes to bring their children to the Games, but finding child care to accommodate their training schedules is their own responsibility. Earlier this month, Olympic sprinter Allyson Felix announced her partnership with Athleta to create a child-care grant for women athletes competing in Tokyo. "Not everyone has access to this type of support from a partner or sponsor. These grants are about showing the industry that all mom athletes need this same comprehensive support," Felix, who uses her own sponsorship with Athleta to fund her daughter's child care while she competes, said.