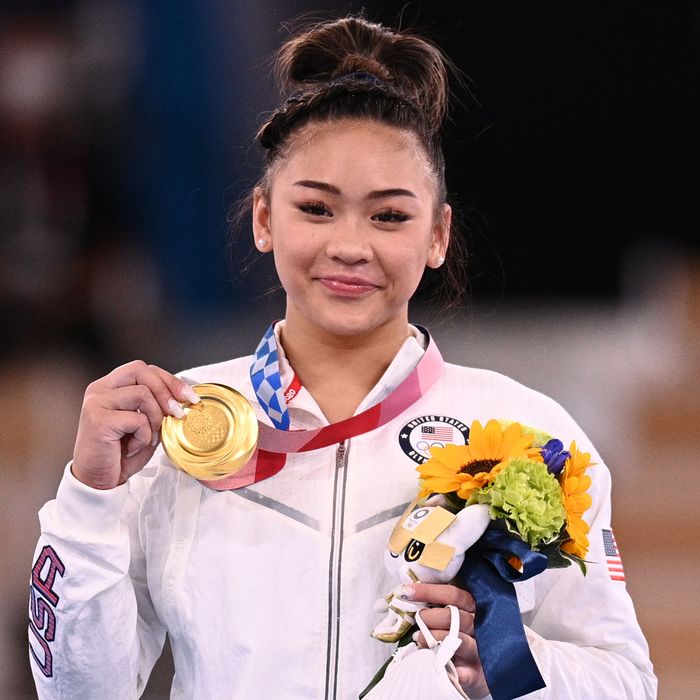 Sunisa Lee at the 2020 Tokyo Olympics.
Photo: AFP via Getty Images
Thursday morning, gymnast Sunisa Lee won the gold medal at the 2020 Tokyo Olympics individual all-around event. The 18-year-old Hmong American's win was a much-needed morale boost among what has otherwise been a pretty bleak Olympic Games. In turn, the gymnast inspired three apt words to trend on Twitter: "SHE DID IT."
Lee is renowned for her skill on the uneven bars. According to the New York Times, she has the most difficult bar routine in the world. During the individual all-around competition, she made it look effortless. That performance, in combination with her impressive floor routine, helped cinch the gold. Brazil's Rebeca Andrade took home silver, becoming the country's first female gymnast to win an Olympic medal. Angelina Melnikova, representing the Russian Olympic Committee, won bronze. Team USA's Jade Carey, who stepped in after Simone Biles exited the competition to focus on her mental health, placed eighth. The U.S. has won gold in every Olympic women's gymnastics individual all-around since 2004.
"I was nervous, but I did my best, and I'm super proud of myself," Lee told reporters after the competition, per NPR. "It's crazy. I didn't ever think I'd be here." Biles, the defending Olympic champion, had been favored to take home the top prize in the individual all-around. But after withdrawing from the team event following her vault performance, Biles announced she would not be competing in the individual event. Biles said the Games have been "really stressful," given the unique circumstances surrounding the pandemic. Citing the amount of pressure put on the 24-year-old gymnast, Biles realized she needed to take a step back to prioritize her mental and physical health. "We should be out here having fun," she said, "and sometimes that's not the case."
During the team event, Lee earned 15.4 points on bars, the highest score of the night. She also stepped in on the floor routine following Biles's withdrawal, despite not having practiced the routine in two days. She and teammate Jordan Chiles helped the U.S. win silver in the team event.
After finding out she won gold, Lee called her parents, who live in St. Paul, Minnesota. "We were all just crying on the phone," Lee said, per Yahoo! Sports. "It was very, very surreal moment. I am super proud of them. My parents are just the most amazing people in my life. I love them so much." This is Lee's first Olympic Games.
You'll also be able to watch Lee in two event finals next week: Sunday, August 1, on the uneven bars, and Tuesday, August 3, on the beam. Both events begin at 4 a.m. ET.