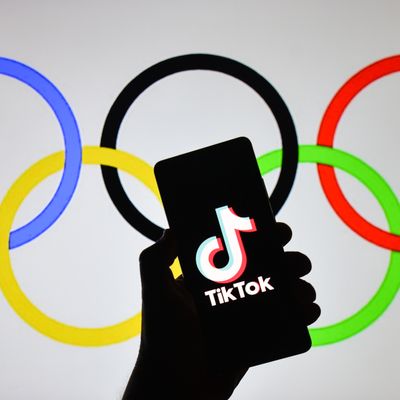 Photo: NurPhoto via Getty Images
This year's Olympics may not have spectators, but TikTok has given us a behind-the-scenes look like we've never had before, and the real-time documentation is almost better than watching the events live. Australia's athletes are especially online, with notable divers Samuel Fricker and Melissa Wu filming just about everything that's going on in the Olympic Village. At home, spectators are posting their reactions to Olympic highlights and bonding over their own subpar athleticism. From athlete vlogs to viewer commentaries, we've rounded up some of our favorite TikToks from the Olympics so far.
Broken Beds
Ah, yes, the Olympic Village's cardboard beds are, in fact, breaking. Australian diver Sam Fricker has been documenting all the broken beds he encounters on his TikTok account.
But It's More Than the Beds Keeping Athletes Apart
U.S. rugby player Ilona Maher explains that even Olympians have trouble shooting their shot.
Dinner for … Two?
Australian diver Melissa Wu shows off an Olympic Village dinner date, which seems only slightly better than a Zoom date.
An Olympics Day in My Life
Erica Ogwumike, who is playing for the Nigerian women's basketball team, shows off all there is to do in the Olympic Village, from hitting the gym to nail appointments.
Making TikToks Is Now an Olympic Sport
U.S. rugby player Ilona Maher is out here doing the Lord's work.
Olympians Answer Your Burning Questions
Who needs to watch the press conferences when athletes will answer all your questions while doing this quick little dance?
When You Realize You've Accomplished Your Dream
Australian soccer player Chloe Logarzo has a lot to think about.
We're Rooting for You, Simone!
Kayla Rivers showing support for her bestie and everyone's favorite Olympian.
The Toddler With Spot-on Commentary
She's right! They are so strong!
For Everyone Who Wishes They Were an Olympian (Including Joe Jonas)
Nothing like the Olympics to make you nostalgic for your high-school track career.