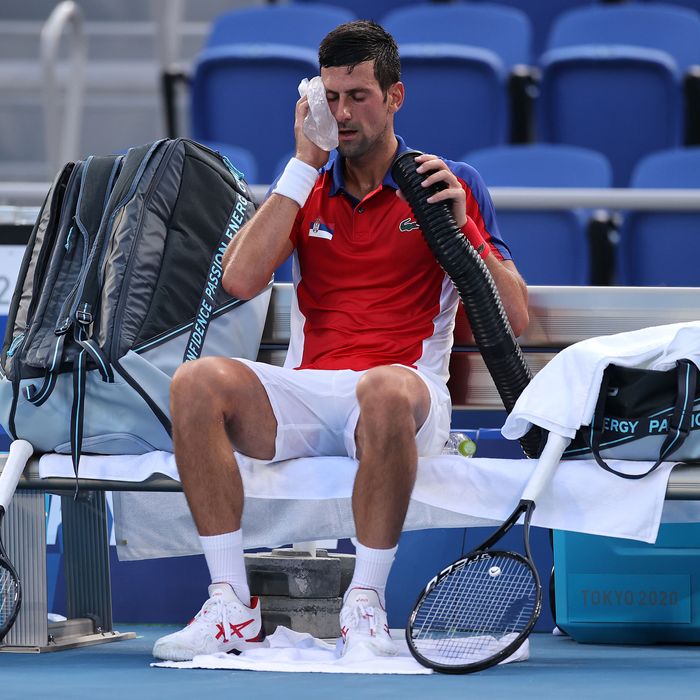 Serbian tennis player Novak Djokovic tries to escape Tokyo's extreme heat
Photo: Clive Brunskill/Getty Images
An incomplete list of things that make the 2020 Tokyo Olympics hard to love: The fact that they are happening at all, given the ongoing coronavirus pandemic; the pleas from health experts and the Japanese public that the organizers not stage a superspreader event at this time; the athletes disqualified over dusty, outdated policies; the knowledge that some competitors are feeling their mental health crumble under the weight of untenable pressure. It has been a real slog of a sports show so far, and to top it all off, we now have … relentless, scorching heat that may make these the hottest and most humid Olympics in history.
"It's almost like you are in a sauna or something like that," Makoto Yokohari, a professor in the department of urban planning at the University of Tokyo and an adviser to the Tokyo 2020 Organizing Committee, told NPR. To Yokohari's mind, the organizers' insistence on moving ahead with the event, despite the predictable conditions, is "just ridiculous."
Particularly for sports played out in the open on a baking court or track, for example, the boiling temps present a real health risk: Highs in the 80s and 90s feel closer to 100 with the stifling humidity and are already forcing some athletes to withdraw from play. Officials removed Paula Badosa, a tennis player from Spain, from the women's-singles quarterfinal in a wheelchair on Wednesday, cutting short her match. "I have suffered a heat stroke as you all have seen," she reportedly said afterward. "It was a shame to end my participation this way. The conditions have been demanding from day one, we tried to adapt as best as possible, but today the body has not resisted as needed."
Meanwhile, Russian tennis player Daniil Medvedev asked an umpire if the International Tennis Federation would take responsibility for death from heatstroke. "I'm a fighter, I will finish the match," he said, "but I can die." And indeed, heatstroke has killed active Olympians at multiple Games in the past.
What's worse, conditions like these feel totally predictable for Tokyo — it's an urban heat island, where tall buildings, lots of pavement, and scant green space trap sweltering temps, a phenomenon exacerbated by climate change — not that local planners disclosed that to the IOC. Indeed, their application to host the Olympics reportedly boasted, "With many days of mild and sunny weather, this period provides an ideal climate for athletes to perform their best." Cut to the men's triathlon on Friday, where the visceral effects of extreme-heat exposure were impossible to ignore at the finish line: Several competitors collapsed, and even vomited, on the track.
Organizers have taken some precautions against the heat: They've set up mist machines all over the place, plus shaded areas and air-conditioned spaces; they've provided bottled water, slushies, and ice baths; they're reorganizing the schedule to avoid some outdoor competitions during the hottest times of day. But as Yokohari previously explained to Al Jazeera, the symptoms of heatstroke may resemble the symptoms of COVID, potentially compounding another problem: If the Games spawn a bunch of heatstroke cases, he said, "I don't think we have the capacity to treat a big number of those people."
On the bright (?) side, a tropical storm moving through the area on Tuesday wound up missing Tokyo, but unfortunately, it did nothing to break the heat. Just 1.5 more weeks of these 2021 hell Games to go…