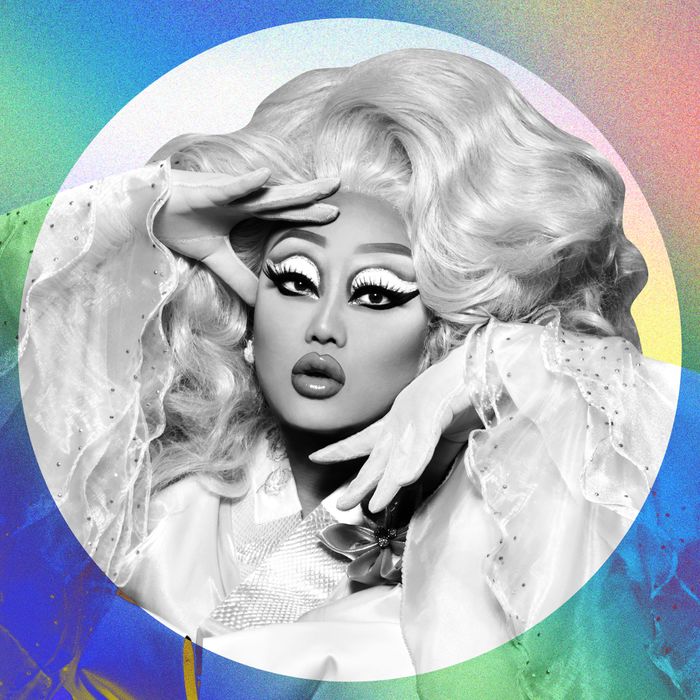 Photo-Illustration: by The Cut; Photo: Kim Chi/Defian
Not many people have an understanding of beauty quite like Kim Chi. The drag queen first gained popularity when she appeared on the eighth season of RuPaul's Drag Race in 2016, making her the first Korean drag queen to be featured on American television. Kim Chi was a season favorite, and made it to the final three. In 2019, inspired by her own desire for affordable, quality makeup, Kim Chi launched her own beauty brand, KimChi Chic Beauty, which not only specializes in cruelty-free products, but also donates 2 percent of all sales to the Trevor Project. "Suicide prevention within the LGBTQ community is a big passion of mine," Kim Chi says. "Every human life is precious."
The Cut talked to Kim Chi about her makeup brand, her favorite products, and how beauty helped her come into her identity.
Do you think of beauty as self-care?
Beauty is definitely a form of self-care. Wearing makeup allows you to cover up the "flaws" you see in yourself. It allows you to enhance your favorite part about yourself. It basically gives you the power to feel invincible and beautiful. It's very healing.
Do you think beauty has changed as a result of the pandemic? 
The amount of effort people put in has definitely changed. Before, we used to get ready from head to toe, and now people might just do their makeup and hair, but then they'll just be wearing a hoodie. My beauty routine hasn't changed too much. But I definitely wore heels way less.
What, in your opinion, is the best affordable beauty product?
Anything from KimChi Beauty! As far as specific products, I'd say our concealers are great. Our Blush Thailor collection and our palettes are really good value, too. I also like brushes from Morphe and Then I Met You skin-care products.
What do you wish more people understood about what you do? 
Drag costs a lot of money. The amount of makeup we use, the wigs, the costumes. On average, to get into head-to-toe full drag, it costs at least $1,000. So it's not a cheap hobby.
What's been your best experience with a fan?
One of my dreams was to perform in Korea. When I went to perform in Korea for the first time, the show was sold out, and there was a huge line up the street — everybody was waiting to see me. Then, everyone saw me from across the street and they all started cheering. It was a very special moment for me in my career.
Do you think eye cream is worth it? 
Absolutely. It feels so nice to have a nourishing feeling under your eyes, like seeping into it.
Where do you think the beauty industry is going from here?
I think because the pandemic is slowly ending, everybody is really excited to go out and dress up and wear more makeup. I also like to see that beauty products are influenced by more of an organic outreach. I hate when an influencer says "Oh hey, I use this product," when they don't actually use it.
Was there a time in your life when beauty felt particularly important to you?
As a gay man, I am pretty feminine, or feminine acting. When I was first coming to terms with my queer identity around 2012, getting into makeup helped me find the balance of my queerness.
Fill in the blank: Unfortunately, _________ is worth it. 
Toner. I've talked to a lot of people who don't think toner is worth doing, but I strongly disagree. It cleanses everything completely off your face.