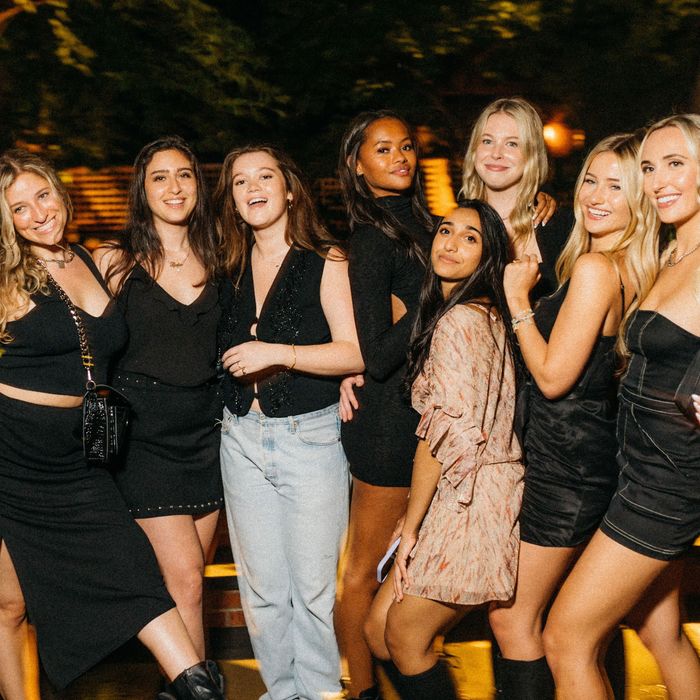 From left to right: Devin, Lydia, Page, Mare, Mallika, Lauren, Callie, and Sarah.
Photo: Barron Roth
I'll be honest: Straights who work in tech are usually not my scene. But last spring, at the height of late-lockdown Clubhouse mania, I took notice of "NYU Girls Roasting Tech Guys," a room on the invitation-only audio app that became part-dating-game show, part-podcast, and part pandemic-times theater. The backstory was that eight recent NYU grads, trapped inside without nightlife, came up with the idea to turn their chatroom into a "bar simulation." They invited users to pitch themselves (or "shoot their shot" in the weird Shark Tank parlance of Clubhouse) to potential romantic partners in the room. The NYU Girls emceed, asking probing questions and occasionally roasting the suitors. If there was interest on the grid, it was signaled by the phrase, "My DMs are open." After Elon Musk entered Clubhouse, sending the app into a glitch that locked 800 people in the girls' chat room, word spread on Twitter. The next night, they had 5,000 listeners. Soon after, there were appearances by Diplo, B.J. Novak, and Logan Paul, who came to give away free bitcoin.
Then lockdown ended, and the problem that their show (and Clubhouse in general) was meant to solve did too. So the NYU Girls — Lydia, Mallika, Lauren, Mare, Callie, Sarah, Page, and Devin — now signed to WME, are figuring out how to adapt their voyeuristic chat-only pandemic-romance machine into something else, something like, as one put it to me, "the Barstool for the next generation" (a questionable comparison). For now, they've started hosting speed-dating meetups and parties in the city. "We like playing amateur matchmakers," Devin, one of the collective members, told me. "And the energy in New York is so electric right now … The reason that we're good for this is because we also want these things. We are not happy with dating apps. We are not happy with the current way of meeting people. And this is a fun way to change it." On Saturday night, they invited me to join them and their dates for a pregame on the Upper East Side, before heading to a bar downtown.
8:26 pm | I arrive at a brownstone on a lush, doorman-lined street on the Upper East Side, where we are supposed to begin the evening with drinks in a garden. Unfortunately, it's raining, so the party has moved inside. The girls greet me with hugs and a couple of shots, with all of them, except one, wearing black. The room is full of French tips, blonde manes, fab boots, chunky silver accents, and tiny bags. They mill about the kitchen — refusing to tell me whose home we're in — picking at plates of salad and squares of pizza, washing it down with Aperol spritzes, white wine, and drinking directly from a 1.75-liter bottle of Michael Jordan's tequila ($499.99.) They apparently got it for free. "My fake nail almost came off," one of the girls squeals when she pops open a bottle.
8:45 pm | Two of the girls have invited their preexisting boyfriends, but the remaining six singles have, in the spirit of their post-lockdown matchmaking services, chosen each other's dates for tonight. I wonder if there are any hidden agendas or resentments on display in these choices. Slowly, the boys begin to arrive, all wearing button-down shirts that pair appropriately with the girls' LBDs. Everyone seems to be a 23-year-old who works in tech, finance or marketing — in other words, the city's young eligible bachelors and bachelorettes who might be able to afford a house in the Hamptons one day. The room feels like a television set: a bright-blue couch, a photograph of the Eiffel Tower, a painting of a rooster. When I ask one of the girls what she thinks is going to happen tonight, she predicts half of the paired-up couples will go home together but only one of them will speak again after tonight.
9:14 pm | While someone makes me a spritz, I overhear one of the boys correcting a girl about precisely what model of Rolex he's wearing. He's here with Mare, who is sporting a tiny Jacquemus bag (she tells me she has three). Rolex mansplaining aside, he's a sleepy-eyed, stubbled charmer, and when we go to take a shot of the Michael Jordan tequila, he raises his glass to us: "To the two most beautiful people at the party." When one of the boyfriended girls, Lauren, gives a toast a few minutes later, she says, "Thank you all for coming, and I hope you all fuck tonight."
9:49 pm | Mare is looking satisfied with Mr. Rolex, standing in a corner chatting closely, but some of the other girls are feeling less enthused about their dates. One of them, Page, jokes that her friends should have brought her a woman instead. The other pre-boyfriended girl, Callie, a gravelly-voiced blonde in knee-high leather boots, realizes she kissed someone else's date four years ago, in college. "Oh yes! Let's start rumors!" Lauren says, before realizing Callie is serious. And Devin, a silly blonde who still hasn't taken off her shoulder bag, tells me that she's "very open" when it comes to boys — she's mainly interested in "good conversation" — but she just doesn't find her date that attractive. Someone reminds the group that everyone should pace their drinking tonight, so we pop open one of the Evian bottles sitting on the blue-speckled marble island.
10:30 pm | Before we order our cars to go downtown, the crew quickly cleans up while dancing around to "Gold Digger" and then "Voulez-Vous." Page changes into leather loafers, throwing her suede heels on the floor and saying, "I can't shake my ass in these. My feet hurt." We're going to Short Stories because the girls have befriended the owner, a visitor to their Clubhouse room. "Honestly I think the biggest fans of our show are 30-plus men because they like to hear how girls think," one of them explains. Since the rain has stopped, the group quickly snaps a photograph in the backyard. "One … two … three … CHEUGY!", they cheer while they pose.
10:39 pm | I hop in a car with Devin, Mallika, the only girl not wearing black, and Mallika's date. An antsy guy with curly dark-brown hair, the date spends much of the 20-minute car ride asking me no less than a half a dozen questions about my sexuality ("But how do you know you're nonbinary?") following each with: "Are you uncomfortable?" Mallika, clearly uncomfortable, looks down at her phone and, perhaps to get her attention back, he gives her what he might have intended as a compliment: "Your Instagram is so basic, but you're great in person." He tells us he's "developing" a reality-TV show, though he won't really tell me what it's about. Devin looks too satisfied that her friend's date isn't going well, leaning back, putting her arm around me, and grinning devilishly while she passes me her vape. "Jewish guys in frats are her type," she whispers in my ear. Talking rapidly, the date just makes things worse: He admits that he's not vaccinated, compares political posturing around COVID to Stalinism, and, as we pull up to the bar, he leans over to Mallika and says, "I'm a jockey, not a long-distance runner," meaning his idea of good sex is "45 seconds of greatness. Pump, pump, and oomph." Also, he's using a flip phone.
11:15 pm | Even though the line for Short Stories is quite long, the NYU girls are immediately invited past the velvet rope, where the bartender gives them orange wristbands that allow them to drink for free. They order blue margaritas, which they've nicknamed "window-washer fluid," and head to the dance floor. Standing to the side, Mare admits to me that she also has had a previous encounter with one of the other girl's dates. She asked him to come over once after meeting him on Clubhouse, but nothing ever happened. Tonight, she's not worried about it: "When you treat life like a simulation, nothing matters."
11:36 pm | To my surprise, the first couple to leave together is Mallika and the unvaxxed guy. As he literally chases her out of the bar, he stops and asks me to put my number into his flip phone. "Let's do a day at the bathhouse," he says. When I report back to the others, one of them tells me, "That's why I love these girls. They fuck whoever makes them happy … They just wanna have fun."
12:29 am | Short Stories continues to fill with models and influencers and generic pretty people, as the normies in line outside begin defecting to Phebe's, the divier bar next door. "Honeychild, we're making a bubble and blocking everyone else's energy," a girl in the Phebe's line tells me when I ask what she thinks of the crowd.
12:43 am | The NYU girls are beginning to make their next moves. Mare leaves the bar abruptly, without telling Mr. Rolex. I also notice that Sarah — the Barbie of the group who I'm told is also the brains — has left for Acme with another dating-oriented influencer who she was previously complaining about.
12:50 am | Mare texts her date. She may have left him, but she wants to meet up at his place. Meanwhile, Lydia, who is hobbling on a boot after breaking her foot while staying on the Cape, decides to head home early.
12:56 am | The group dwindling further and further, Page heads out boyless, and I notice her date has invited someone else to the bar, a girl in a red dress pulling a tacky YSL wallet out of a Prada bag.
1:13 am | Eventually, I'm left with only Devin and the two girls with preexisting boyfriends, Lauren and Callie. A bottle of tequila with a candle flaming out of its mouth arrives at our table, and we make drinks while sitting on top of the booths, gossiping about everyone who left. I think back to something Devin told me earlier, discussing the group dynamic: "We all have main character energy. No two personalities are the same." They may have all shown up in black dresses, draped in the same very specific brand of young, tech-adjacent, influencer-y status, but they each tackled the night, and their dates, like eight different contestants on Love Island. As Lauren tucks the Casamigos bottle into her jacket and scrambles out the door, I order a car to my friend's party at Le Bain, relieved to start some drama among my own friend group.