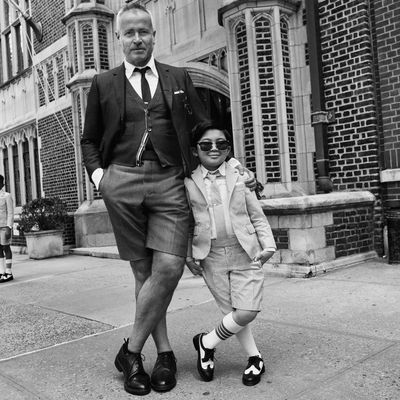 There are few adults who can wear a suit with as much conviction as 9-year-old Minari actor Alan Kim. At the Oscars, for example, he gave Zoolander a run for his money with his own Blue Steel pose, landing himself on best-dressed lists alongside heavy hitters like LaKeith Stanfield.
Lately, Kim has been wearing a lot of suits by Thom Browne, who launched a children's line under his namesake label this year. "I like wearing his clothes because they're really comfy," Kim told the Cut. "They're not too thin where they wrinkle, but they're not too thick, either, where you feel like you're a bear in the summer." And who wants to feel like a bear in the summer??
Kim first met the designer a few weeks ago, or a few months ago — he can't remember. But they hit it off, and now Kim is the star of the designer's new campaign, where adults and kids switch roles, getting their parents ready for school and dropping them off in the brand's signature seersucker suits. "I've never really liked the smell of newspapers," Kim said of playing a mini-grown-up for the day — but otherwise, it was fun.
In real life, Kim attended school remotely this year. "I like online school because you can stay inside, but I also don't like online school because you stay inside," he said of the experience. It's also changed his wardrobe a bit. When asked how he likes to get dressed in the morning, he responded with a laugh: "I would rephrase that to: 'What do you like to change into in the afternoon,' because I'm too lazy to change. Sometimes when I wake up I just stay in my pajamas until I've got to go outside."
Same, Alan. Same.
Kim doesn't think he'll wear Thom Browne to the first day of school in the fall (probably "just a T-shirt and shorts," he said), but in the meantime, you can watch the full Thom Browne campaign video here.