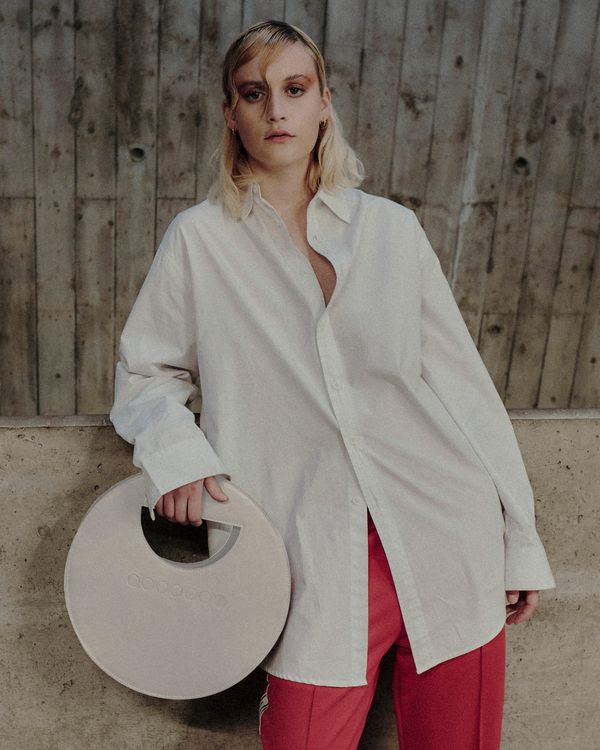 Photo: Courtesy of Mr. Saturday
Often the best source of inspiration is the people in our lives. Following its "Lonesome No More!" spring 2022 show at Paris Fashion Week in June, Mr. Saturday has debuted a range of handbags and premium leather goods inspired by the women around the brand's founder and designer, Joey Gollish.
Rather than simply naming each bag after a different woman, Gollish is using the opportunity to support the causes that are important to his muses. The first style in the brand's permanent collection is called the Clara after Clara Jeon, a Korean American publicist friend of Gollish who co-founded Chapter 2 Agency. A portion of the proceeds from all Clara bag sales are being donated to Womankind, an organization that works with survivors of gender-based violence. It brings critical resources and cultural competency to help Asian communities find refuge, recovery, and renewal — an effort close to Jeon's heart in light of anti-Asian violence.
The Clara is considered a tote bag, although it's not your average shlumpy canvas cotton sack. Mr. Saturday's approach is definitely more fashion-focused. It's a structured circle with an oversized handle and logo embossed on the front, and it comes in black, brown, and cream — all handmade in Los Angeles from premium Italian calfskin.
"'What can't she do?' is the only question I ever ask when it comes to Clara, and I sort of feel the same way about her namesake bag," Gollish told the Cut. "Take it to brunch, carry your iPad in it to a meeting, or wear it to a gala — maybe do it all in one day. To be honest, she probably does. And that's the kind of life and person it's designed for. Someone who's out in the world doing the things she believes in and feeling amazing while doing it all. In Clara's own words — when she carried it from morning meetings to the office to Antwuan Sargent's opening of Social Works last week at the Gagosian — 'I really am that bitch.'"
Preorder it here.