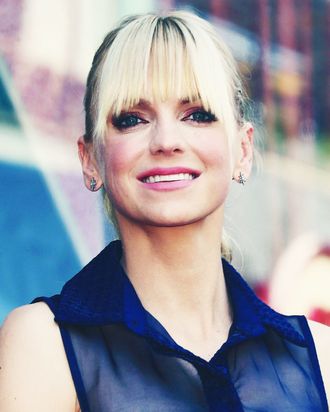 Photo: Tommaso Boddi/WireImage
Anna Faris casually let slip on her podcast this week that she is married now. On the latest episode of Anna Faris Is Unqualified, the actress revealed that she and her partner, cinematographer Michael Barrett, eloped recently at a courthouse in Washington state.
"My fiancée's right, well, he's now my husband," Faris said, a comment that was met with an excited gasp from April Beyer, the podcast's resident dating expert. "Yes, we eloped. I just blurted that out, but it just feels [like] I can't say fiancée anymore. It was awesome. It feels great." Faris said, before quickly moving on from the subject.
Faris first began dating Barrett after working with him on her film Overboard in 2017, a few months after Faris and Chris Pratt filed for divorce. In January 2020, Faris's Mom co-star Allison Janney accidentally announced the pair's engagement. Faris later confirmed the news, saying she and Barrett share a "special kind of intimacy," but the actress has always been pretty private about her relationship (Janney apparently only found out about the engagement by seeing Faris's ring on her finger). Speaking on her podcast, Faris also said that she and Barrett kept their marriage from their families until recently.
"My aunt asked me, 'You are going to be a stepmom. How are you feeling about that?' and I said, 'Well, actually, I am a stepmom as of four days ago, but it was great.' Everything about it just felt right." Faris said.
Barrett has two children, and Faris shares her 8-year-old son, Jack, with ex Chris Pratt. We wish the newlyweds a happy (and very private) marriage!