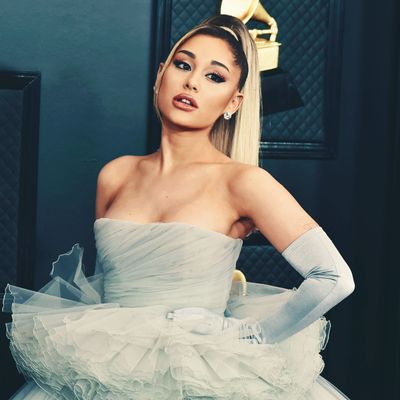 Photo: David Crotty/Patrick McMullan via Getty Image
On Sunday, ponytail aficionado Ariana Grande posted a vacation photo dump on Instagram, giving us an itty-bitty look into her honeymoon in Amsterdam with Dalton Gomez. Speaking of itty-bitty, among photos of windmills, boats, and potted succulents is a picture of Grande and Gomez looking very small sitting inside giant clogs. Not even Grammy award-winning singers can resist a touristy photo op. Stars — they're just like us!
If you haven't had your fill of cute, tiny things, Grande shared a video of a ladybug drinking from a puddle of water. There's also a video of a swan hissing — which I guess is a thing angry swans do?? That's significantly less adorable, but if it's something Ariana Grande would like me to see, I will view accordingly.
She captioned the photo series with a snail emoji and a waffle emoji. The latter could possibly be an allusion to the Netherlands' famous stroopwafel. The former might be a reference to the country's bustling snail-farming economy. Linguists will interpret the message for years to come.
Grande and Gomez got married in May, with the singer sharing predictably gorgeous wedding photos a couple weeks later. Aside from those pics and this recent set of Amsterdam photos, the couple have kept their relationship relatively private. So it's nice to see the two are having a great time, sitting in big shoes and being in love. Gefeliciteerd to them both!