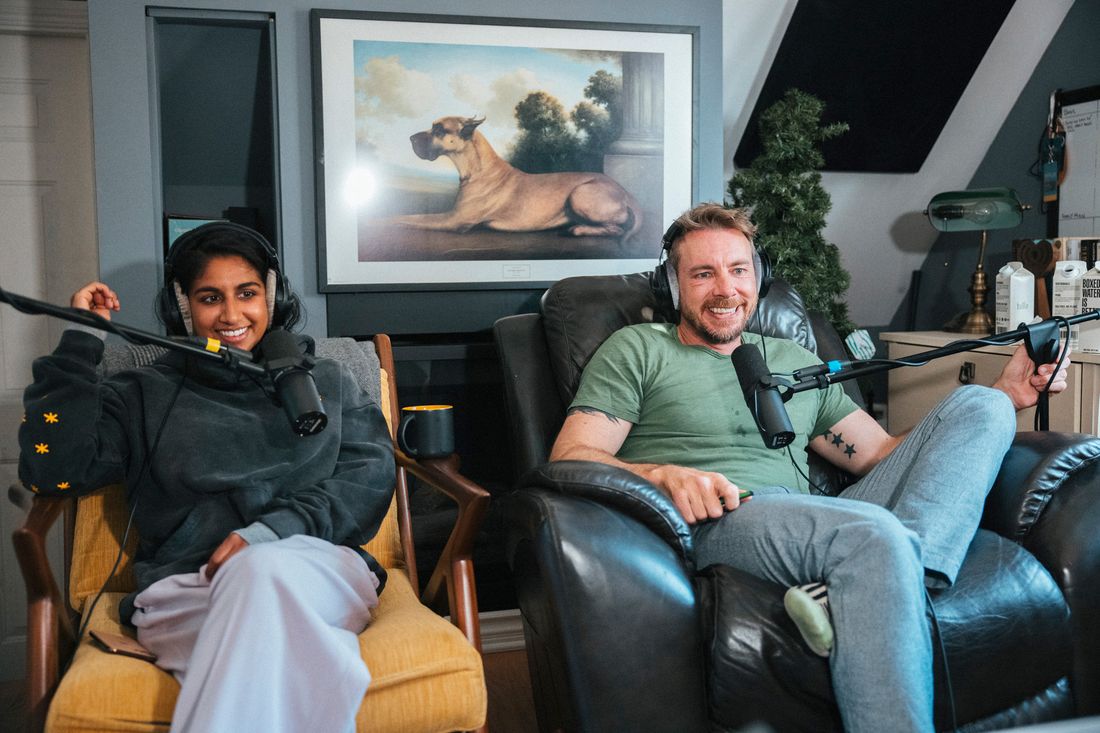 Photo: Courtesy of Spotify
Quick — think of your dream girls' group chat. Maybe it's star-studded with the likes of Mila Kunis, Kate Beckinsale, and Zoë Kravitz. Or let's say you go another route altogether and have some of today's most provocative thinkers, like Esther Perel, Isabel Wilkerson, or Angela Duckworth blowing up your messages.
Now that you've got your group chat roster all dreamt up — and what a roster it is! — it's time to come back to reality. The much less exciting fact is this: If such a chat ever did exist, the likelihood of us everyday folks being on it would be slim. But fret not. You can still hear the random jokes, vulnerable stories, research findings, pet peeves, and general musings of these amazing women all on one easily accessible podcast: Armchair Expert with Dax Shepard.
His podcast, now exclusive to Spotify, is a listen unlike much of what's out there. It's also probably unlike anything you might expect from Shepard, if, say, you remember him as a former reality TV star who got paid to play practical jokes on celebrities.
Armchair Expert's tagline is "a podcast that celebrates the messiness of being human," and episodes of the show explore women's rights, gender equality, sexual liberation, and a whole host of other topics relevant to modern-day women. Monica Padman, the show's co-host, and Shepard aren't ones to avoid complicated conversations.
Padman started as a live-in nanny for Shepard and his wife, Kristen Bell. On the show, Padman (also the podcast's co-creator, editor, and producer) joins Shepard in asking all the questions we would ask if we were in the attic studio. Working together, the two create an easy vibe, like you're just talking to friends — friends who happen to co-host one of the most-listened-to podcasts around. Keeping that friendly vibe, Padman uses the "fact check" portion of the episode to share even more of her perspectives while light-heartedly checking Shepard on any claims made throughout.
For "Armcherries," as listeners are called, it can feel like they're hearing real, candid conversations that would happen with or without an audience. On the recent episode featuring Mila Kunis and Ashton Kutcher, Kunis bounces from her skin rituals to talking about cryptocurrency and NFTs. She's laughing the entire episode in between anecdotes, because of course, Kunis is Shepard's friend in real life.
Beyond all the laughter, the podcast doesn't shy away from holding up a mirror to men and analyzing their impact on women and our society. With sex therapist Emily Morse as a guest, the podcast dissects how our lack of sex education and America's shame-fueled culture have robbed women of incredible orgasms and fulfilling sexual experiences. Shepard's perspective throughout is decidedly male, but that never gets in the way of his guest's area of expertise. Instead, he uses it as a springboard for further investigation.
This is important, especially today. In 2021, it's one thing to say you're a feminist, buying empowering merch and posting performative hashtags. It's an entirely different thing to create a platform where women from all walks of life, from every industry, are welcomed to speak freely, sharing their lived experiences without resistance.
The podcast doesn't highlight one type of person — guests range from Hollywood celebrities and musicians to scientists, athletes, researchers, and authors. Armchair Expert democratizes who gets to speak, and does so without judgement. There's an episode with Monica Lewinsky, just as there's an episode with Hillary Clinton. His TV wife, Joy Bryant, makes an appearance as does his real wife, the aforementioned Kristen Bell.
In fact, Bell was the first guest on Armchair Expert, and their conversation begins with a quarrel over garland, touches on how they met wherein he calls himself "a jungle cat," and evolves into something more soul-baring and connective. Listening to that episode alone is proof of how far Shepard has evolved as a host and a human, and sets the stage for every episode thereafter.
The thing is, Shepard is uniquely positioned — with access to today's biggest talents and experts, a penchant for unfiltered self-reflection, and a performer's sense of humor — to be really damn entertaining all while making space for the powerful women on his show to shine. And isn't that how the best group chats function? Everyone gets their moment, everyone has their say, and you're always excited to hear what comes next. In the case of Armchair Expert, Shepard just so happens to be the one sending the first message.
Curious about Armchair Expert with Dax Shepard? New episodes release on Mondays and Thursdays for free, only on Spotify.
This advertising content was produced in collaboration between Vox Creative and our sponsor, without involvement from Vox Media editorial staff.