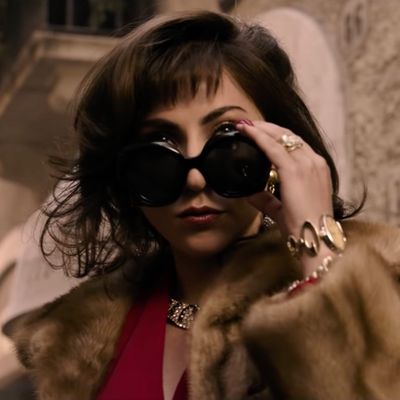 Finalmente! The official trailer for House of Gucci is here, and we must pay our respects to Madre Mostro accordingly. Put on your huge sweaters, feed a pastry to a molto grande boy, and bear witness to all of these Italian accents.
We've got Adam Driver and his Big Sweater as Maurizio Gucci, the eponymous head of the fashion house. There's Jared Leto looking unrecognizable as Maurizio's cousin Paolo Gucci and/or a funky Dr. Phil. There's Salma Hayek! There's Al Pacino! There's Jeremy Irons! There's a spooky cover of "Heart of Glass"!? Most importantly, there's Lady Gaga as Gucci's ex-wife Patrizia Reggiani, sipping espresso and ready to ruin a man's life.
I will say that, while jarring, Gaga's accent isn't completely off, as evidenced by this clip of the actual Patrizia saying, "It's better to cry in a Rolls Royce than be happy on a bicycle." If Gaga doesn't give her own delivery of this quote in the movie, I will be pressing charges.
Before releasing the trailer, House of Gucci dropped a series of promo posters as a little amuse-bouche. But be warned: I have tried to look away from this image of Jared Leto, and it is impossible. The same is true of Gaga's poster but for entirely different reasons. To quote Ariana "I'm so proud to be Italian" Grande's comment on Gaga's Instagram, "shaking."
However, not everyone is excited about the forthcoming crime drama, which follows Maurizio's rise and eventual death after Patrizia hires a hit man to kill him. Specifically, members of the Gucci family are displeased with what they've seen so far. Per the Associated Press, Patrizia Gucci — a second cousin of Maurizio Gucci, not Gaga's Patrizia — called Pacino's version of her grandfather Aldo Gucci "shameful" and Leto's portrayal of her father Paolo "horrible, horrible … I still feel offended."
Regardless, the movie looks buck wild, and as someone whose first email address was "ciao bella," I will say, "Brava!"