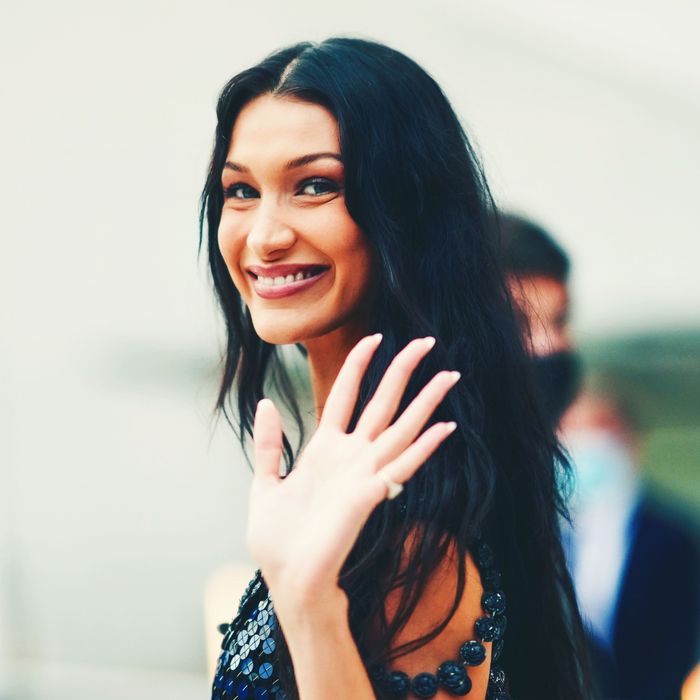 Bella Hadid
Photo: Edward Berthelot/Getty Images
Hmmmm, looks to me like Bella Hadid may have a boyfriend — for real this time, not like when the tabloids decided she was having a fling with Jack Nicholson's grandson, whom she'd met once. This time around, the news comes directly from the supermodel's own Instagram, where she posted a photo dump from France last week. The caption? "Time of my life … Healthy, working and loved." The eighth picture in the slideshow? A shot of her, dressed in a pink Burberry plaid miniskirt suit, rubbing faces with a tall man dressed in black. Who is he? Drumroll, please: Fellow NYC resident Marc Kalman, an art director and Hadid's rumored squeeze, who appears to have visited her in Cannes this week.
Swipe through to the end for photographic evidence:
Hadid has been in Paris, for Fashion Week, and Cannes, for the film festival, since approximately late June. She has not been romantically linked to anyone, at least not officially, since ending her on-again-off-again relationship with the Weeknd for good in 2019. (Whatever sources close to Duke Nicholson may tell you.) Still, whispers about her and Kalman have circulated on celebrity-gossip curator Deux Moi for … weeks, maybe even months, which is still not as long as the sources say they've been seeing each other.
Apparently, the boyfriend has been hiding in plain sight for quite some time — up to a year, according to one "Page Six" informant. "They hid it well," this person told the gossip rag. "If they went out, he would come out first, get the car, and then she would get into the car. They would drive to a location, and he'd drop her off but not get out and go park the car." Hadid and Kalman made sure not to engage in any PDA, the "spy" explained, "were very diligent about not being seen on a public street at the same time," and typically hung out in group settings. Sneaky!
While it is true that people say all kinds of things to the tabloids and only some of them are true, "Page Six" also managed to spot Kalman in a number of photos the paparazzi snapped of Hadid between last July and now. Different angles make clear that he has literally been in the picture this whole time. So congrats to all involved on the successful subterfuge! Hell yeah, normie BF!
This article has been updated.