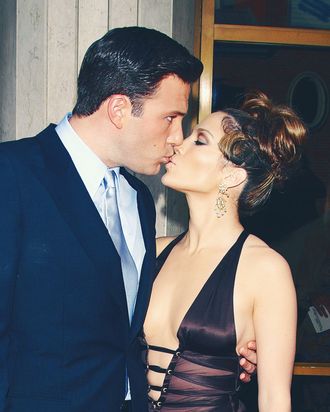 Photo: Frank Trapper/Corbis via Getty Images
A belated happy Jennifer Lopez's birthday to all who observe. Over the weekend, Jennifer Lopez was in St. Tropez to celebrate her 52nd birthday and, I'm assuming, pay her respects to whatever omnipotent force keeps her from aging. Lest there were any lingering doubts about the legitimacy of Bennifer 2.0, Ben Affleck also joined Lopez on her birthday yacht. To mark year 52, J.Lo decided to give all of us a little birthday treat, gifting the world with an Instagram post that included a photo of her and Affleck having a big ol' smoochie. Little kiss, be damned!
Affleck isn't tagged in the photo or mentioned in the caption but, like, it's him. When you are Jennifer Lopez, you needn't tag the other half of your couple – you merely post a kissing pic and continue celebrating your existence on a huge boat. Also, there are other pictures of the two of them partying on the yacht, including one that appears to re-create the moment from the 2002 "Jenny From the Block" music video where Affleck touches her butt. Ever the high-key couple, J.Lo brought her own photographer on the boat to capture any and all kisses, butt touches, etc. If anything, it goes to show that Bennifer knows exactly what they are doing and that we want to see it all.
Not to be outdone, Lopez's ex A-Rod was also in St. Tropez on a different yacht to celebrate his own birthday. So there! This was apparently not by coincidence or some bizarre ploy to win his beloved J.Lo back. According to People, Rodriquez and Lopez had planned to take a trip to St. Tropez before they broke up back in April. When they split, they just … both decided to keep their plans and go with other people. Just goes to show that no matter how rich and famous you are, when you and your ex have expensive plans, you keep them and respectively carry on.
Regardless, as an additional gift, I would like to see the camera roll of outtakes of Ben and Jen's Birthday Kiss. Which kisses were not kissy enough for Instagram? Could you see her abs in all of the pics? Are there some in which Ben is where a matching safari hat? The mind wanders …