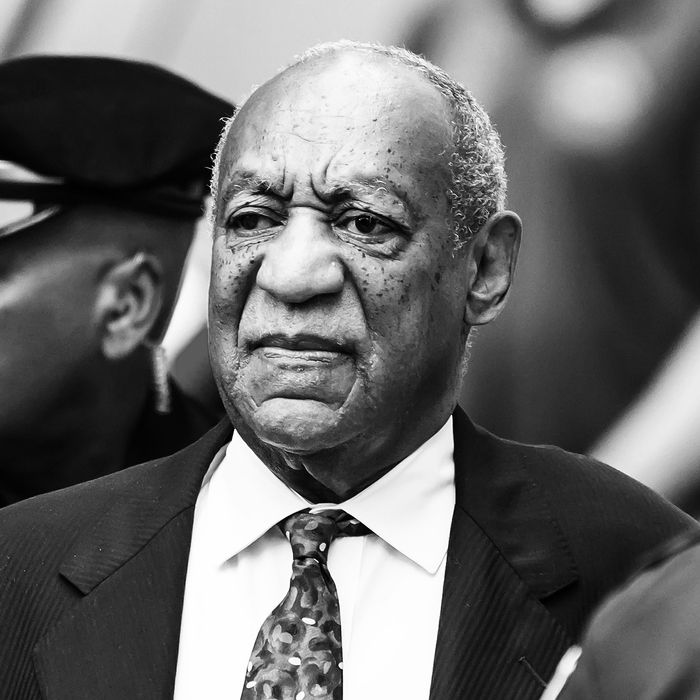 Photo: Gilbert Carrasquillo/Getty Images
Barely a month after he was denied parole for refusing to participate in a therapy program for sexually violent offenders, Bill Cosby is being released from prison. The Pennsylvania Supreme Court overturned Cosby's sexual-assault conviction on Wednesday, citing a non-prosecution agreement between Cosby and a previous district attorney, which the court ruled should have prevented him from being charged. Cosby served thee years of what would have been a three- to ten-year prison sentence.
In 2018, Cosby was charged with sexually assaulting Andrea Constand in 2004, in what was one of the first big celebrity cases amid the growing Me Too movement. To date, more than 50 women have accused the actor of varying degrees of sexual assault, including being drugged and raped. In a deposition during a civil suit — which Cosby agreed to give after former district attorney Bruce Castor said he would not prosecute the comedian based on his testimony — Cosby admitted to using Quaaludes to drug women with whom he wanted to have sex.
But on Wednesday, the Pennsylvania court ruled that Cosby should not have been charged in 2018, based on that previous deal he struck with Castor. The former DA was part of Cosby's 2005 criminal trial for his alleged 2004 assault of Andrea Constand. During that trial, Castor found that "insufficient credible and admissible evidence exists upon which any charge against Mr. Cosby could be sustained beyond a reasonable doubt." Later, Castor struck a deal with Cosby, saying he would not prosecute the comedian if he provided testimony during a deposition for a separate civil suit filed by Constand. (More recently, Castor was widely panned for his defense of Trump during the impeachment trials.) Though Judge Steven T. O'Neill, who oversaw Cosby's sentencing hearing, previously ruled that Castor's promise was not legally binding, the overturned conviction ruled otherwise.
As reported by CNN, Cosby has already been released. The court has said he will not be retried.
In response to the ruling, Cosby tweeted that he "has always maintained [his] innocence."
Meanwhile, in a statement with her attorneys, Constand said that the court's decision was "not only disappointing but of concern in that it may discourage those who seek justice for sexual assault in the criminal justice system from reporting or participating in the prosecution of the assailant or may force a victim to choose between filing either a criminal or civil action."
This post has been updated.