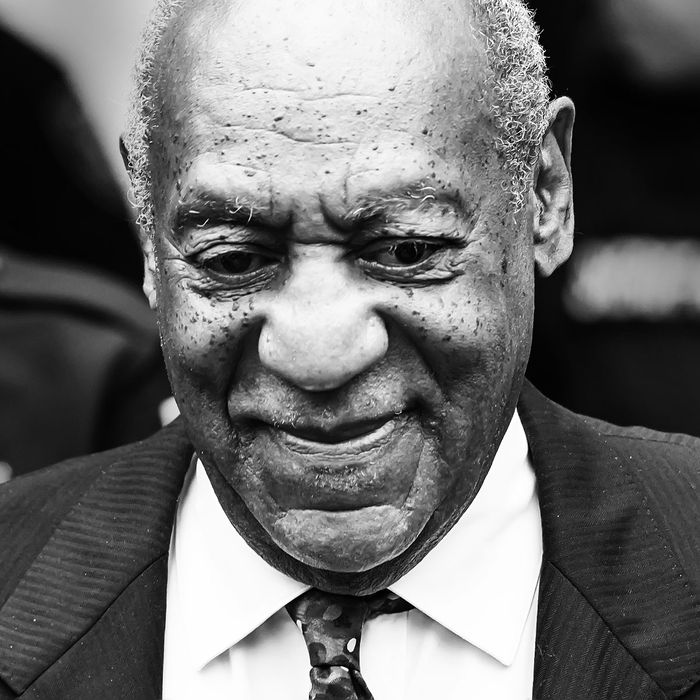 Photo: Gilbert Carrasquillo/Getty Images
Following his recent release from prison, Bill Cosby is reportedly already already planning his comeback. Though a jury found him guilty of sexual assault in 2018, the Pennsylvania Supreme Court recently ruled that a previous deal Cosby struck with a district attorney should have prevented him from being prosecuted altogether. Essentially, in spite of the fact that dozens of women have accused him of drugging and assaulting them, Cosby is now free on a procedural error.
And, according to TMZ, the comedian already has a five-part docuseries and a book in the works. On top of that, he apparently wants to start doing stand-up again. Andrew Wyatt, Cosby's publicist, told TMZ he's contacted multiple comedy clubs who are "open to the idea" of Cosby performing. The recently released sex offender is also looking to do motivational talks in prisons and schools across the country. Per TMZ, these appearances would purportedly focus on "being better citizens and curbing violence," which, besides being a bit ironic considering Cosby has admitted under oath to giving Quaaludes to women he wanted to have sex with, also sounds reminiscent of his notorious "Pound Cake" speech, which was widely criticized for its racist implications.
According to Wyatt, "The world wants to see Mr. Cosby." No the fuck we do not.
It appears at least one comedy club agrees with the latter sentiment. Noam Dworman, owner of New York City's iconic Comedy Cellar, told TMZ he has no interest in hosting Cosby at his club. In 2018, the Comedy Cellar controversially hosted Louis C.K., marking his first performance following allegations of sexual misconduct. However, Dworman told the New York Post Cosby's actions are aren't comparable, adding that Louis C.K. was not charged with a crime. "I just think these comparisons are ridiculous," Dworman told the Post.
Cosby's rapid comeback plan follows a pattern set by plenty of famous men before him who have not been held accountable for assault and sexual misconduct. Nowhere in Cosby's future plans does there appear to be any hint of remorse. He has shown time and time again that he has no intention of taking accountability, that he does not believe he did anything wrong despite 60 women with eerily similar accounts accusing him of varying degrees of assault, including being drugged and raped.
For his part, Wyatt is the same man who lamented Harvey Weinstein's conviction as a "sad day in the American judicial system." (The support goes both ways: Weinstein's camp recently shared a statement applauding Cosby's release.) "Here's the question that should haunt all Americans, especially wealthy and famous men," Wyatt wrote in a statement posted to Cosby's social-media accounts after Weinstein was found guilty, per NBC News. "Where do we go in this country to find fairness and impartiality in the judicial system; and where do we go in this country to find Due Process?"
Where do wealthy and famous men who have been accused of assault and sexual misconduct go? Wherever they want. They go back to work. They go back to the stage. They go to the Oscars, the Grammys, international awards shows, the Super Bowl. They go serve on the Supreme Court and sit in the White House. They go to their multimillion-dollar homes to begin working on essays, books, and new movies. They get released to the cheers of other public figures. They get to call jail time a "vacation" and further profit off their misdeeds. They get to go back to "normal."
Survivors of assault are rarely given such grace. They are silenced and ignored despite being the ones who need a safe haven. They deserve a place where they aren't failed time and time again by broken systems. Where do they go now?
This post has been updated.