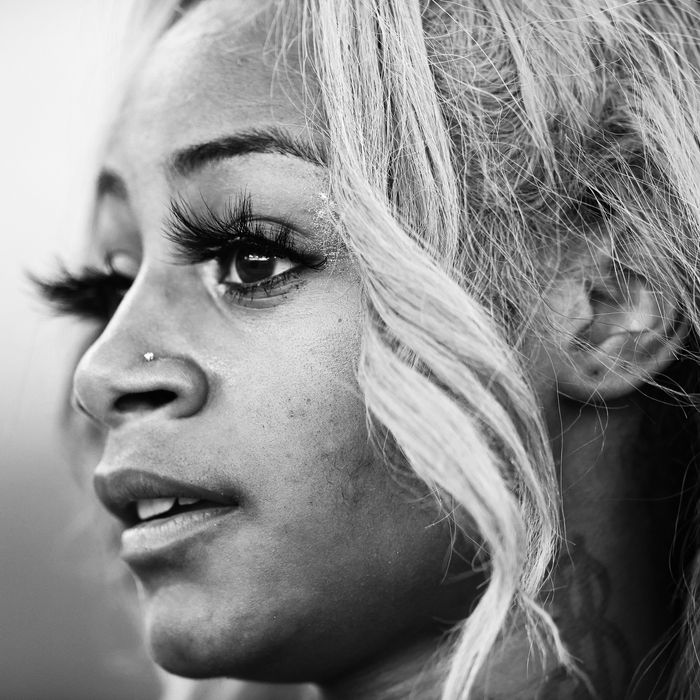 Photo: Patrick Smith/Getty Images
With her fiery orange hair, nose rings, long eyelashes, acrylic nails, and out-of-this-world confidence, track star Sha'Carri Richardson is a force to be reckoned with. Seeing her onscreen after her Olympic-qualifying performance in the 100-meter race made me hopeful that the world had turned a corner in its embrace of Black women, including those who reject white standards of beauty and Black respectability politics, loving and cheering on young women from around the world without them having to change a single thing. Richardson is indeed that girl.
Not two weeks after her win made her the fastest woman in the country, the world awakened to the news that Richardson had tested positive for THC — a chemical found in cannabis — resulting in a 30-day suspension and making her ineligible to compete in her event at the Olympics. In an interview with the Today show, Richardson apologized and said she consumed the drug after learning of her biological mother's death from a reporter while in Oregon, where weed is legal, for the Olympic Trials. While many rallied behind her in support, Richardson's suspension and removal from the U.S. team is a swift fall for the Olympic hopeful, and just one example of the way the outdated, rigid rules rooted in racism are setting Black Olympians up to fail.
Richardson isn't the only Black female athlete who's been barred from participating in the Olympics this year. Despite qualifying for her second Olympic team last month, 2016 100-meter hurdles champion Brianna McNeal won't be headed to Tokyo. In January 2020, she missed a drug test because she was in bed recovering from an abortion she received two days prior, she said in interviews last week, and didn't hear the official at the door. In follow-up documentation for anti-doping officials, McNeal then mistakenly altered the date of the procedure, believing the clinic had recorded the wrong date. The paperwork snafu resulted in a five-year suspension, meaning she will miss not only this year's Olympic Games but the 2024 Games. She will also have to give up her medals, prizes, and money earned between February and August 2020. According to McNeal, World Athletics officials questioned her explanation, claiming she couldn't have been traumatized if she was well enough to post to social media. McNeal also says she was criticized by officials for seeking the guidance of a spiritual adviser rather than a psychiatrist after the procedure.
This isn't the first time McNeal has been banned from competition; in 2017, she received a yearlong suspension from the U.S. Anti-Doping Agency after she missed three drug tests in a 12-month period. But she has never tested positive for a banned drug — her possibly career-ending ban is the result of a technicality. "I am being excommunicated from the sport as if I was shooting up drugs my entire career. My peers and I know how screwed up and flawed the system is and this goes below the belt," McNeal wrote in an Instagram post last week. "I can't help but wonder if I was a white woman, or a European would I have been met with some consideration?"
Why was McNeal so aggressively pursued, and why did she end up with a five-year suspension, making her miss the Olympic Games this year and in 2024? Why should a Black woman have to publicly admit to one of her most personal decisions in order to clear her name after being served an extremely harsh penalty?
For as much progress as we're making in both acknowledging and atoning for our country's racist past and present, the Olympics are only doubling down on antiquated, anti-Black rules. Last week, the International Swimming Federation banned Soul Cap — a swim cap designed for Black swimmers with thick natural hair — for use in the 2021 Olympic Games. Historically, Black swimmers have braided their hair to fit into traditional swim caps; Soul Cap is an innovative and inclusive solution for athletes who choose to wear their hair in its natural state. Yet FINA didn't support the idea of including this brand, saying that to its "best knowledge, the athletes competing at the international events never used, neither require … caps of such size and configuration."
Rules that enforce a narrow idea of what an Olympic body should be are not limited to swimming. Internationally, two Namibian sprinters — Christine Mboma and Beatrice Masilingi — were recently disqualified from the 400-meter race at the Olympics because of their naturally high levels of testosterone. In order to compete in their preferred event, they would have to take medication to lower their testosterone levels. As WNBA star Brianna Turner noted, "In a year where so many people have restricted trans athletes access to sports it's ironic that this ban is for cis women." These are the same rules that have prevented other athletes, including South African runner Caster Semenya, from competing after they refused to use medication to lower their testosterone levels.
Olympic policies fail to reflect not only natural variation in body types but how cultural attitudes are evolving. Richardson's suspension comes as recreational weed is being legalized and cultural attitudes around cannabis are rapidly shifting. While other sports leagues, like the NFL and NBA, have loosened restrictions around the drug, the Olympics continue to test for in-competition use despite the fact there's no evidence it is performance enhancing. Richardson's grief-driven decision to smoke cannabis deserves empathy. And while in this case she violated existing rules, it's worth asking how these rules might change given the shifting narrative around weed. Members of Congress have called on the U.S. Anti-Doping Agency to reverse Richardson's suspension and change the policies that led to such a verdict. "Their decision lacks any scientific basis," Alexandria Ocasio-Cortez wrote on Twitter. "It's rooted solely in the systemic racism that's long driven anti-marijuana laws." Whether such statements will result in any meaningful change is anyone's guess.
While the past year has seen a reckoning with racial injustice erupt across the U.S., the lead-up to this year's Games has made it clear this conversation hasn't made it to the Olympics yet. Stringent rules and their associated penalties create a competitive environment that punishes Black women while creating opportunities for athletes from non-marginalized communities to continue to succeed. In a hopeful 2021 Olympic season that began by seeming so inclusive, systemic racism and sexism continue to thrive.