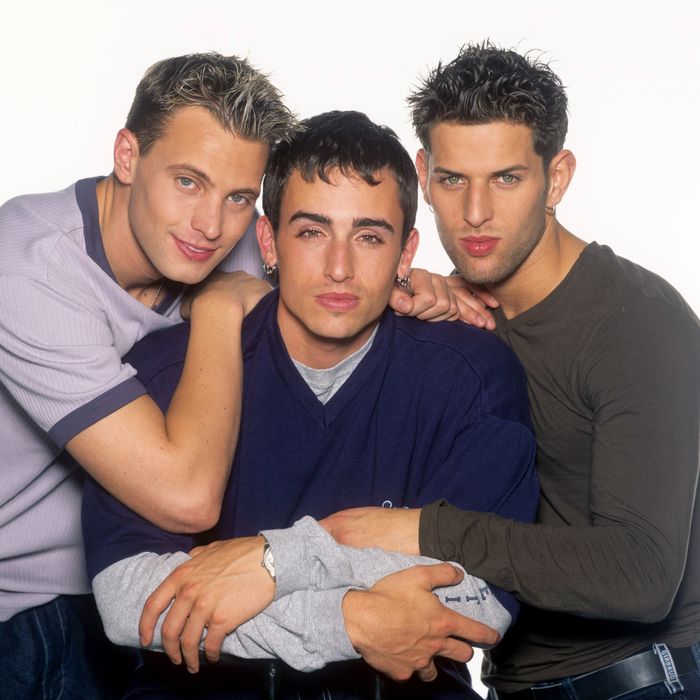 Photo: Fryderyk Gabowicz/picture alliance via Getty Image
Twentyish years ago, in a mall on Long Island, Brad Fischetti was riding down an escalator with his LFO bandmates Rich Cronin and Devin Lima. Fresh from the release of their single "Summer Girls," they were at the mall to do an autograph signing but were unsure if fans would turn out. "I remember, we were really worried, like, 'Is anybody going to show up?' You know, it's embarrassing when you do an autograph signing and there's nobody there," Fischetti says, speaking to me over a series of phone and Zoom calls from his home in Florida. Now 45, he still looks remarkably like his younger self.
Halfway down the escalator, the group finally passed the wall that obscured their view of the floor below, revealing a massive crowd of screaming fans. "They see us and they start going ballistic. And you're going in slow motion down this escalator, you know what I mean? It was a very emotional moment."
The day marked a turning point for the band, and that summer their single was everywhere. It was a hit on radio stations and pop charts, and the accompanying music video could be found playing on MTV. The band had officially made it big in the boy-band era of the late 1990s and early 2000s.
Their journey to the top was far from easy. Their manager, the infamous boy-band impresario Lou Pearlman — who also managed and developed the Backstreet Boys and NSYNC, among other groups — put LFO through their paces. Like Pearlman's other pop star creations, Cronin, Lima and Fischetti were plucked from relative obscurity while working in Pearlman's vicinity (Brian Gillis, an earlier member, left the group before their rise to fame) and began following a grueling schedule of singing and rehearsing choreography. "It wasn't really us, you know, the synchronized dancing and the three-part harmonies," Fischetti told me. "But we did some of that early on because that's what you're expected to do."
Unlike others in the boy-band universe, LFO's style was laidback; less hard-driving pop and more hip-hop accented, including Cronin's cooing rap verses, delivered with his signature hunky squint, and Lima's soulful vocals. (If NSYNC and the Backstreet Boys were Pepsi and Coke, LFO was Dr. Pepper — a little less ubiquitous but just as sweet.) LFO even wrote some of their own music, with Cronin penning several of their hit tracks, including "Summer Girls" and "Girl on TV," his ode to actress and then-girlfriend Jennifer Love Hewitt. "Summer Girls" became a massive hit and the band's self-titled debut album went on to sell 2.5 million copies, fueled by U.S, tour dates with Britney Spears, along with TV performances, and two Billboard Top 10 Hits.
But the boy-band bubble didn't last forever, and by 2002 LFO announced that they were going on hiatus. I asked Fischetti if he thought back fondly on his time in the limelight. "When I think of the fans and the support, I think of nothing but joy and love and happiness, and gratitude," he says. "The LFO journey itself was hard. And we have a lot of stuff, for lack of a better term. And then clearly, the overall story is a tragedy, right?"
Today, Fischetti is the last surviving member of the group and the self-appointed keeper of LFO's legacy, a role he takes extremely seriously. "There were people early on who were trying to tell me I should replace them," says Fischetti. "I don't want to start something new. I'm not interested in that. I'm really happy to nurture the legacy and continue to remind people how special they were."
Rich was the first one to get sick. In 2005, just three years after the band went on hiatus, Fischetti got phone call from Mike Cronin, Rich's brother, telling him that Rich had been diagnosed with leukemia. "I remember I just sort of fell into a crouching position with my head in my hands, and I just wept," says Fischetti. After chemotherapy and a stem-cell transplant, Cronin felt well enough to continue making music and doing TV engagements. He joined the rest of the band on a 2009 reunion tour, financed by Fischetti, who by then was running his own record label, One Eleven Records. "To be honest, I lost a lot of money on that tour, but I don't regret it. Because we became so close, you know, and it was one of Rich's last opportunities to tour."
Cronin spent much of the time fatigued, resting in the back of the tour bus between gigs. Gradually, his condition worsened, his mobility became more limited, and in the fall of 2010, Cronin died as a result of his illness.
After his bandmate's death, Fischetti went back to his record label. Lima and Fischetti remained close, with Lima living in Fischetti's garage, on and off, helping out with Fischetti's kids and singing in the band at his church. In 2017, Fischetti and Lima decided to go on tour as a way of honoring Cronin's legacy and planned an ambitious set of dates that would begin in the South and take them up the East Coast. Fischetti had already begun planning the tour's second leg when Lima became ill. Lima was diagnosed with advanced adrenal cancer and had surgery to remove a massive tumor enveloping one of his kidneys. The surgery was successful, but in 2018, just 13 months after he was diagnosed, Lima passed away at the age of 41.
Lima's passing devastated Fischetti, and he struggled with his mental health. With the help of a doctor and counselor, Fischetti says he was "able to get through it," but even as we spoke, it was clear the losses he experienced continued to haunt him. When he describes Lima and Cronin's final days, his tone becomes somber and the pain in his voice is palpable. "Maybe it's not as stigmatized as it used to be, but I do encourage anybody who's in the darkness to seek help to find the light," he says.
Since his friends' deaths, Fischetti has made it his goal to safeguard Cronin and Lima's memory. "It's what I call an 'unfortunate honor.'" he says. "You know, I do work at a church, and I do a lot of different things there, but one thing I do is plan all the music for funerals. And so when people are so appreciative of my work, I tell them, 'It's an unfortunate honor. I wish I didn't have to help you bury your husband or your child or your friend, but I take it very seriously.'"
Two years ago, Fischetti performed on the Pop 2000 tour alongside other Y2K-era bands. This was his first time performing on stage without his former bandmates. It was emotional, Fischetti told me, but he had the support of other people around him, performing a 12-minute-long LFO medley with the members of O-Town, another Lou Pearlman-created boy band who knew Cronin and Lima well.
Then in April of this year, Fischetti put on a livestream event titled The LFO Story. It was a musical performance that traced the band's history from the birth of each member through to the present day, a way to tell the story of the band and preserve the memory of Lima and Cronin. The event didn't go as well as Fischetti had hoped.Technical difficulties forced him to rush through his usual pre-show preparations, and he performed as if "on autopilot". Though he was joined by other vocalists, including a guest appearance by Ryan Cabrera, the audience was limited to a few friends and family members, not the crowds of fans he had been used to at other shows. The performance was a rollercoaster of emotions, with Fischetti taking the viewers through the band's rise to fame and the death of Cronin and Lima, culminating in a performance of a Christian power ballad and transitioning to a rendition of "Summer Girls," with Fischetti singing each verse.
"I left the stage feeling an overwhelming sense of regret. I regretted doing the show, I regretted wasting everybody's time, and I wished that I never even thought of it. I went into this deep, dark hole probably darker than I can ever remember besides losing the guys," says Fischetti. Relief came a few days later, when he was able to see the video edits from the event and step outside his experience to see the performance from the point of view of the camera. But the days he spent depressed in the aftermath of a performance that might otherwise have been cathartic left him searching for answers. "I don't know where it came from — maybe my own insecurities, maybe it was my own grief, maybe it was evil trying to mess with me. Because anybody who is a believer … I do believe that the more you try to do good, the more evil will try to find ways to get at you for your own insecurities."
These days, Fischetti is kept busy by his family of five children, his record label, and his work as the musical director of Corpus Christi Catholic Church. Faith, he says, has helped him weather the grieving periods of the past few years. "I think it was a big reason why I was able to get through the craziness. Because if you believe in eternal life, then you can imagine this great reunion when Devin met Rich again. And that puts a big smile on my face" he says. "When I'm doing stuff these days, I don't know exactly how it works, but it feels like they're turning some knobs and switching some gears to help make things happen here, you know?"
Part of safeguarding the memory of Cronin and Lima means defending their artistic legacies, and Fischetti is effusive, almost hyperbolic, with his praise. Cronin was, according to Fischetti, not just talented but "one of the best rappers who ever lived" and Lima was not just vocally gifted but actually in possession of "the voice of a generation."
Fischetti may be biased, but it's true that there is something misunderstood and perhaps even underappreciated when it comes to former pop music performers. Widely dismissed by critics during their time, with the genre as a whole associated with the tastes of teen girls and a kind of manufactured or inauthentic form of musicianship, today we're reconsidering our treatment of once-maligned celebrity figures (see: Britney Spears and Jessica Simpson). Whether the shift is a result of newfound sensitivity about issues like misogyny, or a kind of Y2K nostalgia, or, as Fischetti suggests, a changing of the guard when it comes to media gatekeepers, it's clear that a realignment of the pop era's heroes and villains is taking place.
Despite the (sometimes gratuitous) flack Cronin received for the quirky amalgamation of non-sequiturs he used in the lyrics to "Summer Girls," he went on to write and produce music for other acts, including O-Town and Aaron Carter. In 2009, Cronin told Howard Stern in an interview that had Pearlman not sold the publishing rights to his work out from under him, he might have made millions off his writing on LFO's first record. In the same interview, Cronin also discussed Pearlman's history of sexually inappropriate behaviour toward him and was among the first to do so publicly. Fischetti has been reluctant to address any of these claims and when I asked him about Lou, Fischetti made it clear that he didn't want to speak about his former manager.
Despite the setbacks he experienced in his career, and throughout his long struggle with leukemia, Cronin did whatever possible to make it back to the spotlight. ("Nowadays life is way more tough, I did all I could do but it wasn't enough," Cronin raps in a track from the 2008 solo album he released before his death.) In 2007, he appeared on VH1's Mission: Man Band, alongside other former boy band members hoping to form a new group and sign with a major record label. The end result, a band called "Sureshot," didn't work out as Cronin might have hoped, but his time on camera did provide an opportunity to reveal his sense of humor and personality to a broader audience. One particularly memorable scatalogical story involving a roll of cinnamon-flavoured dental floss had the whole van full of former boy-band members, including NSYNC's Chris Kirkpatrick and 98 Degrees's Jeff Timmons, cracking up with laughter.
Lima, according to Fischetti's description, was by contrast more introspective and deep. When Fischetti first encountered him at the hospital after his cancer diagnosis, Lima wasn't convalescing in bed as one might expect, but sitting up on the couch and meditating, his room already decorated with trinkets he brought from home. Fischetti describes going on walks with Lima through the wooded trails near his home. Lima wouldn't just observe what was nearby, but instead stared deeply, as far as possible into the woods. "So I try to do the same thing, I try to see things a little deeper and feel that experience of awe sometimes. You honor them by trying to live like them," says Fischetti. In the last days of Lima's life, Fischetti would alternate between rubbing his back and reading to him from science fiction books. The next chapter in the collection of Ray Bradbury stories they were reading was called "The Exiles," a title very similar to a side project the two of them had planned on launching that year, a hip-hop Christmas album they put out under the name "Xiles". But before they could read the story together, Lima passed away.
The story of that chapter, as it turns out, centers around the idea of preserving artistic legacies. Set in the year 2120, a rocket ship filled with the last remaining copies of the banned books of great authors — including William Shakesepeare and Edgar Allen Poe — is on it's way to Mars. Awaiting them are the reanimated spirits of those same authors, who plan to ambush the rocket once it lands. The authors fear that if the last copies of their books are destroyed, they themselves will cease to exist — "Death! Real death for all of us," says one character. But when the rocket arrives on Mars the literary heroes are nowhere to be found and the rocket men find the planet empty. If, as in this story, death isn't real if artistic legacy is preserved, then Fischetti is ensuring that his friends will live on for a little bit longer.