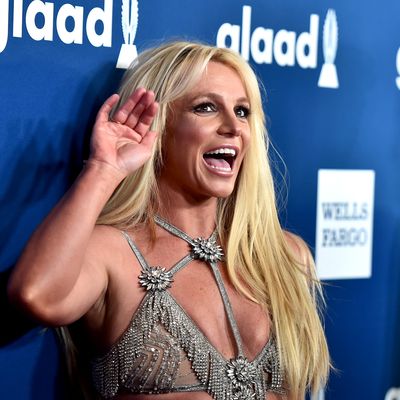 Britney Spears
Photo: Alberto E. Rodriguez/Getty Images
A judge has given Britney Spears the green light to pick her own attorney in her long-fought conservatorship case — a first in the 13 years the arrangement has been in place.
During a sweeping hearing on Wednesday, California Superior Court judge Brenda Penny approved Spears's recent application to appoint Mathew Rosengart, a former federal prosecutor with a long list of celebrity clients, as her counsel. According to the Daily Beast, he attended the hearing in person, while Spears appeared remotely.
Since the conservatorship was implemented in 2008, the pop star has been represented by a court-appointed attorney, Samuel D. Ingham III. But in the weeks since Spears made her explosive statement to Judge Penny, Ingham's role in the arrangement has come into question. Spears said that she "didn't know [she] could petition the conservatorship to be ended" and that Ingham had discouraged her from speaking publicly in the past. Meanwhile, she had been paying him a reported $475 an hour — or almost $3 million since the conservatorship's inception — to help her navigate an arrangement she views as "abusive." Judge Penny has approved his request to resign.
On Wednesday, Britney expanded on some of that "fucking cruelty" (her words) when she addressed the court a second time. "If this is not abuse, I don't know what is," she said. Reiterating that she has always been "extremely scared of [her] dad," she reportedly said wants him removed from the conservatorship immediately.
"I thought they were trying to kill me," the singer said of her conservators. "I want to press charges against my father today. I want an investigation into my dad."
Between 2008 and 2019, Jamie served as conservator of both Britney's finances and person; today, he still controls her fortune. In November, Ingham petitioned Judge Penny to remove Jamie, explaining that Britney was "afraid of her father" — a request Penny recently denied, but "without prejudice," meaning Britney could make the same request in the future. In court, Rosengart wasted no time. "We will be moving promptly and aggressively for his removal," he said. "The question remains, why is he involved? He should step down voluntarily because that's what's in the best interest of the conservatee."
Penny has 15 petitions and motions to consider, the Daily Beast reports. We will be updating as we learn more.