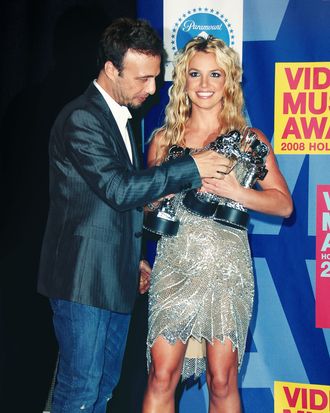 Larry Rudolph and Britney Spears at the 2008 VMAs.
Photo: Jon Kopaloff/FilmMagic
After overseeing her career for over 25 years, Larry Rudolph has resigned as Britney Spears's manager. "It has been over 2 1/2 years since Britney and I last communicated, at which time she informed me she wanted to take an indefinite work hiatus," reads the resignation letter, obtained by Deadline, which Rudolph sent to Britney's co-conservators Jamie Spears and Jodi Montgomery on Monday. "Earlier today, I became aware that Britney had been voicing her intention to officially retire."
In his letter, Rudolph says he'd "never been a part of the conservatorship nor its operations" and wasn't privy to many of its details. In the past, Rudolph has been among the people Britney has accused of forcing her to perform, though it's unclear where their relationship has stood for the past couple years. "As her manager," he writes, "I believe it is in Britney's best interest for me to resign from her team as my professional services are no longer needed."
Rudolph's resignation comes less than a week after financial company Bessemer Trust requested resignation from its role as Britney's co-conservator. On June 30, a judge denied Britney's request to remove her father Jamie Spears from her conservatorship and affirmed a previous decision to bring Bessemer Trust on as co-conservator to oversee her estate and finances. The next day, Bessemer Trust filed court documents requesting to withdraw from its role in Britney's conservatorship, per the New York Times. The company cited "changed circumstances" as reason for its request, claiming it'd been previously been told that Britney's legal arrangement was voluntary but learned otherwise after her June 23 testimony, where she called the conservatorship "abusive" and repeatedly asked the judge to end it.
The resignations come as the public is learning increasingly damning information about Britney's 13-year conservatorship. Over the weekend, The New Yorker published a new report with more horrifying insight into the history of the legal arrangement. It noted that Britney currently pays her court-appointed lawyer Sam D. Ingham III a whopping $520,000 a year, which was nearly $100,000 more than her own living expenses in 2019. Now, according to TMZ, Ingham is also reportedly resigning. His role came into question after Britney's testimony, in which she suggested that Ingham did not make her aware she was allowed to request to terminate her conservatorship. Ingham has also come under scrutiny for his apparent allegiance to Jamie Spears, with many questioning whether Ingham has been acting in Britney's best interest.
The New Yorker report also revealed that Britney called 911 the night before her recent testimony to report "conservatorship abuse." But particularly unsettling in this new report is Jamie Spears's apparent pride in his control over his daughter's life. During a 2008 conservatorship meeting, while Britney was not present, Jamie Spears reportedly bellowed, "I am Britney Spears!" amid discussions of how his daughter's personal and professional life would be managed. After Britney's 2008 appearance on How I Met Your Mother — taped just a couple months after Britney was released from her second psychiatric hold — her father reportedly pointed at the TV and said, "You're fat. Daddy's gonna get you on a diet and a trainer, and you're gonna get back in shape."
While Jamie Spears has yet to release his reigns — and Britney and her representation have yet to file official court documents requesting the termination of her conservatorship — others appear to be bailing amid public scrutiny. "I will always be incredibly proud of what we accomplished over our 25 years together," Rudolph's resignation letter concludes. "I wish Britney all the health and happiness in the world, and I'll be there for her if she ever needs me again, just as I always have been."