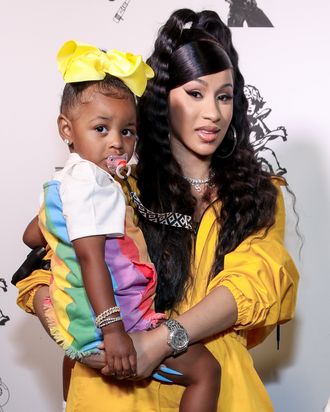 Kulture and Cardi B
Photo: Getty Images for Def Jam Recordi
Kulture Kiari Cephus, a.k.a. Cardi B's daughter, turned 3 over the weekend and celebrated in lavish style. Her party entrance alone included a carriage ride to the venue, followed by a pony ride past a personal petting zoo and a walk through a balloon tunnel to meet a Disney princess and also the rest of her guests. Yes, it was all very extravagant — a fairy-tale-themed cake roughly the height of a child! a towering chocolate fountain! — and that's before we even get to the gifts. What were those, you ask? Well! A custom diamond charm necklace by Elliot Eliantte (the designer behind Lil Uzi Vert's fetching forehead implant) and, drumroll please, a Richard Mille watch reportedly valued at $250,000. I … what?!
Clearly, this is an incredible amount of money to spend on a kid, but in the context of high-profile babies — certainly you have not forgotten the carnival of heads Kylie Jenner built for Stormi two years running? — it fails to surprise. I also seem to remember something about Kulture getting a similar diamond-encrusted chain for her first birthday. No, for me it is the timepiece that cost as much as some houses. On the one hand, what to get the baby who already has a Birkin bag? On the other, what in the hell does a 3-year-old do with a watch??
A wristwatch feels like one of the least exciting birthday presents a person could buy for someone in Kulture's age bracket, but admittedly, she did seem pretty jazzed throughout the unboxing. And although it is hard to imagine Kulture finding much use for this particular gift, it's actually (at least) the second watch she owns: Cardi B and Offset gave her a diamond-encrusted Patek Philippe design last year. Plus, according to Cardi — who defended herself against overspending criticisms on Twitter — her baby has a bunch of toys, and is also "super-educated." Perhaps Kulture can already tell time! She probably does have a tighter schedule than most of her peers, and then, as Cardi herself previously pointed out, babies don't tend to have very developed fashion senses. They need pointers at first. Maybe this is that. Or maybe Kulture is a preternaturally punctual toddler. Either way, congrats to this baby, whose parents have all but ensured that she never has an excuse to break curfew as a teen. Best of luck!