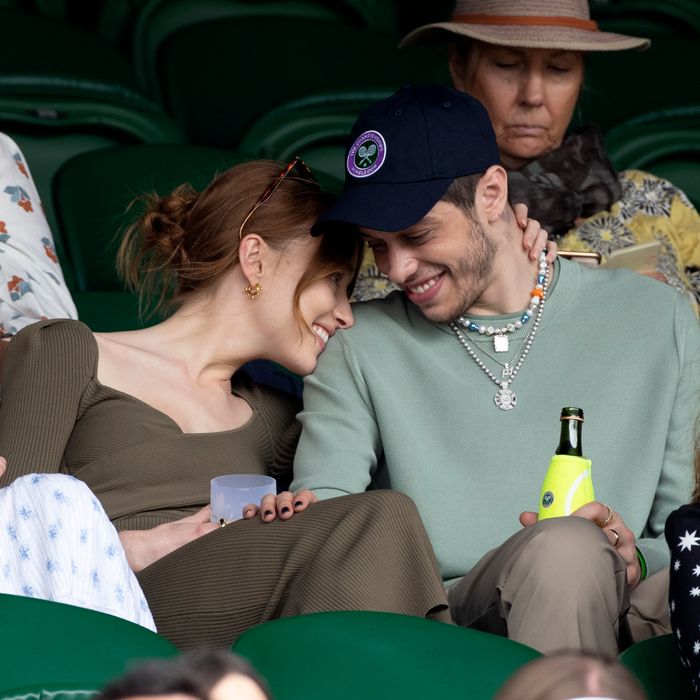 Smooch
Photo: Karwai Tang/WireImage
How was your Fourth of July weekend? Flirty, I hope, though I bet it wasn't as flirty as the one collectively enjoyed by the celebs. Independence Day PDA is a time-tested celebrity tradition (see: Tom Hiddleston's "I <3 T.S." tank top), and this year they did not disappoint. The famous-person couples — some new, some old, some unexpected — were out there touching famous-person tongues for days. There was kissing at sea. There was kissing in traffic. There was courtside kissing. Horny for sports, horny for boats, horny for one another: Congrats to these duos on nailing the assignment. Let's recap, shall we?
Pete Davidson and Phoebe Dynevor
Bridgerton's Phoebe Dynevor and SNL's Pete Davidson have been officially romping since at least April, when the paparazzi captured them on a "countryside stroll" through a field in Manchester. And now, in another act of extreme Britishness, the pair spent an afternoon cuddling at Wimbledon. On Saturday, they were seen snuggling in the stands, "gazing into each other's eyes and exchanging a few laughs" per "Page Six." Good work, team.
Olivia Wilde and Harry Styles
I am not able to show you saucy images from the yacht trip Harry Styles and Olivia Wilde had in Italy, so you will either need to use your imagination or check the tabloids. What I can tell you is that they were spotted drinking wine and making out on boats big and small in Monte Argentario over the weekend. Bellissimo.
Kourtney Kardashian and Travis Barker
This wouldn't be a celebrity PDA roundup without an appearance by the horniest couple in Calabasas, Kourtney Kardashian and Travis Barker. As documented at length on their respective Instagram Stories, this pair took Barker's teenage kids to Disneyland on Sunday, where they wore matching Converse and kissed, of course. I'm sure the teens had a nice and not at all embarrassing time.
Zendaya and Tom Holland
Great news for Spider-Man fans and confusing news for me: Zendaya and Tom Holland hooked up! The paparazzi spied them kissing in Holland's car on Friday while waiting at a red light. Listen, I have seen their Lip Sync Battle, and I welcome this development, only I thought these two already used to date. Now, however, I am reading that they were "just friends," and maybe they were! Then again, 'tis also the season for celebrity backslides. Anyway, come for the makeout, stay for the post-makeout faces.
Gwen Stefani and this man
Similarly, I assumed Gwen Stefani and her "new" husband, Blake Shelton, had been married for years, but according to Stefani's own Instagram, they are newlyweds as of Saturday. Apparently, the former No Doubt singer became engaged to this man in October, rather than ca. 2017. Whatever you might have believed about their marital status before three days ago, "Page Six" reports that Shelton and Stefani tied the knot in "the chapel he built for her at his Oklahoma farm" on July 3 and that he drove her around in a golf cart afterward. In a word … huh!
J.Lo and Ben Affleck
To round out the weekend, please enjoy these photos of Ben Affleck and Jennifer Lopez strolling through the Hamptons in head-to-toe beige on Saturday. They appear to be having a medium-serious discussion, but rest assured, J.Lo is "super-happy" and has "never been better," as she told Apple Music on Monday. "I love all the love that's coming my way right now and all of the good wishes. And I just want everybody to know that it's the best time. It's the best time of my life." Big wink at Ben Affleck.