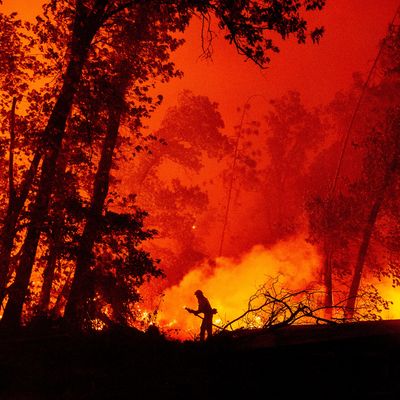 A firefighter battles flames allegedly sparked by a smoke bomb at a gender reveal party in September 2020.
Photo: Josh Edelson/AFP via Getty Images
I imagine that, from time to time, gender reveals do not end in calamity and destruction: No one dies from shrapnel wounds after a cannon explodes; the plane doesn't crash into the ocean, killing everyone onboard; the explosives don't ignite a wildfire that incinerates thousands of acres. But that last scenario — the one where pyrotechnics set the local landscape ablaze — seems to come up … a lot, so with that in mind, a small caution to anyone thinking about deploying 80 pounds of Tannerite at their upcoming baby shower. A couple whose gender reveal sparked a California fire last year has now been charged with 30 crimes, including manslaughter, for party-related tragedies.
On Tuesday, a grand jury in San Bernardino County indicted Refugio Manuel Jimenez Jr. and Angela Renee Jimenez for a slate offenses stemming from the El Dorado wildfire, which prosecutors say the pair sparked with a smoke bomb in September 2020. The fire burned up more than 22,000 acres in Southern California, destroying homes and claiming the life of one firefighter, Charles Morton, sent to help contain it.
"He wouldn't have been out there if this hadn't started in the first place," San Bernardino County District Attorney Jason Anderson explained during a news conference, according to the New York Times. "He's fighting a fire that was started because of a smoke bomb. That's the only reason he's there."
The Jimenezes each face one count of manslaughter for Morton's death, plus three felony counts of recklessly causing a fire with great bodily injury, four felony counts of recklessly causing a fire to inhabited structures, and 22 misdemeanor counts of recklessly causing fire to another person's property. They pleaded not guilty, and the court released them on their own recognizance until a September hearing. According to CNN, Anderson presented the grand jury with 434 exhibits and testimony from 34 witnesses over four days. "You're obviously dealing with lost lives, you're dealing with injured lives, and you're dealing with people's residences that were burned and their land that was burned," he said. "That encompasses a lot of, not only emotion, but damage, both financially and psychologically."
Indeed, it does — so may this case be a lesson to us all: If you are looking for a creative way to share your baby's sex and assumed gender with friends and family, maybe opt for a medium that won't ignite in a fiery blaze. Something benign and non-combustible, like, I don't know, frosting or lasagna. Better a haunting pasta casserole than manslaughter, I always say.