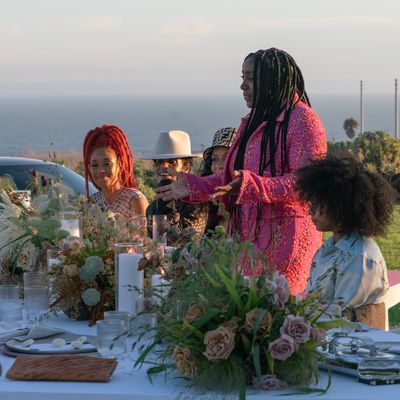 It's not every Wednesday that I'm driving down the Malibu coast in an electric pink Porsche, gazing out the glass roof at palm trees, but last night, I was. The Cut took things across the country for an IRL dinner that was one for the books. For her first event as editor-in-chief, Lindsay Peoples Wagner co-hosted an intimate "How I Get It Done" dinner with award-winning singer and actress Cynthia Erivo in the hills of Malibu, presented by Porsche.
The night kicked off with a cocktail hour where guests mingled in their chic fits for the night. From vibrant Bottega sets (Lindsay killed it in a vibrant pink full-tweed look) to fun Fendi bucket hats (Melina Matsoukas, you did that) and fresh-off-the-runway Vuitton (I'm very jealous, Cynthia), everyone came out in their best. We nibbled on hors d'oeuvres like tasty floral-adorned spring rolls that were as pretty as the view. There was a floral motif I will absolutely be trying at my next girls' night, from elegant dinner-table arrangements to edible flowers in the drinks and glorious pink blooms that adorned the luxury cars guests posed on for #content.
While charming bites and fancy cars were a delight, there was nothing more special than celebrating the iconic women seated at the table, learning what drives them and how they get it done. After a year of a whirlwind of changes, it's admittedly been a struggle for many to just keep pushing forward on some days. For many of our guests, when that happens, they turn to self-care rituals.
Before they sat down for dinner, we spoke to some of the guests on how they're getting it done on a daily basis, what's driving them, and what they're no longer looking forward to getting done. Read their responses (and get inspired) below.
Cynthia Erivo, actor, singer, songwriter: "I decided a long time ago to like myself, and that's my secret to confidence. I know I'm different, I've accepted that and I enjoy it and I relish it. When you're not second-guessing who you are, it's easier to be confident and be yourself."
On what drives her: "There are so many little Black girls who struggle with being different and with the way people see them and I think when they get to see someone like themselves living in the way they want to, it encourages them to be themselves. That drives me more than anything."
Garcelle Beauvais, actress, television personality, author: "I love to experiment and challenge myself. Those are the things that I love. I want to see what's next, and that's what keeps me motivated."
On how she makes time for herself: "Even if it's five minutes, taking a deep breath, turning my phone off, and then getting back into it. Even on the hard days, that's how I take time for myself."
Melissa King, chef, television personality: "I'm no longer giving my energy to negativity and people that put that on me. You want to surround yourself with positive people in your life, and stay positive. [I'm] taking time for myself in silence in a hot bath or just in the morning unplugging from the news and social media. Taking time for the little things that make you happy."
On what drives her: "My curiosity. I love pushing myself daily and waking up thinking, 'What do I want to try next or explore?' My curiosity keeps me going."
Lindsay Peoples Wagner, editor-in-chief, the Cut: "I'm no longer getting done anything that makes me feel like I have to be perfect. I feel like perfection can be its own version of keeping you from greatness in life and make you feel insecure, anxious, all of that. Anything that feels like it needs to be perfect, I don't want to be close to anymore."
On what drives her: "My family. I feel super-grateful, I feel loved, excited for the future and the Cut. That's what drives me."
Below, more photos from the event.