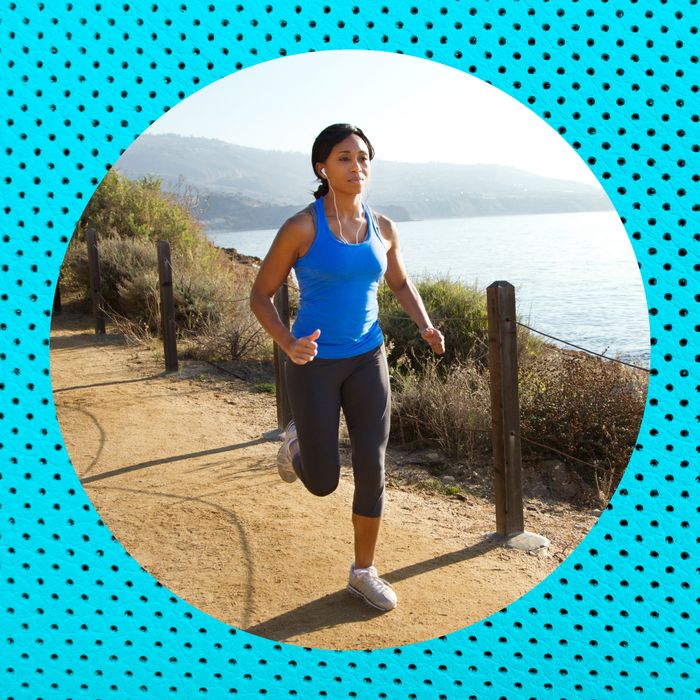 Photo: Cavan Images/Getty Images
"Hot Bod" is a weekly exploration of fitness culture and its adjacent oddities.
Last week, I hoisted a 6,000-pound carry-on over my head in one nimble, gorgeous arc and thought, I have been waiting to flex like that my whole life. I'd been strength training at home for about a year. Now, all packed and on the move, I felt strong, deliciously conceited, powerful. I set my away email reply, started my vacation, and knew, I will be the reason they invented the expression "rest on your laurels."
Because here's the thing: The hotel pool is for splashing, not doing laps. Your friend's guest room is for strewing your suitcase contents and hoarding mugs of coffee, not for a "quick HIIT routine." The Airbnb floor is not for push-ups. Unless you're traveling for work and you're spending ten days a month in the Memphis Hilton, don't you dare enter that hotel gym.
In my line of work (fitness correspondent), I get at least one PR email a week promoting an innovation in exercise travel: This portable resistance band fits right into a zipper compartment; this trainer maintains abs for jet-setters worldwide; this app matches coaches with on-the-go go-getters in every time zone. I will say to you what I was too polite to say to them: "Please sir, give me a break." 
To suggest that on our travels we must be working, that we must have some goal, is productivity tyranny. But I get it, and I've been guilty of it. I truly love endeavors. In the words of my partner: "It's my Protestant problem." During each cautious, stressful trip I ventured on last year, I shoved my one-pound wrist weights into my suitcase, literally just burdening myself with my own expectations.
Waiting out a rainstorm on our hotel bed last week, my friend told me that another year, she'd be scooting us to an airy, top-floor fitness studio class we could almost see from our window. She missed this habit not at all. "Working out on trips always involved feeling like I should and not like I wanted to," she said. "I'm more zen. Less vain too." Our priorities had, finally, evolved. Five years ago, I declined a party because I was working out early the next morning. I've never forgiven myself.
"Vacation is to get away. I don't want to replicate the same thing I'm doing at home," strength coach and powerlifter Chrissy King tells me over the phone. "One thing I never do anymore is work out on vacation." King has a radically intuitive, permissive, and flexible perspective on exercising, so it feels fun to hear her use the word never. "If I'm at the beach, I don't want to spend my time going to the gym: I want to spend my time at the beach," she says. And the beach, she says, provides other ways of moving: swimming, strolling, exploring.
I don't oppose, at all, a physical component to vacation. I oppose, totally, replicating your obligations. Traveling, theoretically, is a pursuit of something different, so a different way of moving feels very aligned. A friend just sent me a video from camping in Wisconsin where a pal used a tree branch for pull-ups, while his wife lunged down the path. Clowning for your friends? I allow it! Last week a dinner companion told me about an upcoming trip to Big Sur, where he plans to kayak to find some otters. Sounds good! Walking three miles all inside an art museum? That's why we're there! Your plan to play tennis with your nephew? Cute!
But … squeezing in a spin class? Getting a run in before you join your friends on the patio? Look, you don't have to fill every minute. Let the minutes breathe. Vacation minutes are the most precious.
Also, your relentlessness might betray you. The intensity propelling you to "do this core set real quick before you relax" is absolutely primed to backfire. "Crunches on a tiny hotel room just landed someone in my office with a blown-out back," says Dr. Nicole Haas, a physical therapist at Boulder Physio. "That urgency I'm seeing with people to stay in shape or get in shape is causing them to injure themselves. I had someone do a thousand squats on that one hotel chair. Well, now your knee hurts! And I'm like, Seriously?" Anything so single-minded is prone to missing the bigger point. "We don't do these things to harm ourselves, but so many times the decisions we make," Dr. Haas pauses, "aren't the best."
She gets the concerns. People fear losing the progress (or gains) they've made, or they worry over a hard-won routine. Dr. Haas reminds her clients that vacations are pauses — and when you're back in your regular setting, if you immediately return to your regular routine, it will pick right back up. Book a class, go on a run, do your videos the day after you get back. Unpack later. "And in terms of the physiology of it, is a long weekend going to put your training or strength into a nosedive? No," she says. "There's a productiveness to allowing the body some space."
If you think you want to exercise on your vacation, sure, of course, do what you want; if you think you need to exercise on your vacation, Dr. Haas suggests really investigating why. "Some athletes, there is a reason they need to do it: They have a race coming up or an event." For the rest of us, she asks, "What is the reason? Is it self-imposed pressure? If it feels like a stress during a time that should be replenishing, rejuvenating, and reviving, I might challenge that."
I like exercising because it lets me: only be a body, enjoy sensations, challenge myself (sorry, but I must be honest), people-watch, and feel the selfish thrill of doing something only about me. These feelings happen on vacation without really trying — and doing something without really trying is exactly what I'd like to do on vacation.