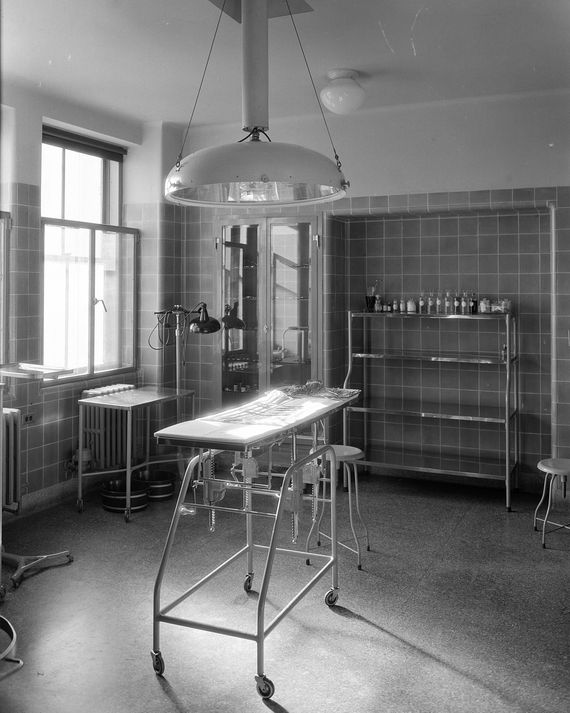 An operating room at Babies Hospital in New York City, now NewYork–Presbyterian Morgan Stanley Children's Hospital.
Photo: MCNY/Gottscho-Schleisner/Getty Images
One thing that stands out to Susan Kryhoski about her first meeting with Dr. Joseph Silverman is how boastful he seemed, how confident he was in his recommendations, and how insistent. It was 1992, and she was 11 years old, sitting in his office at the recommendation of her pediatrician. Starting at age 9 or 10, Kryhoski developed anorexia; by the time she landed in front of Silverman, her weight had dropped to 86 pounds. Silverman, meanwhile, had built a name for himself studying disordered eating in children and adolescents; he had degrees from Princeton and Columbia, and completed an internship at Harvard Medical School. He had treated at least 100 young people through his inpatient program at the Babies Hospital — now the NewYork–Presbyterian Morgan Stanley Children's Hospital — and written extensively on anorexia nervosa.
"He had these credentials, he had this impressive résumé, he was part of a large hospital system, he had admitting privileges, and he had — according to him — a groundbreaking treatment program with a proven success rate for pediatric anorexics," Kryhoski tells the Cut. When, at that first appointment, Silverman asked Kryhoski's mother to leave the room so he could conduct an exam, she complied. But then, he "forced" Kryhoski "to lay down on her back and spread her legs," a new lawsuit states. According to Kryhoski's lawsuit, he digitally penetrated her under the guise of "inspecting" her uterus, ostensibly "to ensure that she would be capable of bearing children."
At that first appointment, Kryhoski remembers Silverman insisting that her parents pull her out of school and check her into his inpatient program immediately. To her mother, Silverman's action plan was "the best news she ever heard," Kryhoski says. "Somebody was going to heal her daughter." But although she would stay at the hospital for the next two months, Kryhoski says she never wound up receiving treatment for anorexia. She recalls the doctor ushering staff from her room during his weekly visits, closing the door behind him and pulling a curtain over the window so he could "check her insides," as the lawsuit puts it. Within her first few days at the hospital, Kryhoski says digital penetration escalated to rape; during his weekly "exams," Silverman would pull out his penis and penetrate her, allegedly telling the 11-year-old: "This is a medical procedure; it's to make sure that you can have children later in life. If you tell anybody, you will never see your parents again and you will never leave this hospital again."
His words made an impression: Kryhoski says she kept what happened secret for more than a decade, only telling a therapist about his alleged abuse in her mid-20s. Though Silverman died in 2012, on Thursday, Kryhoski filed a lawsuit against NewYork–Presbyterian and 20 of its unnamed employees, citing negligence and the intentional infliction of emotional distress. The only reason she's able to sue at all is New York's Child Victims Act, which temporarily rolled back the statute of limitations on sex crimes against children, allowing survivors to take legal action against their abusers, regardless of when the abuse took place. When the legislation passed in 2019, it triggered an outpouring of complaints against institutions like the Catholic Church and Boy Scouts of America, but also against medical centers: Rockefeller University Hospital, for example, where Dr. Reginald Archibald has been accused of molesting more than 1,000 minors, as far back as the 1940s. As for Silverman, Kryhoski isn't the only ex-patient bringing a lawsuit: Last year, Stefani Declercq — who says she first saw Silverman in 1978 or 1979, when her last name was Weisberg — filed her own complaint against NewYork–Presbyterian for negligence and malpractice, and against the doctor's estate for assault, battery, and infliction of emotional distress. Attorneys for the executor did not return a request for comment, though they have argued in legal filings that the estate holds no liability for Silverman's alleged abuse. The hospital declined to speak on either lawsuit.
During her time at Babies Hospital, Kryhoski says Silverman kept her separate from any other anorexia patients. On her floor, "nobody knew why I was there. That was a common question from nurses," she recalls. The only practitioners she saw were a psychiatrist and Silverman, who would visit her in her small, out-of-the-way room with a single window. She says staff allowed her only short periods of supervised contact with the outside world: Daily phone calls to her parents lasted five minutes, she says, with a nurse listening in and ready to end the call if Kryhoski did anything "inappropriate," like cry. Kryhoski's parents were permitted to visit for one hour each week, but they could not talk to their daughter alone; instead, they sat with her in a hospital lounge, with a nurse standing by as a chaperone. Ultimately, her mother says, the lack of access raised suspicions, and prompted their decision to bring her home.
Absent opportunities to ask for help, Kryhoski says she started drawing pictures: Silverman with devil horns, "evil eyes," little labels reading "monster," "disgusting," "gross." She taped these to her walls, but according to the lawsuit, the nurses would simply take them down and toss them in the trash. They punished her for this kind of behavior, too, she says, confiscating her few personal belongings. Yet no one seemed to see the drawings as a red flag, just as "no one questioned the reocurring bloodstains in a prepubescent minor's underwear," the lawsuit states.
For Kryhoski, the widespread failure to question Silverman's methods feels like complicity. Her lawsuit alleges that the signs of abuse should have been visible to the people entrusted with her care, and that they had a duty to protect "vulnerable" child patients. If staff were not aware of Silverman's behavior, then they should've been, Kryhoski's suit contends — particularly because he allegedly did the same thing to Declercq (then Stefani Weisberg) more than a decade earlier. In an interview, Declercq echoed many of the allegations made in her lawsuit — namely, that Silverman repeatedly raped her when she was 14 and 15 years old, using exams as an excuse to penetrate her anally and vaginally on a near-daily basis for the eight weeks she spent in his program.
Like Kryhoski, Declercq says the abuse started during her first meeting with the doctor, when she was a freshman in high school. Suspecting she might be dealing with anorexia, a teacher suggested Declercq's mother go see Silverman. Declercq remembers the car ride from New Jersey to Silverman's private Manhattan practice, how her parents kept insisting, "We're going to listen to everything the doctor has to say, we're going to do what he wants … people are lucky to get appointments with him." When it came time for the exam, she says Silverman barked at her to undress, and when she stopped at her underwear, he scolded her until she cried. Then he grabbed the sides of her neck, she says, and laid her on the table while staring into her eyes. "He would pinch my nipples to the point, even at this first exam, that they hurt," she tells the Cut. "Then he would have me spread my legs so that he could examine me vaginally — I'd never been examined like that in my life. I was 14 years old. And then when I thought that was over with, he had me turn on all fours, and he did an anal exam."
Though Declercq says she left Silverman's office bleeding, she felt too afraid to tell her parents. She would not try until after he booked her into the hospital, when Silverman's exams had become a regular occurrence. She says the nurses acted on the doctor's orders, preparing his patients in advance of his visits: "'Ready for him' meant lying on the bed, on your back, bare-naked, with your knees open," she notes. In the beginning, Declercq remembers Silverman pulling the curtain around her bed — like Kryhoski, Declercq alleges that the doctor kept her apart from other anorexia patients much of the time — and she remembers him stepping into her bathroom to masturbate after penetrating her, first vaginally and, eventually, anally. Toward the end of her stay, she says, he became more reckless, and "did whatever he needed to do to satisfy himself, to me."
One Sunday, during her parents' weekly visit, she tried to tell them what was going on, not knowing Silverman had prepared them for this possibility. "This is coming, trust me. She's going to say I'm doing these things. I assure you I'm not," she says he told her parents, who believed him. In hindsight, she understands why: They were distraught, and here was a doctor warning them that "girls are dying all the time," heavily implying that she might, too, if they removed her from his care. But he allegedly hammered on her unreliability as a narrator: "All my girls, they're gonna lie. They always do. I see this all the time: She's gonna tell you things that we know are impossible. She's going to say horrible things about me to you, she's going to say horrible things about you to me, you can't believe a word that she says … These girls will say anything, these girls are liars." The nurses seemed to agree, allegedly calling Declercq "a lying bitch."
"I remember that," she says. "The first time I'd ever been called a bitch in my life was in that hospital."
Ultimately, Declercq's complaint states, she left Silverman's care because of a nurses' strike; speaking to the Cut, she said her parents only agreed not to send her back when they realized that she was serious when she said she would kill herself first. After the hospital, she experienced persistent, cramping abdominal pain, which doctors waved off as a menstrual complication. But a few years later, she woke up in the middle of the night, "hemorrhaging blood," she says. She had peritonitis (inflammation of the abdominal lining), apparently from unchecked gonorrhea, her lawsuit alleges. As a result, she had her left ovary, Fallopian tube, and a portion of her uterus removed in emergency surgery. She maintains the infection only could have come from Silverman.
For years, Declercq says, she lived with the assumption that she would not be believed. The first person who encouraged her to report his behavior to NewYork–Presbyterian was a therapist she saw when she was a college student in the mid-'80s. Declercq says that when she told hospital administration what happened, they batted down her claims as implausible from such a "well-respected" doctor. According to Declercq's lawsuit, after leaving Silverman's program, she developed post-traumatic stress disorder, anxiety, depression, difficulty with intimacy, lingering "feelings of worthlessness, shame, and disgust," plus anorexia. Kryhoski, too, struggled with suicidal ideation and self-harm, and continued to seek treatment for an eating disorder she says Silverman did not even attempt to treat. Declercq agrees: When she went into the hospital, she says she weighed 112 pounds. By the time she left, she'd dropped down to 88.
Until very recently, Declercq says she felt like she "was all alone out there," like she was the only one who'd suffered at Silverman's hands. When she heard about Kryhoski's case, the comfort she felt came tempered with regret: Silverman seemingly abused someone else after she tried to report him. "What hurts me the most about this is this other girl," she says. "If one person investigated it and believed me, maybe it wouldn't have happened to her."